on-axis fill with ring flash
On-axis flash interests me for two reasons: It's not cliche, and as David Hobby proclaims, you either love it or hate it. Ring flashes are normally used for main lights, but serve as excellent fill lights to subtly fill in shadows to increase detail while decreasing local contrast. The specialty lighting technique has reared its head into a few personal projects of mine…all about the creative use of light in non-traditional uses.
Dave Hill, Jill Greenberg, and Dan Winters have used ring flash on-axis fill technique in some way/shape/form as of late. While I'm not always a fan of their work, learning the technique has been a goal of mine. I like to learn for the sake of learning.
The big question is why? For starters, the whole principal of off-camera lighting, for me, is to add greater dynamic range to a photo. At a deeper level, controlling light offers the ability to create impact, causing the curious eye to explore the subject longer. This lingering-ness grabs our less-than-a-Super-Bowl-commercial attention span. Bingo.
New to the lighting concept? David Hobby has a great on-axis fill intro for beginners. Few fashion or portrait photographers experiment and use ring-flash for fill light, as David writes about. Voila: Motivation!
Shooting with a ring flash requires a bit of practice. For starters, you've got this big circular thing adding bulk to the camera and creating a small wall between you and the subject, which is not something many first timers are used to. By not mounting the ring flash on the camera, and holding the flash in my left hand while holding the camera in my right, I'm still able to interact and point and guide the subject when necessary. I don't have to hide behind a camera rig.
Brian, a former wedding client, agreed to serve as my model, as he fit the bill for a business-like power portrait. Here, you can see the effect of the beauty dish with and without the fill of the ring flash.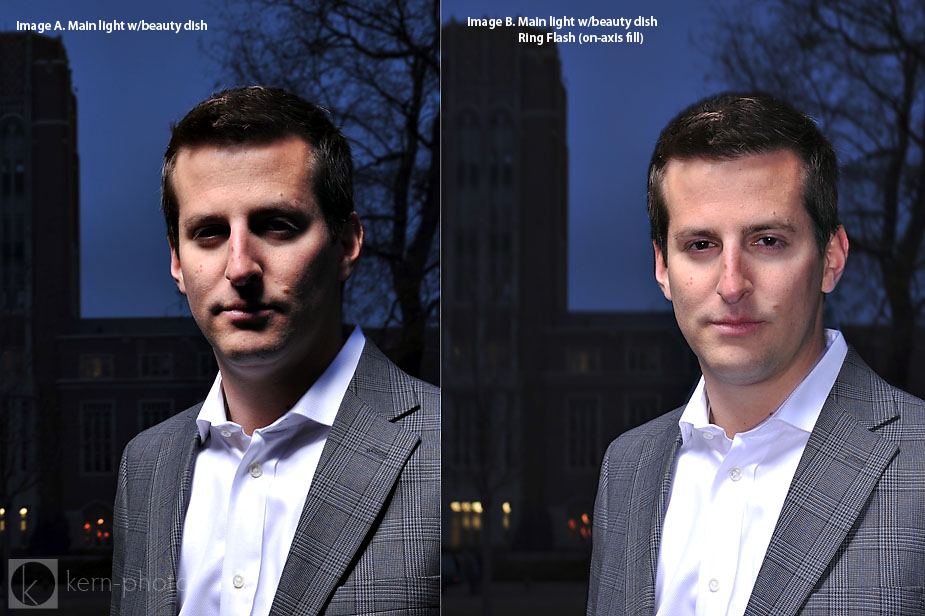 The ring serves as nice fill for what could be racoon eyes. Would an on-camera flash work? Probably, but it might also create more shadows than erase.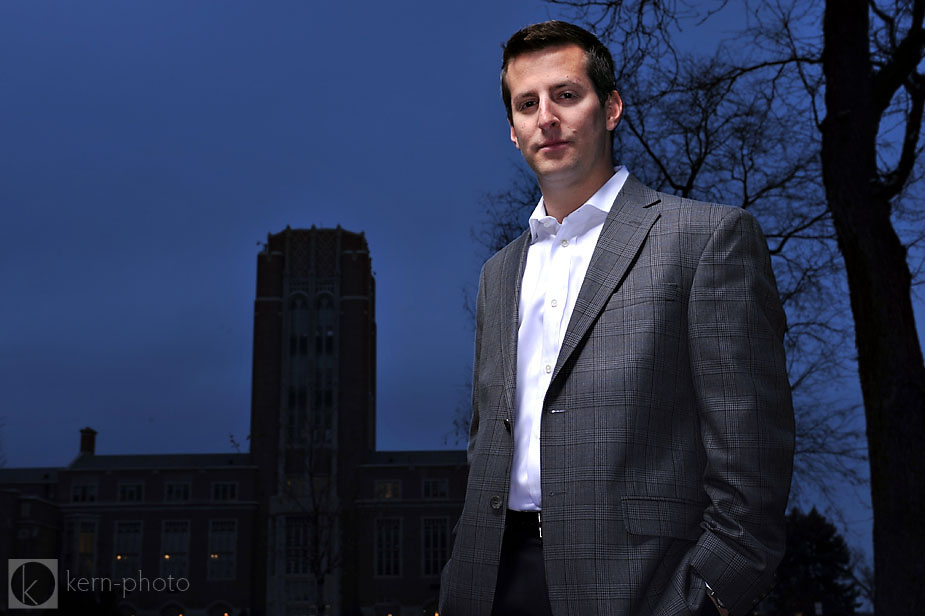 Advanced stuff? Perhaps. Rocket science? Nope. The technique requires a tad of effort but produces a unique effect in camera without Photoshop. And I'm all about that. Here's the setup.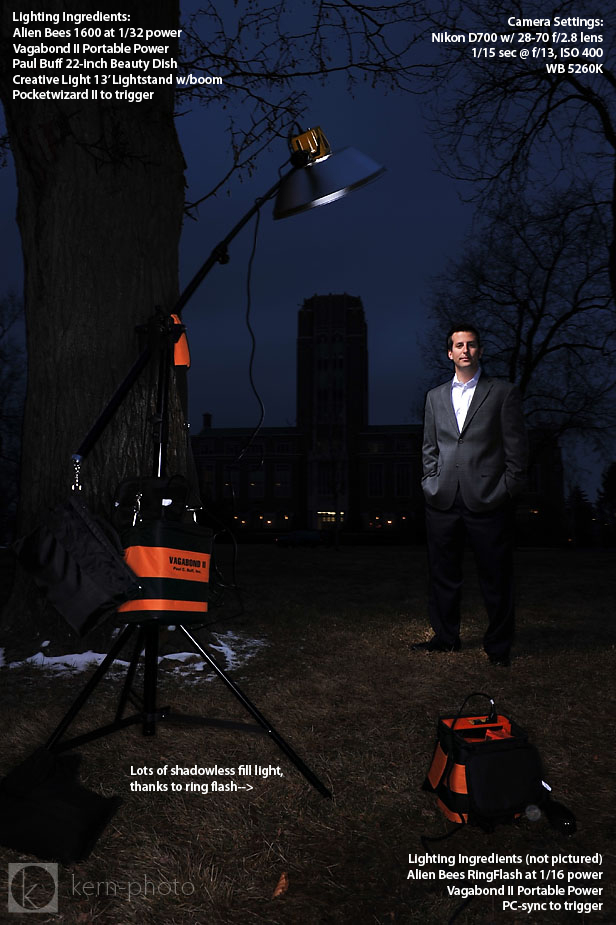 I brought it along for some more testing during Alyssa & Scott's engagement session. Here's Alyssa: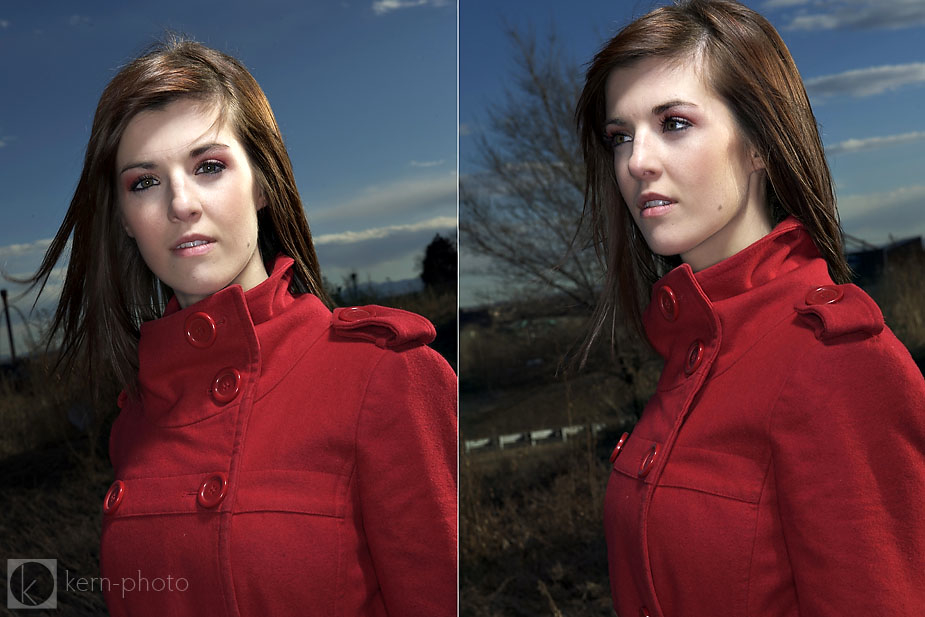 Feeling a bit more comfy using two lights, I jumped into the full five-light setup. Assembling a five-light kit isn't easy on the wallet, so I exercised restraint and built up the kit up over time. I opted against a medium-format Contax 645 kit which could have easily have fit the bill (nothing against medium format film. I'm just not ready to make the full leap yet).
For legged-furry friends are great to practice on. Here's my final test shot of the five-light setup I was going for.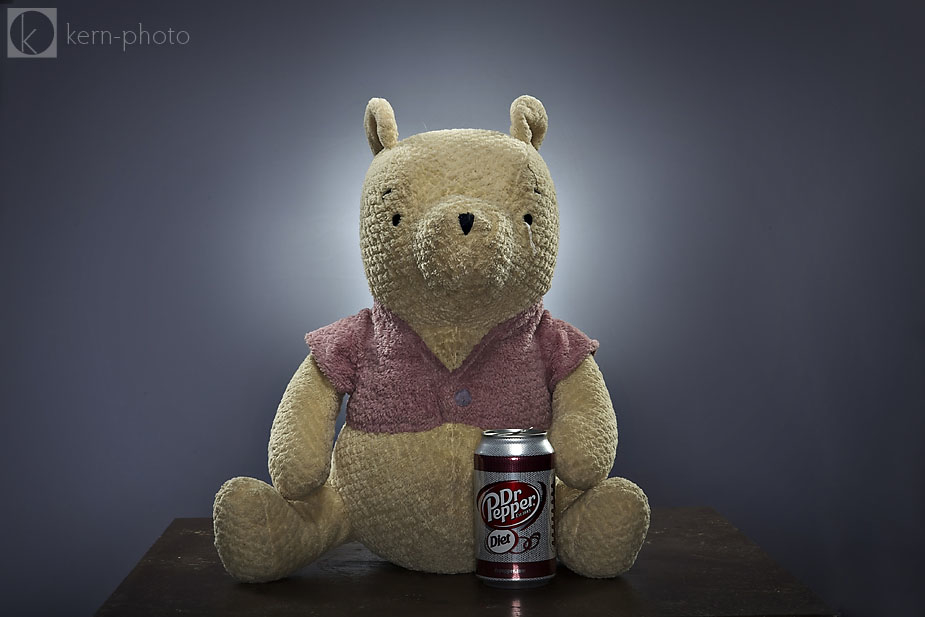 Ingredients
1. Main – 22″ inch beauty dish – placed close above subject to cast a nice triangle shadow under the nose.
2. Fill – Alien Bees ring flash. Building a Ring Flash may not be your "cuppa joe" if you want to shoot under mid-day sun with a single speedlight as your light source. Dropping $400 on an Alien Bees ABR800 offers greater versatility.
3. Kickers (2) – the Creative Light 1′ x 4′ softbox provide an even rim light in a controlled manner. The grids velcroed to the front on the softboxes offer directionality and control of where the light shines (and more importantly, doesn't shine). I positioned the stripbanks about 45 degrees to the rear of the subject, aiming downwards. Don't forget to order the proper speed rings to mount the softboxes to your strobe heads.
4. Background light (optional). My reasoning is that: 1) it helps to offer a bit of dynamic pop to an otherwise boring background and 2) it kills any ringflash shadow on the background. I used a handmade grid on a Nikon speedlight, zoomed to 105mm at 1/32 power.
5. Westcott Illuminator Collapsible Disc Background (5′ x 6′). Not necessary, but a better alternative than dealigl with a cross-bar and two lighting stands to hold the thing up. Laurence Kim offers a great review.
Since it is reversible, you've got two background colors to choose from (black and white).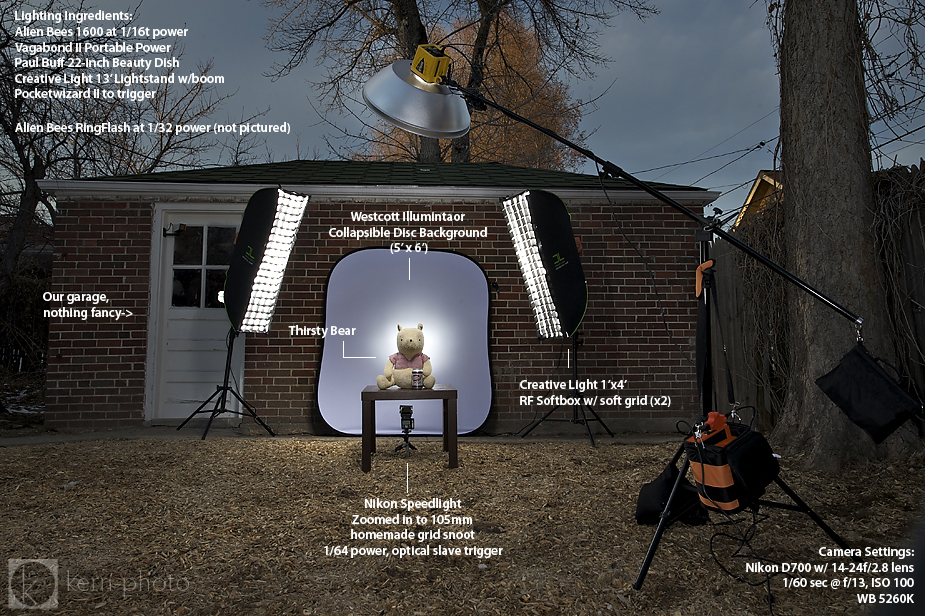 Another test shot of my favorite plush toy/comic strip character: What the duck?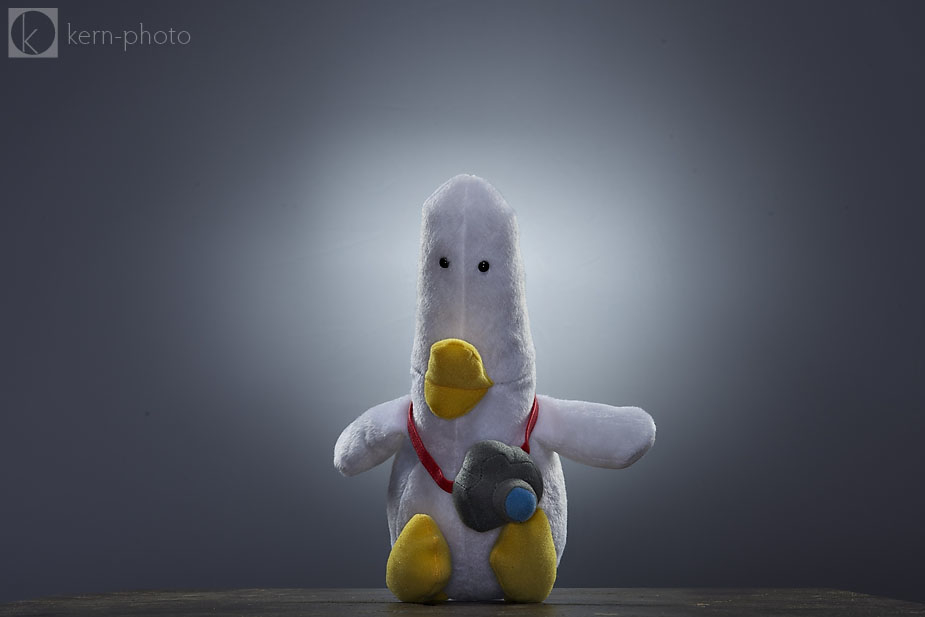 Now time for the real talent. Here's the cutest French Bulldog you've ever seen, our Stella (yeah, we're biased):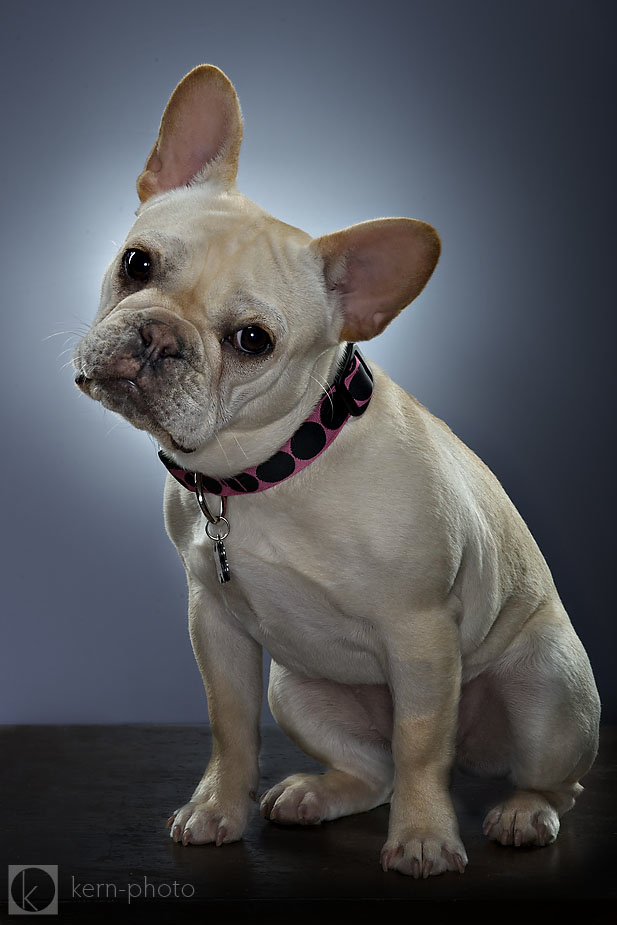 Dash, our pet Hungarian Viszla Veloceraptor: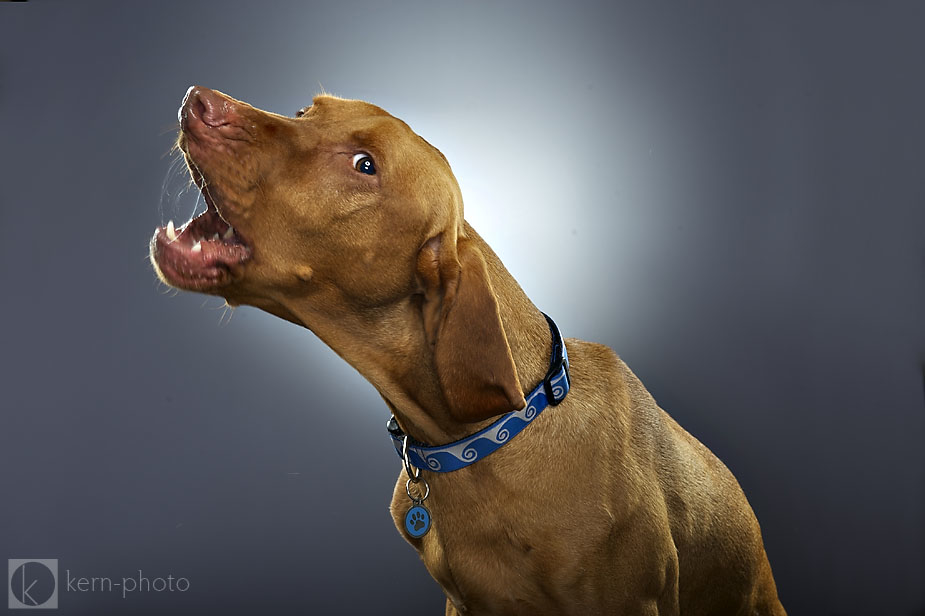 Promise folks, we didn't train him to stick his tongue out:
Flipped the Wescott reflector around for a black background to give our little 6-month bundle of snorts a Body Armor appearance: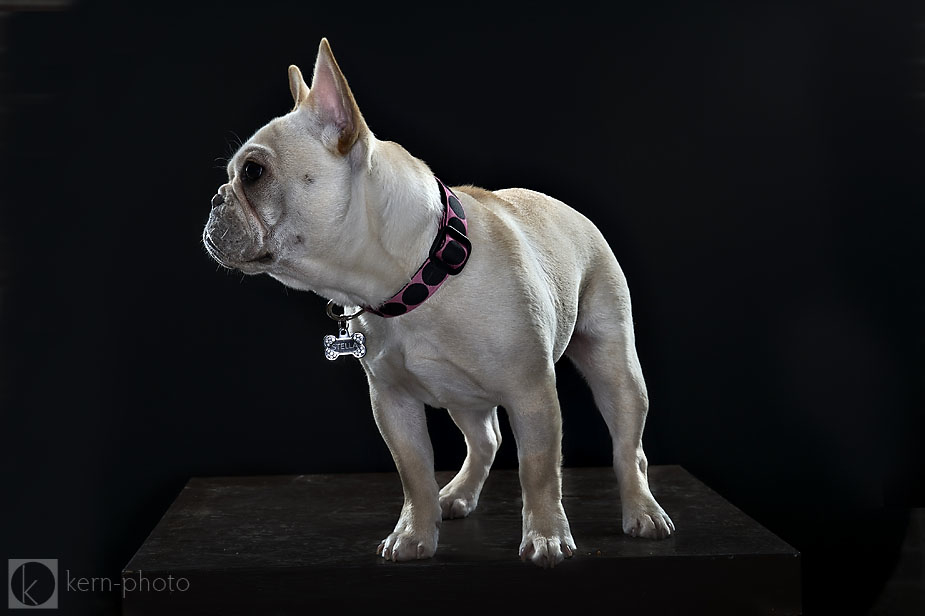 I say 'Go big or go home,' I like to think when it comes to learning something new. I'm all about commitment, learning something new, pushing my comfort zone into a Cirque du Soleil arena of excitement. What better way than to recruit a few friends to join in on the learning. Special thanks to Katie & Chris Humphreys for bringing over their three-month old Malamut, Shep: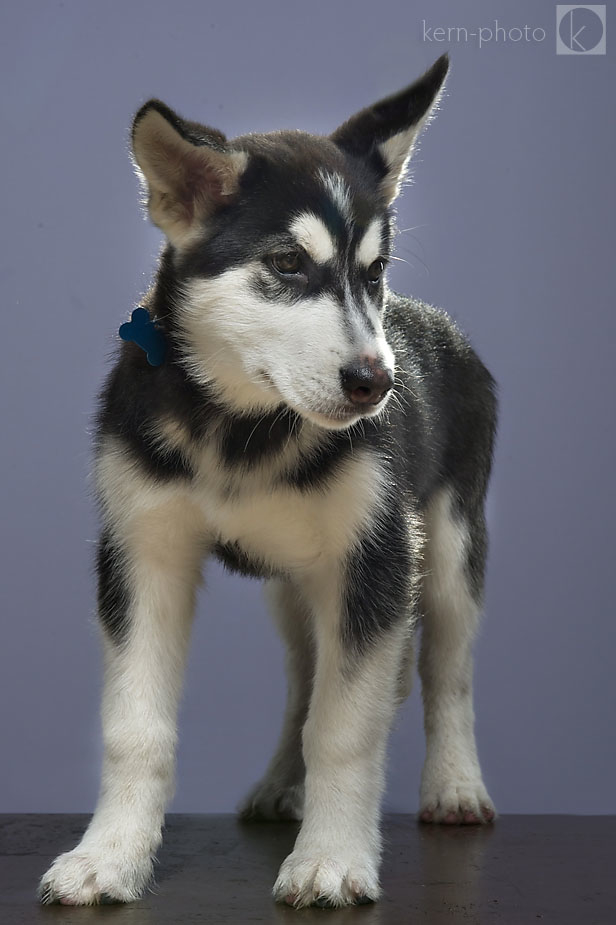 To round off the self-assignment, I felt I was ready for some real people portraits, suitable for use in a Facebook or Twitter profile shot. The lighting setup is about the same as illustrated in the backyard studio above.
Jenna Walker gets the award for the quickest expression change from serious to laughing.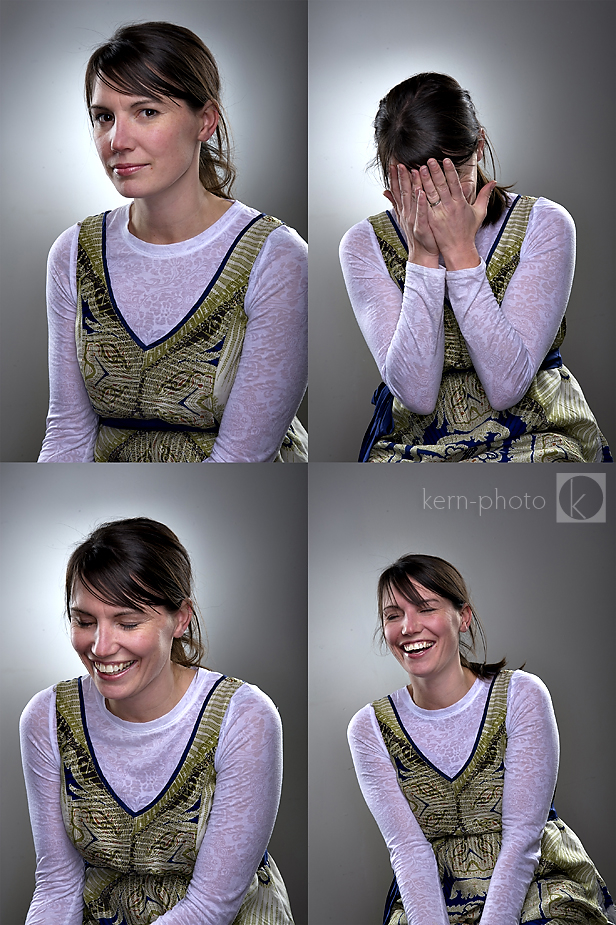 Steve Stanton exudes personality in a genuine sense and does a great Jerry Ghionis impression (bottom right).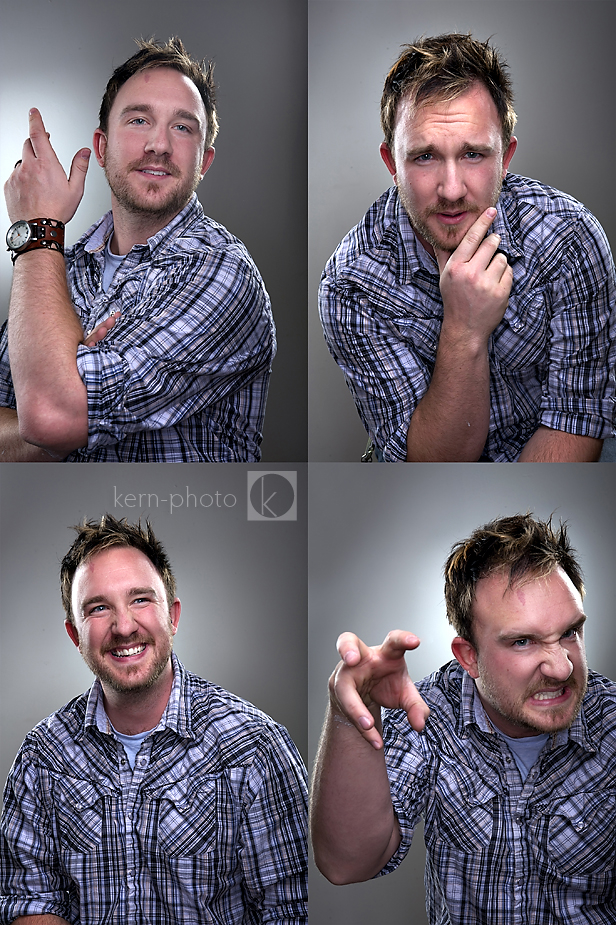 Yours truly: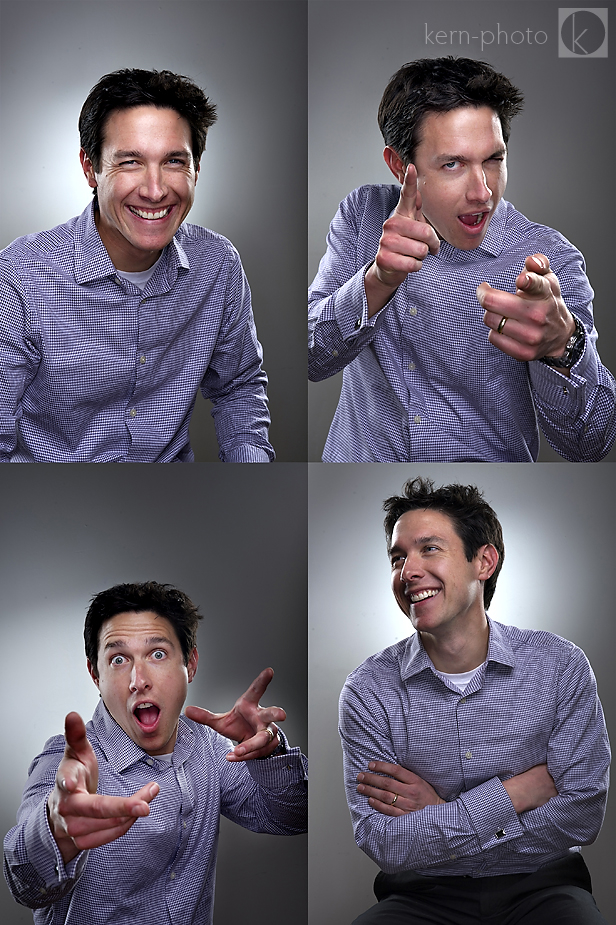 Lessons Learned
– As with any studio setup, my ADHD shooting styles don't perfectly match. One of the biggest adjustments (as opposed to natural light shooting), is all the lights have to be meticulously setup up to achieve the right affect and vary slightly from subject to subject. Using the ring flash as fill and moving a few feet closer quickly changes the nature of the fill, since the light ratio to the main is so close (perhaps 2:1) The confined setup didn't seem to be a huge hurdle.
– Using the AB1600 as the main light wasn't a good idea…even dialed down to the lowest setting it was too powerful. I was still shooting at ISO 100, f/250, f/19, which  is a bit too small of an aperture for my liking, since lens diffraction is rampant in f/19. I prefer to be between f/11 andf/13, so using a lesser powerful strobe like the AB800 did the trick.
– Position the stripbanks close to your subject fire and power them up to get a good rim light. Otherwise, they will blend into your main light, thereby flattening the appearance of your subject because there's either no highlights or shadows (read: boring light). I was shooting the strips at full power and had no problem with recycle time shooting about one image per second.
– Don't underestimate the amount of space needed to pull this off. Inside a single car garage would be a bit cozy, especially if you want the 1′ x 4′ stripbanks positioned outside the frame and are using a 5′ wide background.
– I'm still not completely sold on the background light. It was a pain to keep adjusting as the subject moved. It's not quite my thing. I just want to shoot, shoot, shoot.
Overall, I think there's a market for this effect, especially Twitter or Facebook portraits where details make a statement.