Top 350 Wedding Photographers in the World
I'm honored to join 350 of the world's top wedding photographer's at the Best of Wedding Photography, a premier gathering of the world's top wedding photographers. When contacted about our nomination in early December, I was eager to share the good word, but not until the site was launched this earlier week did I feel justified in doing so. Feel free to check out our listing and also see a featured blog post about 22 branding tools in our marketing arsenal, specifically written to offer up ideas for other wedding photographers in the industry.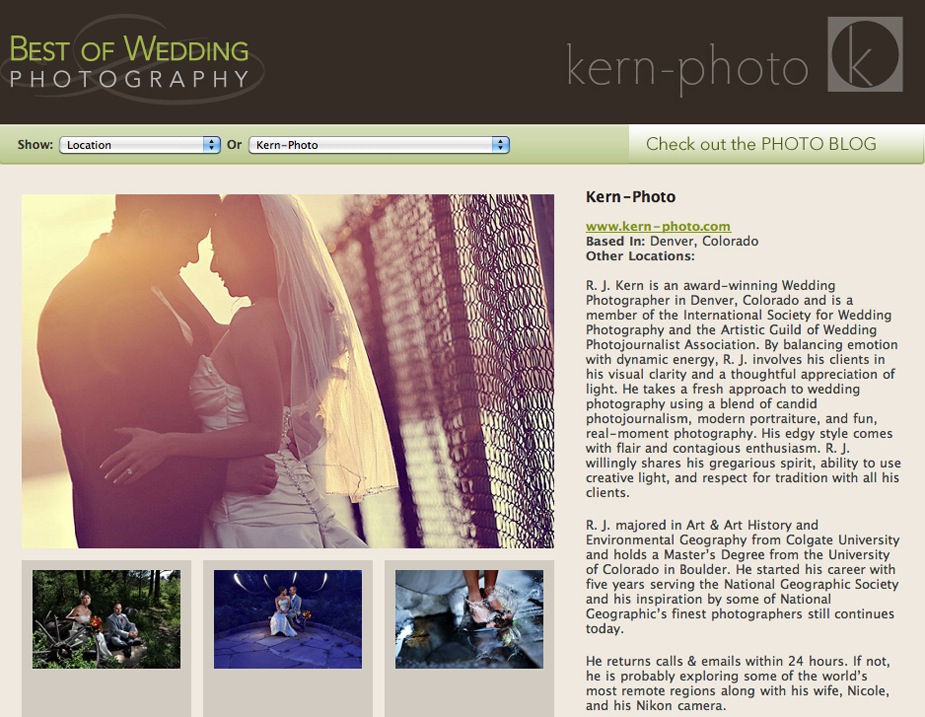 The invitation came after a rigorous review process by the board, which includes some of the best wedding photographers in the world including: David Beckstead, Ben Chrisman, Del Sol Photography, Glen Johnson, Anna Kuperberg, Crash Taylor, and David Ziser. The board reviewed our portfolio and decided it ranked among the best in the world, voted, then offered an us invitation too good to turn down. And we took it.
Four other Colorado photographers were chosen, including buddies Autumn Burke, Grant Oakes, Otto Schulze, and Angie & Andy Wood. If you haven't seen their work, you'll see they have phenomenal work as well as solid business practices!
The Best of Wedding Photography blog (BOWP) contains some phenomenal work, serves up a fresh dose inspiration on a daily basis and showcases a world of creativity that shoots outside the box.
A few things we were impressed by the organization so far:
Exclusive listing. To be a member in the organization, you don't just pay a bunch of money. Rather, you have to be nominated by members, then voted on by a committee of world class photographers who review your portfolio, ensuring what you have to offer is unique and right at the frontier of what's being done today.
Prompt communication. Several other organizations we're apart of respond very slowly to email or phone correspondence. Erick Danzer, the Executive Director of Best of Wedding Photography, offered top-notch service in a genuine way, including personalized email responses.
Low risk, big return. Print advertisers expect upwards of $3,000 or more for a single advertisement in their magazine, and that's a big gamble, especially in the current economy. Even if you might book a single wedding from the advertising, you still didn't make any money unless you book several more weddings from the same investment. BOWP isn't just another online advertising organization requiring a commitment of hundreds of dollars upfront.
New Relationships. The philosophy of Best of Wedding Photography reflects long-term value for members in their ability to connect with other leading photographers, resulting in relationships that will generate new opportunities for mutual advancement. Now that's refreshing.