blending multiple light sources
What do the next two images have in common, besides a blue sky?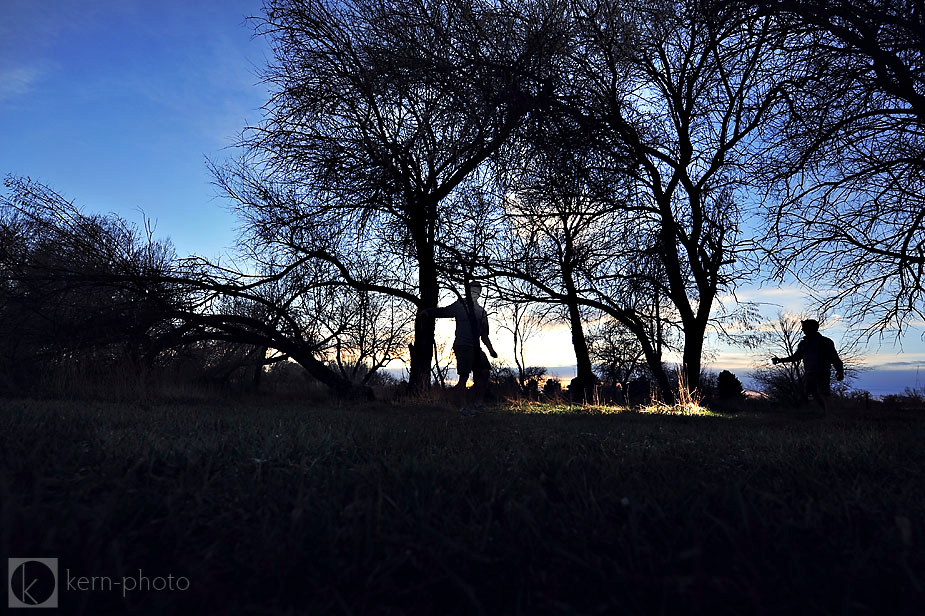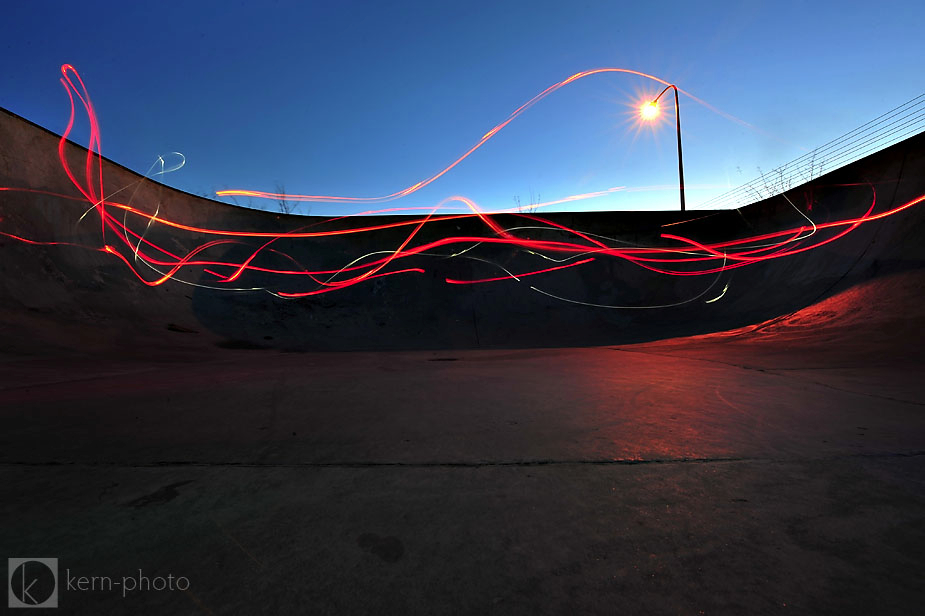 Answers:
(1) Both images were semi-self portraits. I say semi because I appear twice in the first image and zero times in the second. But I appeared in each image once.
(2) They both were creative experiments from this week to produce nothing but a giddy feeling when looking at the back of the camera after the shutter snaps close and perhaps a cool image. "Ultimate Chimping," you could call it. While film is not dead, producing similar results wouldn't offer that instant gratification of "Oooh! Oooh! Aaah!"
(3) Combined, they gave me the idea to produce this image of Jason Hudson at a local skate park last week in Billings, Montana. Nikon D-700 at 14mm for 15 seconds @ f/19, ISO 200.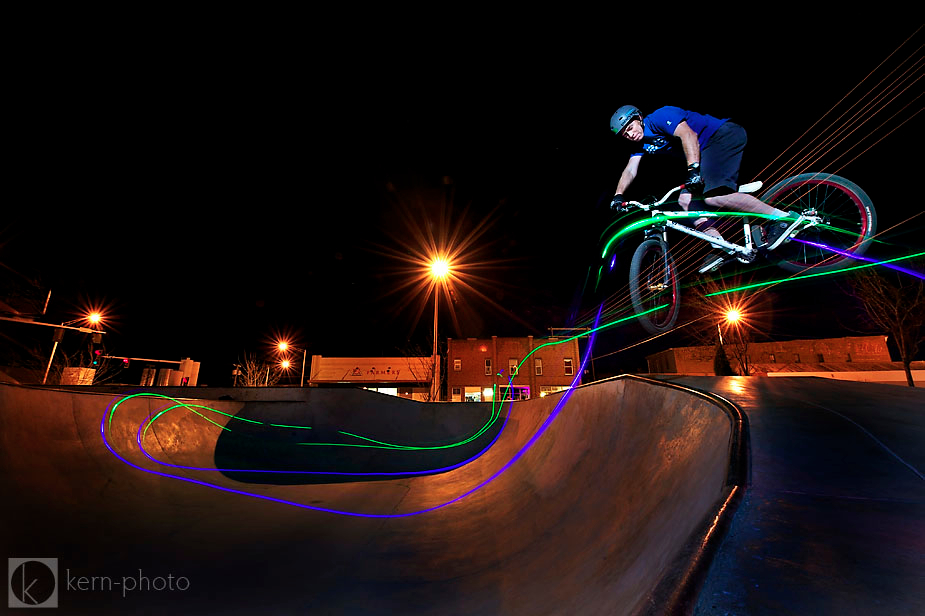 My creative challenge was to create an action portrait of Jason on his bike, moving, at night, with one flash, and create something I've never seen before. Turns out my creative experiments earlier in the week gave me an idea. Why not blend together essentially three different light sources: (1) Ambient street lights, (2) LED magnet lights, and (3) a single flash. The LED light trails offer a hint how the image was created.
Step 1. Two LEDs were mounted on the is bike with magnets, the green light mounted on frame left and blue on right.
Step 2. Brian rides along top of ramp and drops in the bowl, creating the green line.
Step 3. He does a sweeping circle int he bowl, jumps out then back into the bowl then rides toward me
Step 4. As brian launches in the air a few feet from the camera, I manually trigger the flash with a Pocketwizard in my hand when he is suspended mid-air right where I want him. The flash stops the motion.
Step 5. Brian continues to spin a 360, lands, and rides off camera right.
Here's Brian's creative tool, with signature drawings on the bike frame completely by his son, Kobi: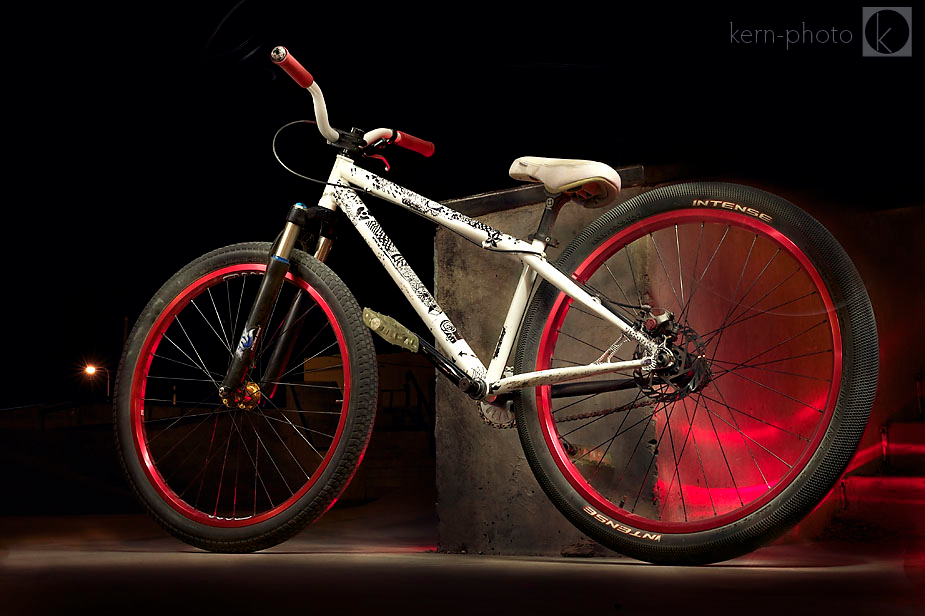 Like father, like son. Kobi (15) has got some killer stunt skills, too. Rembrandt-esque light provided by the modeling light of a 5' Creative Light Softbox RF Octa, positioned 5' camera right (Notice the super soft wrap of the light around Jason & Kobi, a characteristic of using a large light source).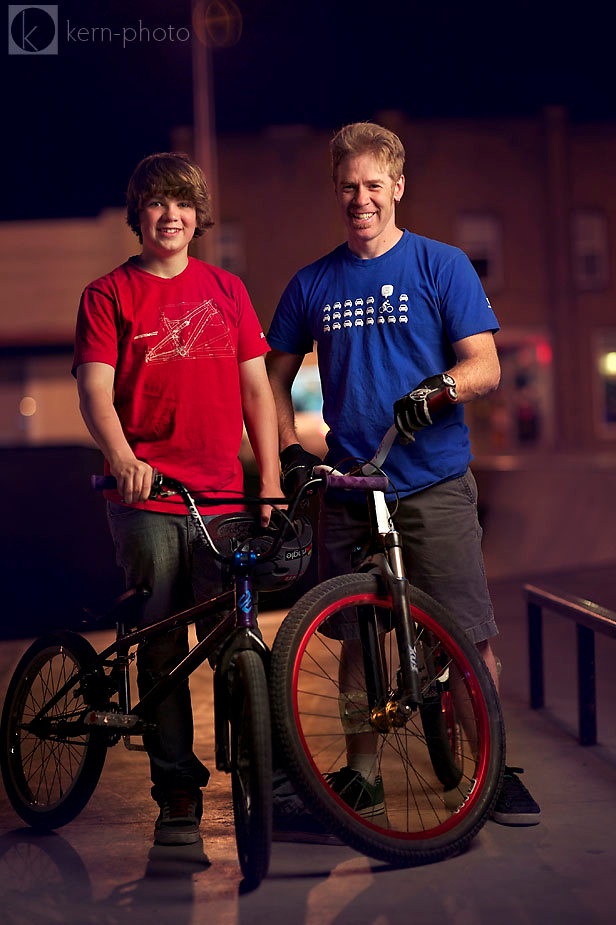 And the whole gang: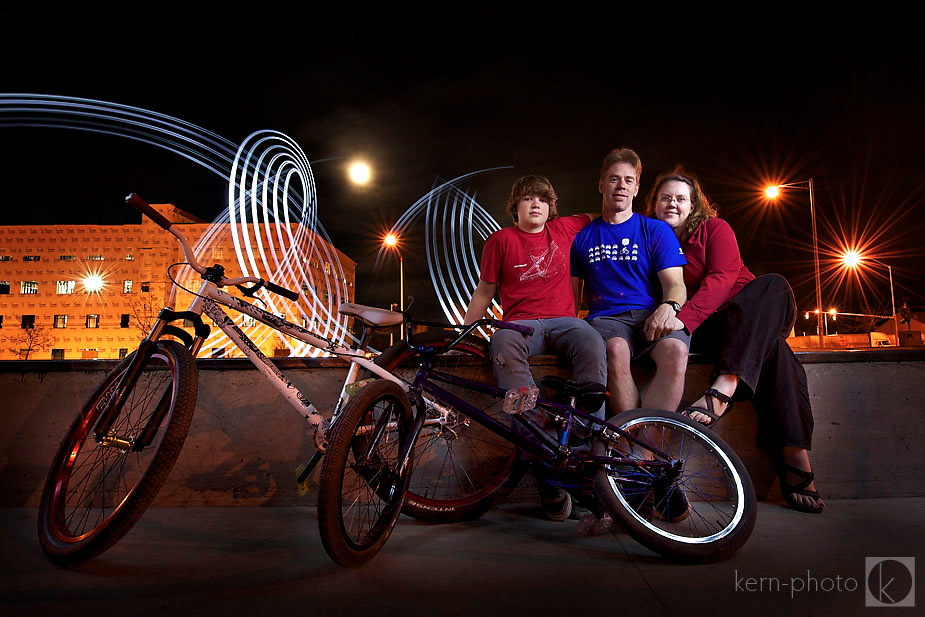 Interested in learning more? I'll be giving a similar lighting demo at the next Pictage Denver PUG meeting held on Wednesday, April 7, 2010 at 8pm at the Spruce Mountain Ranch in Larkspur, CO. Map it here. The PUG meeting officially starts at 6:30pm so if you want to arrive early to network, do so. The event is open to all Colorado photographers, free to attend, but please RSVP in the comments section below. Angie & Andy Wood will also be teaching a lighting demo you won't want to miss!