11 tips to get the most out of a Photography Workshop
I'm super excited to officially announce I'll be giving a shooting workshop called "Lightpainting on a Shoestring Budget" at the 2010 Pictage PartnerCon conference in New Orleans. This is my first big opportunity to speak at a conference, and I'm stoked to use my new skills from Toastmasters. To be chosen by my industry peers to talk on a topic near and dear is a great honor. In fact, it's been #70 on my list of 101 photo goals in 1,001 days.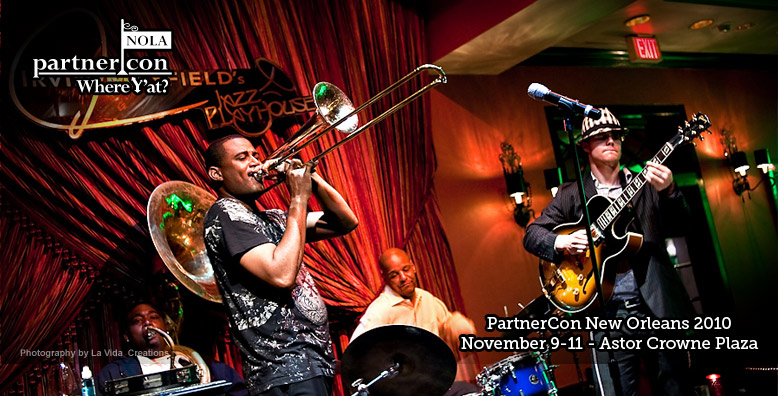 I'm also planning on going as a student to absorb as much as I can, as a photographer we have to constantly stay motivated and creative, otherwise we face burnout. This is one of my sources of creative inspiration and motivation. This will be my third trip to New Orleans and I expect it to be the best yet. I wrote about my first workshop learning experience at Image X '08 here and the 2009 PartnerCon here.
Learning in a workshop environment is my best way of learning. I learning best by doing, as most people do. However, with little time for learning, I like to maximize every last drop of the experience, especially if the whole thing is over in an hour or so. If the experience is just a day, or even a week, time still flies when you're having fun. You want to make sure you retain the info you've paid so much to learn.
So here are my 11 tips of how to get the most of a professional photography shooting workshop:
1. Share what you learn. You learn 90% of what you teach others. Blog about your learning experiences… that's one of the easiest ways to pay it forward. And the process of formalizing it in cyberspace only further re-empathizes what you learned. I've done a similar effort with my Joe Buissink experience last year at the Denver PUG meeting and this year at Jeff Newsom's workshop this year where I shared my tips here.
2. Research your workshop leader. If you have never heard of someone, check out their blog and recent work. Come up with a list of 10 questions for each person that you'd like to ask them, write it on a note card, and stick it in your camera bag. If they don't touch on the subject you are interested in, bring it up. Chances are the person next to you will benefit from your question.
3. Know what you want. I recommend take an active approach to learning. As with any learning experience, you get out of it what you put it. Write, write, write. I will easily fill an entire notebook of ideas listening to talks. I also try and schedule down time each day to write and write, otherwise I will forget. I've kept my notebooks over the years and they have become an invaluable resource.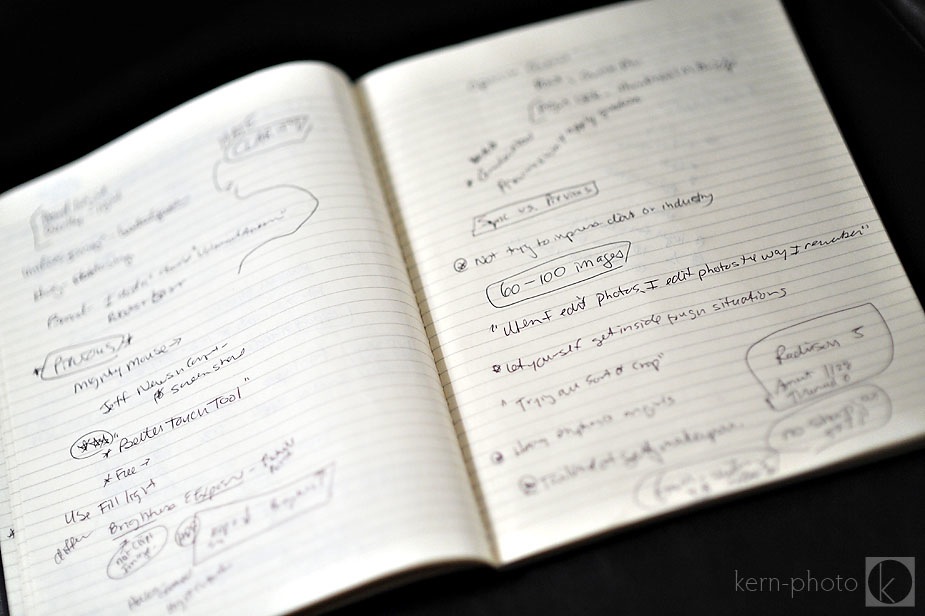 4. Come prepared. If it is a night shooting workshop, you might want to bring a tripod or supplemental lighting that you might use on a normal shoot. Same goes with normal travel essentials. I brought along a tripod, which was the only way I would have been able to create this shot in a workshop by Mike Colon workshop PartnerCon 2009: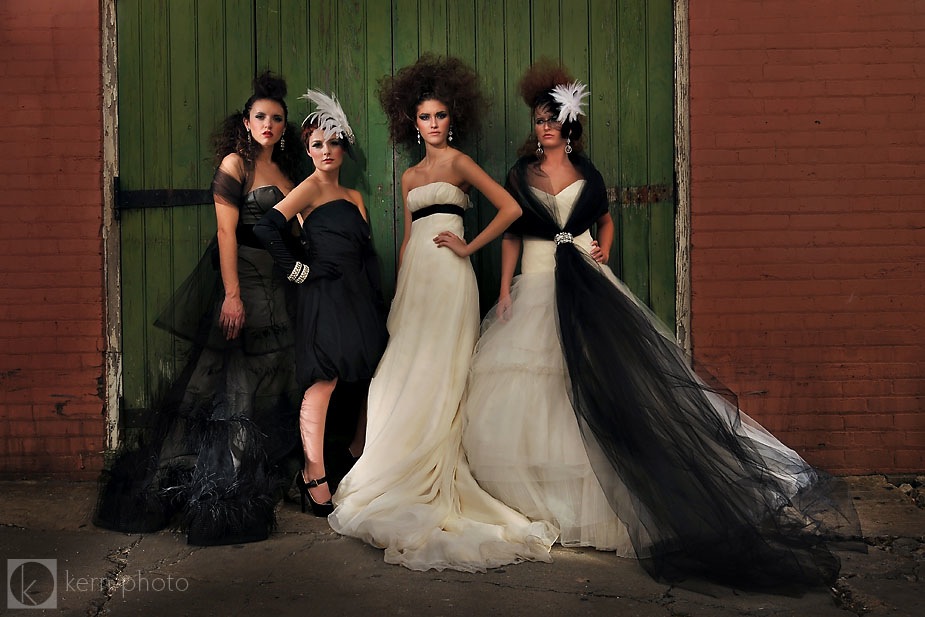 5. Create videos. So much of learning is done by watching. And re-watching. Having a mini recorder like Vimeo Flip video or iPhone makes the whole experience easier to review after the conference is complete. After each workshop, I immediately upload them to my laptop, backup, then reformat the camera. The whole process takes 5 minutes. I've watched my videos over and over. Each time I catch something new. You might want to ask permission first before distributing them.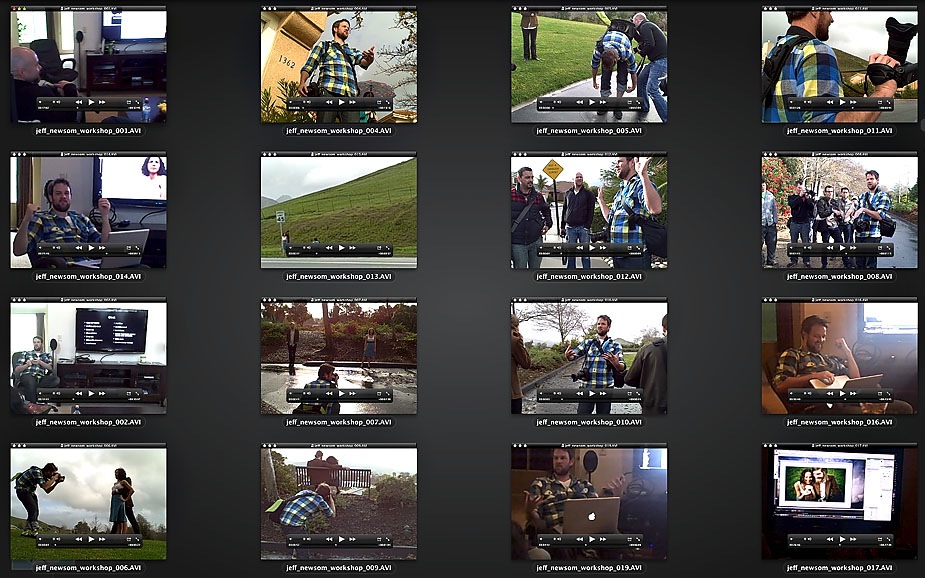 6. Be open to learning. While you might not completely like work of a particular photographer, keep an open mind. I've been surprised several times witnessing people judge quickly that they don't want to waste their time listening to what they have to say. A closed mind is a dangerous thing.
7. Come with a creative vision, but be open to learning something new. If you have a chance to work with a subject, take advantage of the opportunity to take creative risks that you might not normally try at home. The French Quarter has so much color and colorful people you really never know what is around the corner.
8. Don't be a copy cat. This isn't a portfolio shoot. It's a learning shoot. There's a big difference. Copying someone else might can be a great way to learn. Heck, art student are given similar assignments to learn a new techniques. But 25 photographers shooting on top of each other just to "get the shot" reminds me too much of Uncle Bob at a wedding. Knowing when to put down your camera and listen is the key.
9. Don't just observe, participant. Attending a workshop is very different than listening to a talk. You have to observe much closer the nuances of how the person shoots, lens choice, perspective, and approach and style to the concept they are working on… in a real-world shooting scenario. That's the stuff you can't learn in a book or as easily in a video.
10. Give and take. If you are shooting a model, offer to email them a favorite image or two. And a big hug to your workshop leader goes a long way, cause they are under lots of pressure to perform and create and teach. And try not to get hit by a car.
11. No friends on a powder day. If you are a skier or snowboarder, you understand this completely. Same goes when you have a limited time on a shooting workshop. Honestly, networking is a great part of any conference. However, in the context of a shooting workshop that might last only an hour, you may not want to be exchanging business cards. I, myself, am guilty of losing the group due to talking with new friends. There's just so much going on in the streets of New Orleans.
Photographers, if you are planning on attending, please comment and I'd love to check out your work and get to know you better!