Conquering fear
"Only Thing We Have to Fear Is Fear Itself" — FDR's First Inaugural Address, 1933
On a recent visit to Washington DC, I paid homage to my favorite monument on the US National Mall (not to be confused with the Mall of America)… the FDR memorial. Reading this quote reminded me of an issue many of us face: Fear.
One of my single greatest fears stem from not being accepted. Acceptance is the essence of community. Without it we become a hermit.
Introverted creatives like Norman Rockwell and Monet looked to fellow artists for validation and inspiration. We all want to belong.
I was giddy to to find out one of my favorite images from 2010 year placed in the latest ISPWP Wedding Photography Contest. Hundreds of the best wedding photographers from around the world submit… and to have an image place among the Top 10 is an honor for me. In 2009, I took 5th overall.. and this year I'm gonna go after it again.
While I'm no introvert, I felt a strong sense of belonging looking at some of the amazing work submitted by the winners.
My engagement portrait in New Orleans of fellow wedding photographers Jos and Tree took 7th place in the Engagement Portrait category.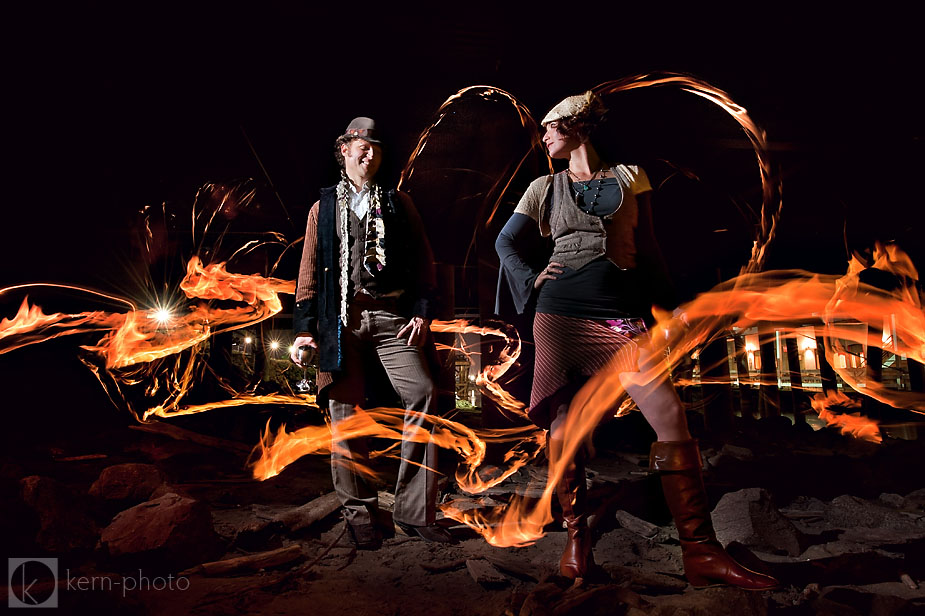 On conquering Fear
This image remains special for me: it was the realization that if I put myself out there and joy of achievement would make it worthwhile. Here's what I feared during before, during, and after creating this image:
Before
What if it doesn't work? What if I end up created a pile of monkey chunder that the workshops students paying to learn from me would deem me a failure?
During
Would I burn myself? Get arrested or trip and fall and get laughed at?
After
Would people think this is stupid/silly/plain dumb? What if I totally blew out my highlights beyond recovery, making the image unusable?
"Happiness lies not in the mere possession of money; it lies in the joy of achievement, in the thrill of creative effort," — FDR's First Inaugural Address, 1933
And I'm all about the thrill & joy of creative achievement.
Three Secret Ingredients
While there is not secret in how this image was created (Nikon D700 with a 14-24mm f/2.8 set at 30 second exposure at f/19, ISO 200 with camera on tripod, a small flash to make all the difference, and white gas on a kevlar wick). But that tech stuff won't get you this image. It all boils down to one thing: TRUST.
Your client must trust you (Just be yourself)
You must trust yourself (Listen to your gut)
Trust in your equipment (Know your equipment)
Sure, perfect practice makes perfect. But when facing fear, keep in mind my tips for finding your creativity.