Artist Fail
On a paid gig, whether a commercial or wedding session, you're creating an event inside an event. Life is rolling. It is up to you to make something out of nothing.
Mistakes happen. Some good, some bad.
Five seconds away from mashing the delete button, I decided to recycle and share this image which gets a big phat "F" in my book: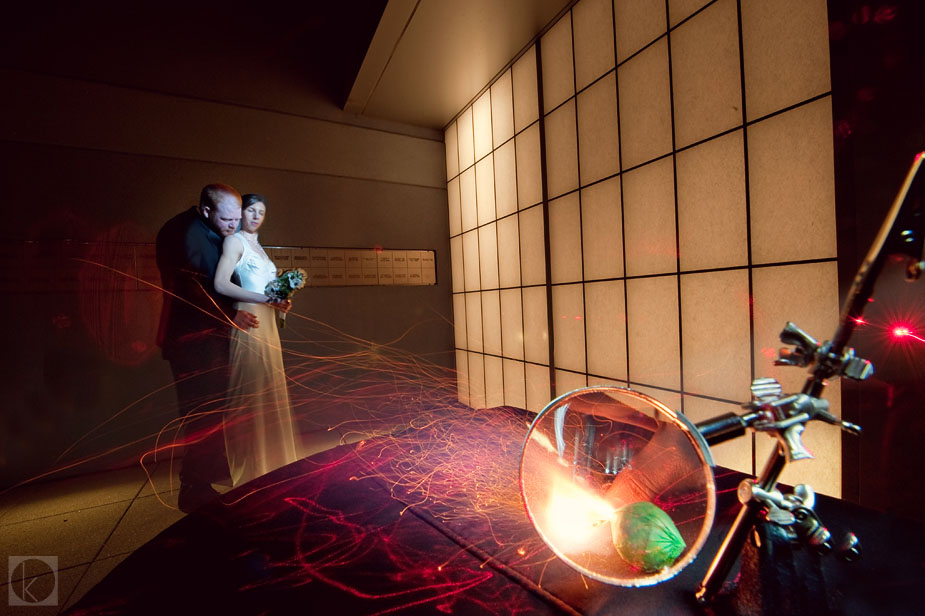 The $3500 question: Why?
There's a such thing as trying too hard. Smoke, mirrors, lasers, LEDs all used to create this image. And as I learned my freshman year in college, too much of a good thing ain't pretty.
But I also learned in art school 50% of professional artists' paintings get recycled, painted over, and redone. A digital wedding photographers equivalent: DELETE.
No matter how hard I tried, how well I planned, how I was prepared, had a vision, I failed. Today, I share with you my rejected image, equivalent of seeing me in my artistic underwear (Patagonia Men's Active Classic Boxers, now $19.20).
Most wedding photographers share 35% what they shoot (2000 images can easily be edited to 700). That's a helluva lot of images created, then deleted. Check this: being the "professional photographer" also means being a "professional editor."
There's value in sharing what doesn't work and why. Self-reflection is key. That's why I write this blog post.
Which is why I never forget the ART in photography. It's there, you just have to see it:
phoTogRAphy —> yphARgoTohp.