ISPWP Award-Winning Wedding Photograph
Just announced this morning, my creative portrait at June and Mark's wedding took 13th place in the Framing the Subject category in the Spring 2011 ISPWP Wedding Photography Contest. I wish I could say the same about the other six images entered. Once again, amazing work by winners from all over the world. I'm proud to be listed among them.
My first time entering a photo in this particular category, so I'm pleased to see this wedding photograph place: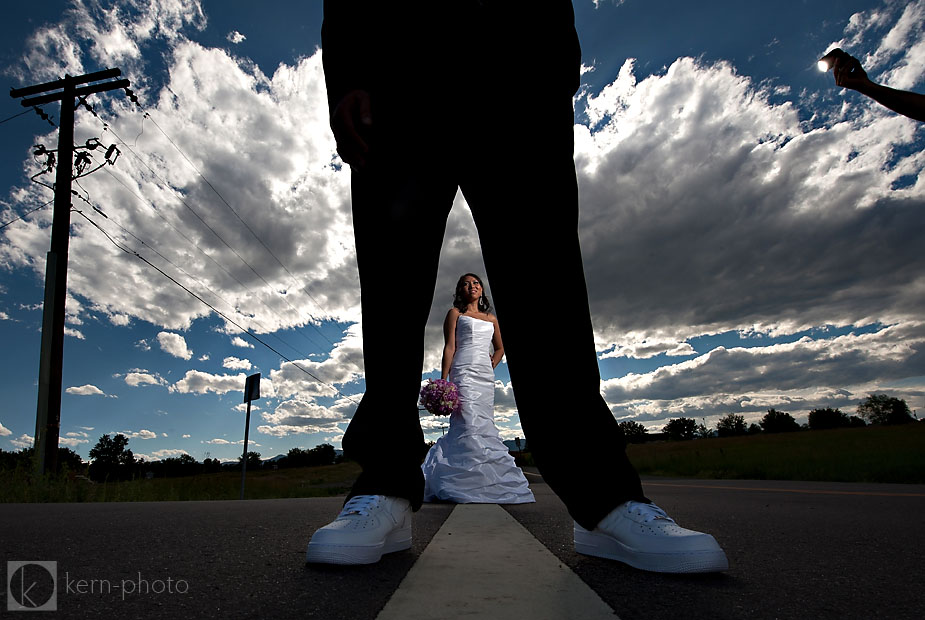 My intention in creating this photograph was to emphasize newly minted bride, June, and showcase Mark's cool Air Force Ones. I'm laying on my stomach in the middle of the road, waiting for the sun to peek behind the clouds. Patience, I tell myself.
Now for the technicals: I used my Nikon D700 camera with my 14-24mm lens @ 18mm, 1/320 sec, f/16, ISO 200, Auto WB. I was able to under-exposure the ambient light by about two stops using just a single Nikon SB-800 flash at 1/1 full-power, clocking the flash sync at higher-than normal speeds. I guaged the distance to subject to be about 8 feet, which gave a perfect exposure on the bride, June. I hope it is very obvious where the main light is (like, duh). I triggered the flash using the infrared trigger in my pop-up flash on my D-700, a feature unavailable with the more expensive Nikon D3, D3s, and D3x. Because the infrared signal was sent via line-of-site, it worked perfectly the first time!
I deliberately chose to leave in the flash because it tells a "behind-the-scenes" visual story on it's creation. I took several other images with a closer cropping, but went with my gut and chose the award-winning shot above the rest.
Photogs, if you are interested in submitting your images to photography contests, be sure to check out my advice on how to choose your best photos. I also offer lightpainting mentoring with details here.