Christoforos Asimis
Christoforos Asimis, a well-known Santorinian painter, inspired me in many ways during a recent trip to Santorini, Greece. A modern-day equivalent of Michalengo, Mr. Asimis spent seven years creating religious paintings at Santorini Orthodox Metropolitan Cathedral. Viewing his work brought feelings on par with the Sistine Chapel: creative & spiritual awe.
His smaller, abstract paintings of light and landscape in Santorini remind me of Georgia O'Keefe's use of color, balancing form with line. I was introduced to his work after my first morning in Santorini, Greece, just after dawn. After photographing for several hours at Aghios Artemios, I walked into the breakfast room and saw what I later would learn was a print of the original that Mr. Asimis gave the owner created on the grounds of where I was staying. I woke early, almost in a dreamlike state. As I explored the grounds of my hotel with camera in hand, I immediately knew this place was special, especially pre-dawn. Everything was photogenic, the powerlines, the pool, the stray dogs. I blogged a few of the images from those early photo-safari mornings here and here. The painting encapsulates the entire experience for me in a new happy place: solitude, simplicity, love, beauty, color, and peace.
After a series of very fortunate connections, I was able to meet Mr. Asimis at Phenomeno, his gallery located on the Ypapantis Walkway at the edge of cliff in Fira. I shook his hand, we took a few polaroids together, we took care of business, then hugged goodbye. He had tears in his eyes, almost like watching his own head off to college.
After a wedding booking, I share a portion of my earnings with another artist by purchasing their work. It's a great form of flattery for an artist. And it's also a way I like to give back. I'm blessed to share that experience with Mr. Asimis and hang the original oil painting as a prized possession on my wall.
We connected. As a schooled painter myself, we think the same. Artists see the world a bit different than many of the left-brain dominated number crunchers who keep our financial systems alive. It's a perfect balance, you see. Without us "artsy" types, we'd all be walking around with pocket-protectors (someone had to design Amy's stunning Oscar de la Renta bridal dress or Sean's suave Dormeuil suit).
Here, Mr. Asimis holds a photo of himself taken 35 years ago while he painted the Cathedral ceiling:



His painting of Aghios Artemios inspired me to create this photo of Amy & Sean dancing at the same location during their First Look in Santorini, Greece: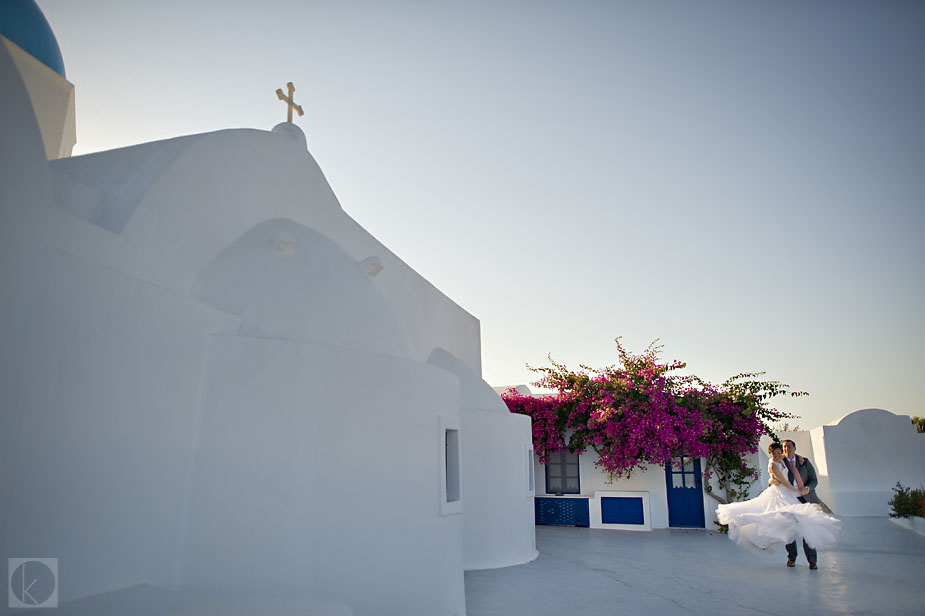 I'm keeping my fingers crossed until the results of the next International Society of Professional Wedding Photographers (ISPWP) contest, as I entered the above image category in the "venue or location" category.
PS- If you are stateside, visit Treeline-Gallery near Grand Rapids, MI, to see more paintings by Christoforos Asimis.