Thor, Hotdish on a stick, ISPWP Results, and Albino squirrels
Last weekend I indulged in a quintessential Minnesota weekend, my debut 'normal' weekend in fact… sans TSA checkpoints, receiving lines, and fading Nikon batteries. As a Denver wedding photographer, those weekends are few and far between. While my internal batteries need to be drained challenged before fully recharging, there's nothing like playing hard after working hard. Highlights included my very first Minnesota Vikings football game, eating all things fried on a stick at the Minnesota State Fair, seeing the winning results of the latest wedding photo contest, and spotting a rare albino squirrel in the backyard. Action-packed weekend!
Vikings game
Most guys's eyes blur after sitting down and noticing a line of cheerleaders: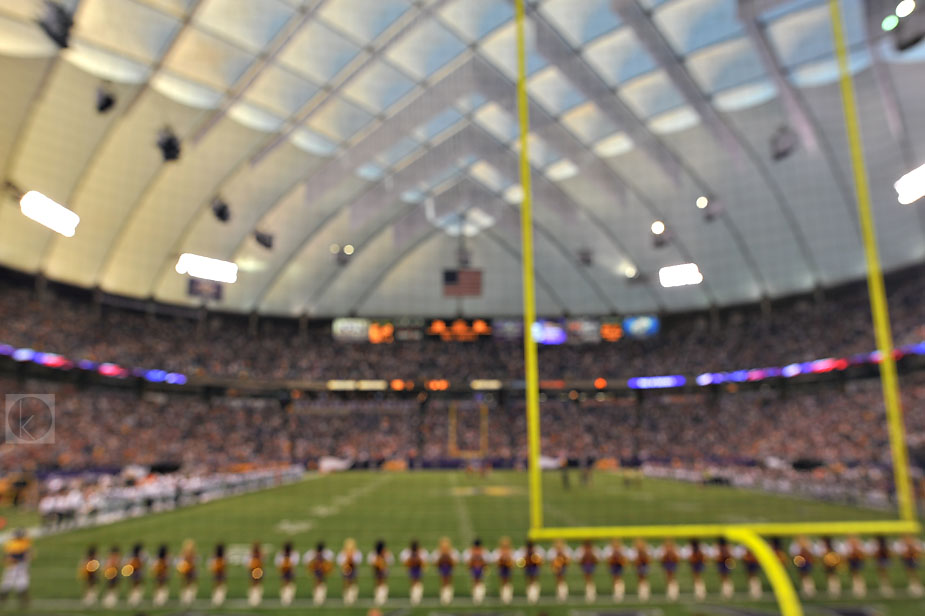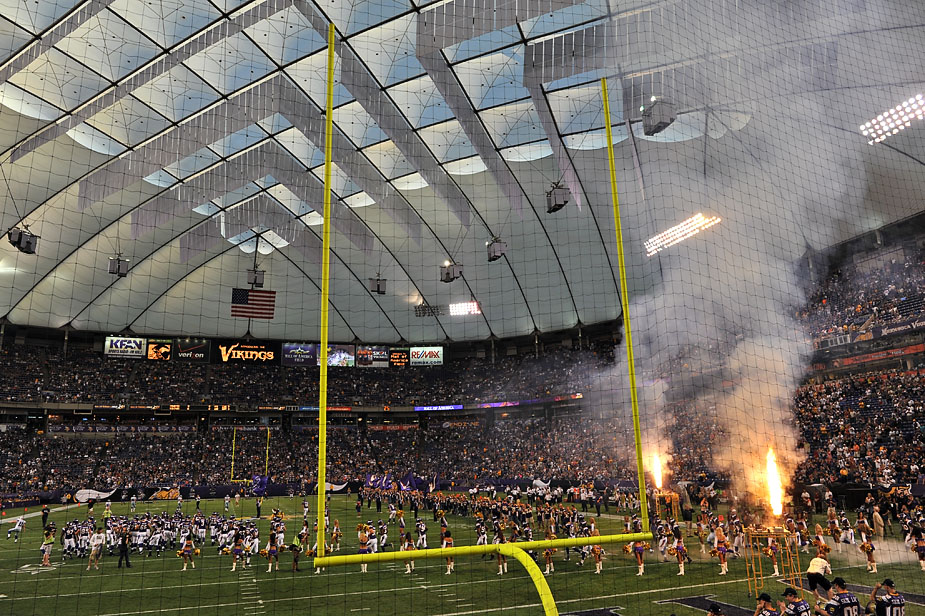 Good thing I have my very own Norwegian Viking (notice the genetic similarity):


Fans love Joseph "Ragnar" Juranitch, a true Minnesota Vikings Mascot who hasn't missed a game since 1994. Not only is he the only "human" mascot in professional sports, but he's also the first to arrive in a motorcycle (now, copied by many). Get this: he's at popular school janitor in his day job. Two subtle details about this portrait of Ragnar catch my eye: the NFL goal post sign, and the fan hand in the foreground. Skål Vikings!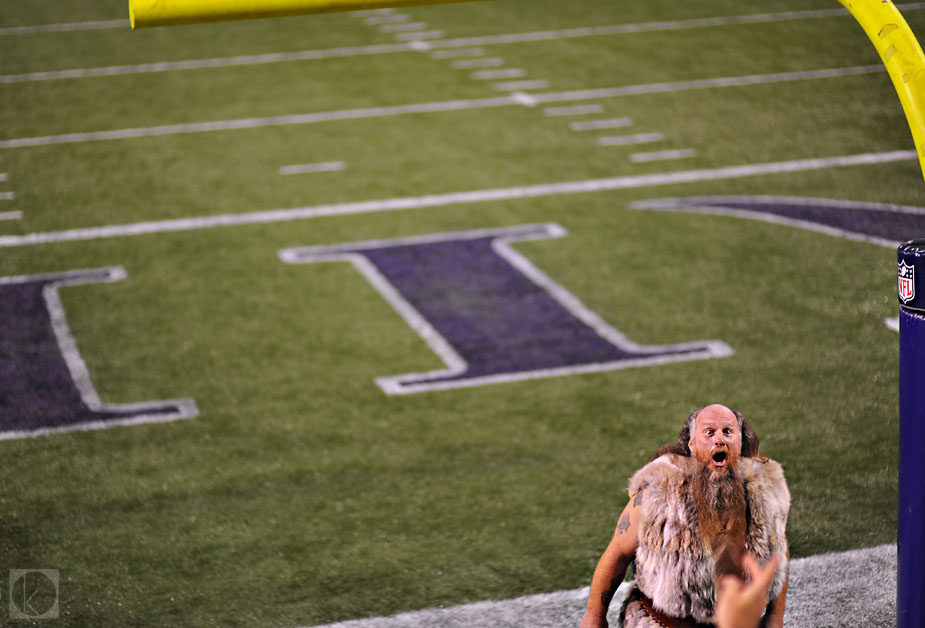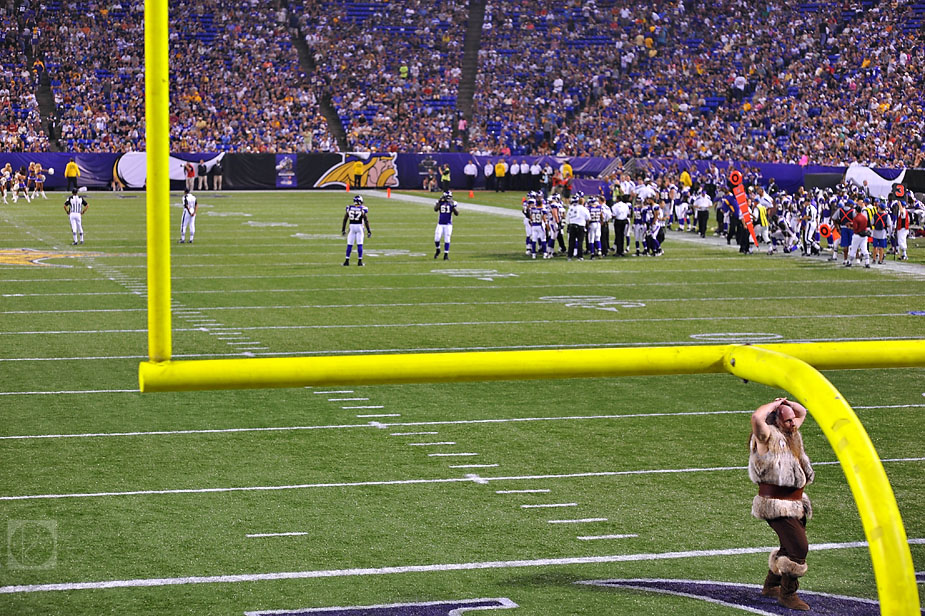 Minnesota State Fair
Then it was off to the great gathering of the Minnesota state fair to witness Princess Kay of the Milky Way getting her sculpture carved out of a 90-pound block of butter in a 40 degree room. This year's winner: Mary Zahurones representing Morrison County, MN.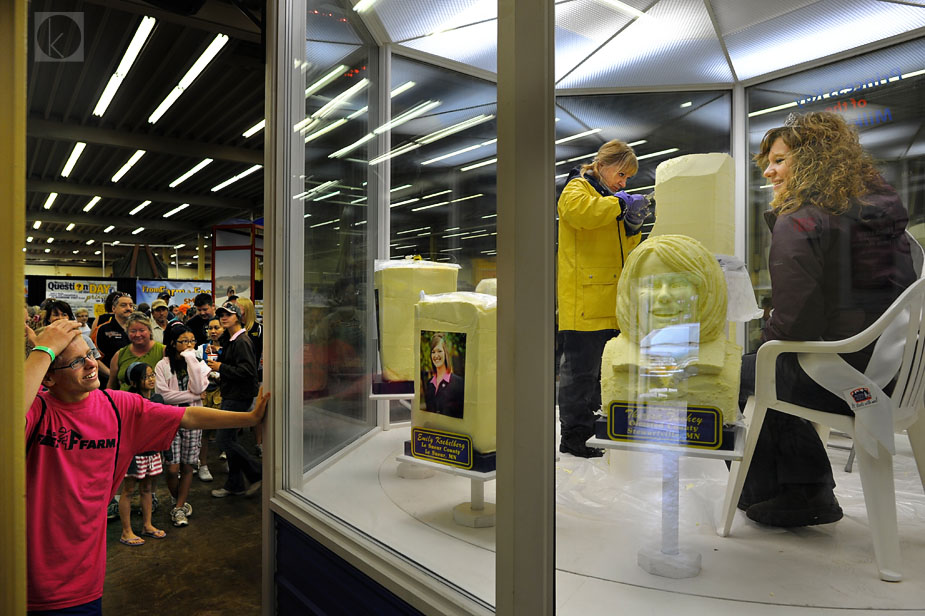 Fried food on a stick reigns as the best theme at the Minnesota State fair. Pickles, snickers bar, pizza, and yes, a true Minnesotan tradition: Tator Tot Hot Dish (on a stick).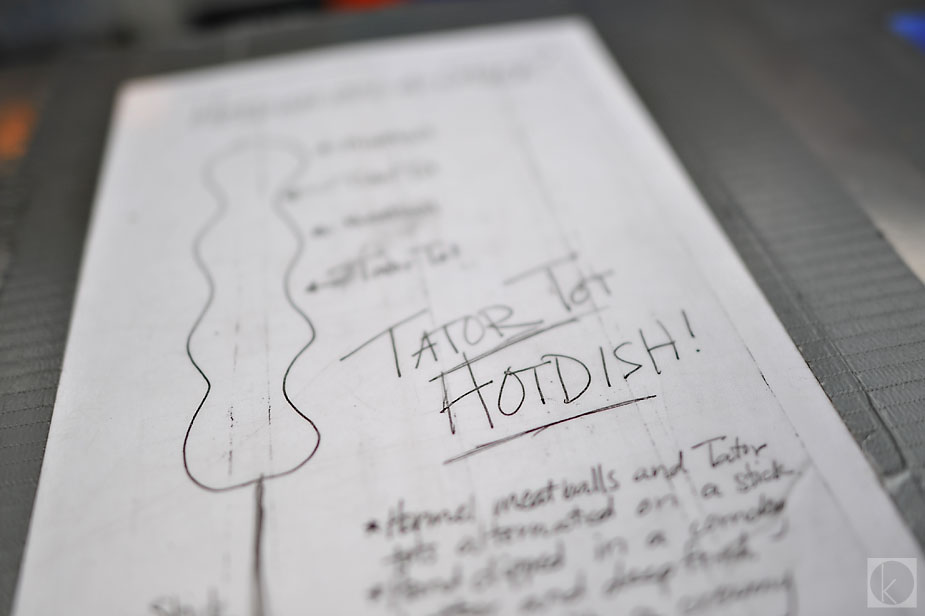 Deep friend snickers bar tastes just like what it sounds like. As Crocodile Dundee would say, you can live on it… but it tastes like S#*!.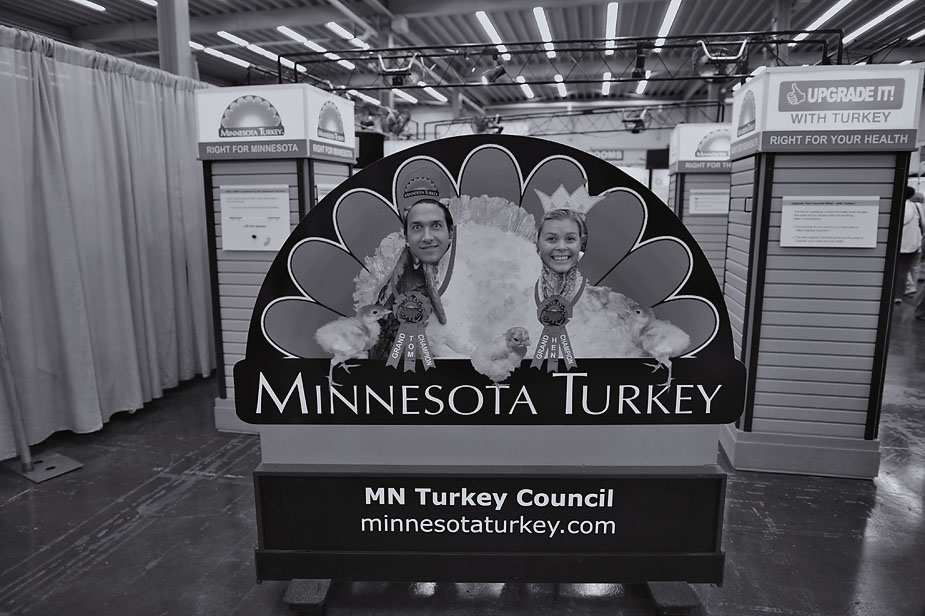 International Society of Wedding Photographers (ISPWP) Winners Announced
Found out this morning a pair of creative portraits from Stephanie & Quinn's wedding placed at the Summer 2011 ISPWP Photo Contest in the Fine Art and Bridal party categories.
During creative portrait time on their wedding day, we headed to a parking garage near University of Denver where I liked the Denver front range displayed as a framed panorama. Shooting RAW allowed me to increase the dynamic range to include the highlight detail of the sky and mountains in the background while allowing the subtle shadow detail of Stephanie's wedding dress to be focal point of the image. I used the leading lines created by the lights above the parking garage to draw your eye the the dead center of the frame where I asked Stephanie and Quinn to "just be and enjoy the view." In Lightroom, I raised the black point, added a slight purple toning to the shadow, warmed the highlights, and finished with some dodging and burning. The cherry on top: the arrow pointing to the King.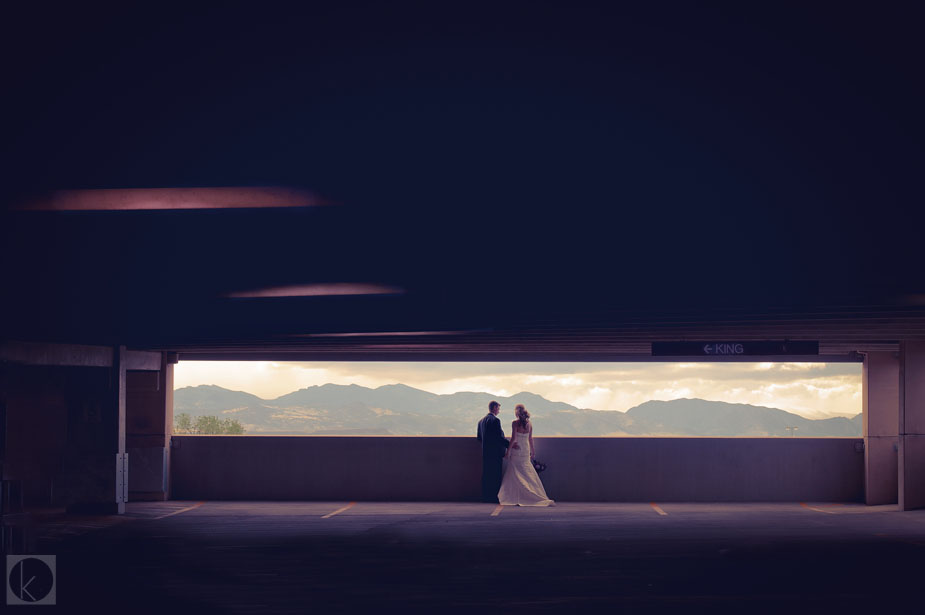 Bridal formals don't have to be boring, yet can create an opportunity to create compelling wedding photos in Denver. Shooting at 200mm focal length allowed for compression of foreground and background as I asked lined the entire bridal party up and asked them to close their eyes, feeling the warmth of the sun. The hard light characteristics of the sun accentuated facial features while the mound of grass offered the illusion of being buried chest deep. It brings a smile to my face.


Albino Vermin?
Yes, the moment you all have been waiting for…. proof that Albino squirrels not only exist, but thrive in a backyard. Yes, you read it correctly: Albino squirrels. And there's a family of them in my new backyard. My first sighting: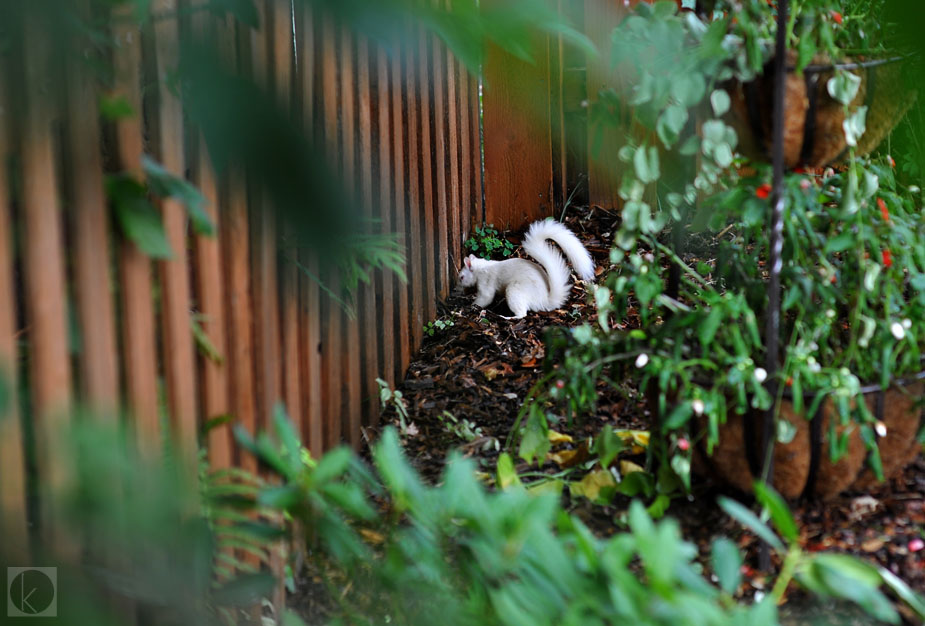 Perhaps a chromatic response to snow, or genetic anomaly, this cousin of the Monty Python-Killer bunny is well-camouflaged for winter.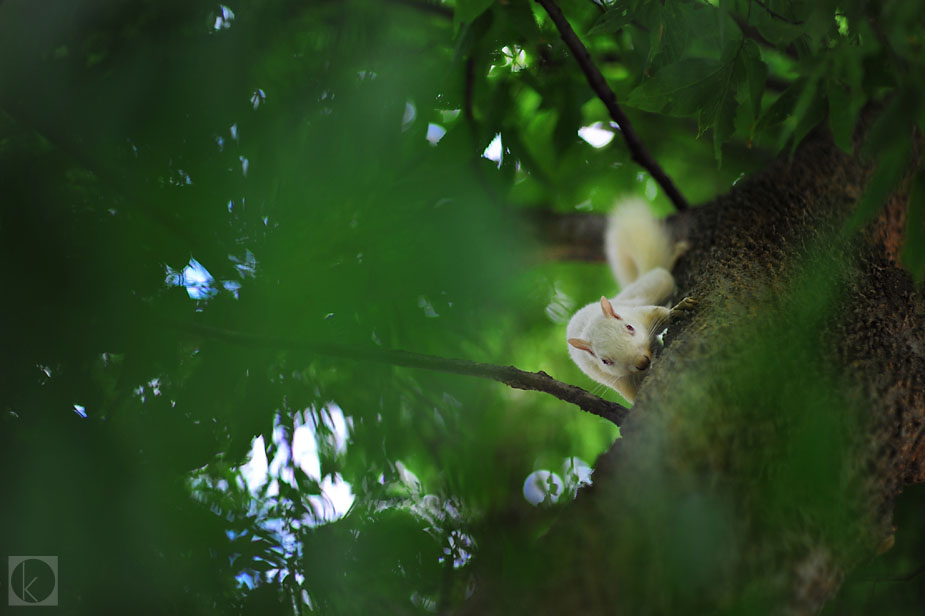 Apparently, Willy wants to 'play' with them.