Light painting like Leibovitz with Dark Arts
Most creative work is a process of people passing ideas and inspirations from the past into the future and adding their own creativity along the way. – Joi Ito
As part of Week 1 of 2012, one of my new habits I'd like to continue is to branch out of a style of photography and subject matter new to me… and draw from past ideas but add a new level of creativity. Like trying new, exotic foods… sometimes you never know what you're gonna like. And if you like it, add Cholula and see what happens.
This evening, I met up for to teach a private mentoring session focused on light painting with Kate Lyon in Denver. We started off with some basics and quickly headed off to create a portrait or two with Eva, dressed in Goth attire. When Eva arrived at Starbucks in Goth attire, I greeted her with a big hug. Others weren't sure what to make of the scene, but I didn't care. I've known Eva for almost 10 years.
In the back of my head, I wonder sometimes where ideas come from, especially when I am on location shooting. I hereby declare the following: I usually draw on something I've seen before I like. Movies, magazines, art, namely.
For example, I've always loved the surreal quality of a painting, but never really cared much about the lavish European Baroque paintings depicting cherubs in flight with whimsical details. However, I do love the quality of the light and narrative. And I've always enjoyed the work of Annie Leibovitz, especially this portrait of Queen Elizabeth (image source):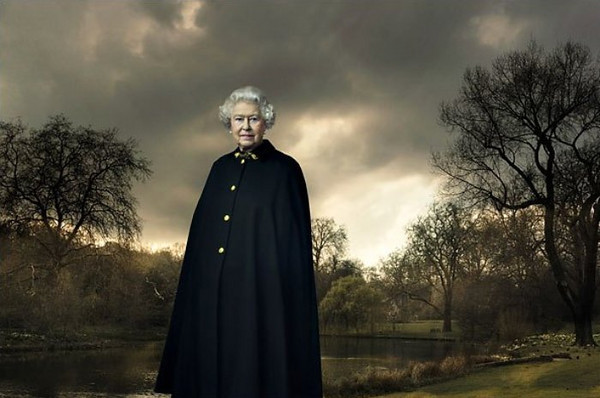 With a simple ingredients under $100, we created this portrait of Eva, evoking mood and mystery: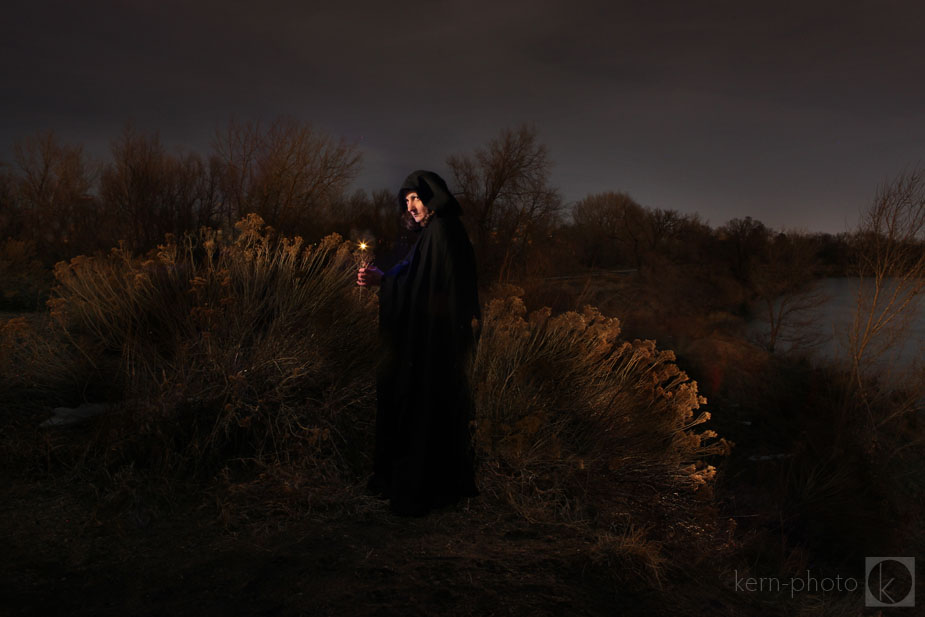 The technicals of this are easy: camera mounted on tripod, simple video light camera left, distant light of a house for the candle light, and then I light painted the brush for detail. I brought of the shadow detail very slightly. Jpeg all the way. Canon 5D Mark II, 24mm, 30 second exposure, f/10, ISO dunno. I love the European landscape feel, even though this was Wheatridge, CO at night. Printed on canvas, it might pass as art in a Gothic mansion.
Light painting basics:
Light painting is a way for me to interject my personality into my work. I'm a hands-on type of photographer who likes working with my hands, running around, and not afraid of making mistakes.
The Skinny:
1. Set up your camera on a tripod.
2. Choose a low ISO (200), f/16, 30 seconds as a starting point.
3. Manual focus (use a flashlight if you can't focus on your subject).
4. Set camera on a timer if you plan on running into the exposure (I prefer 10 second timer notice).
5. Turn off Vibration Reduction/Image Stabilization or you'll get softer images.
6. If your subjects are standing and you light them with a 30 second exposure in dim light, they will be blurry. The brighter the main light source and the lower the ambient, the less chance of subject movement.
7. Use snoots, grids, and gels to shake things up. Don't forget flashlights/flashwands/deer lights and any other light source can be used, including iPhone's, light panel, LED key chains, headlamps,
The Dark Arts
British influence continued along with energy as Snape dueled in Dark Arts with Harry Potter (Image Source):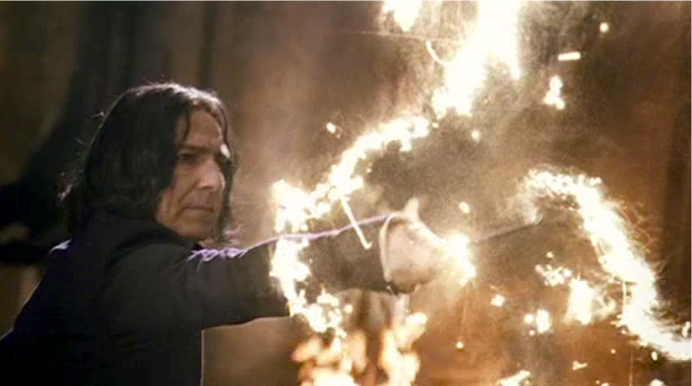 Again, technicals were simple. One speed light manually triggered at 1/64 power behind Eva "The Goth" Diva, with another pop to illuminate her face and her Goth garb. The electricity from her hands was created using a simple LED keychain in-camera. Keep in mind after a dozen outtakes, we created a shocking portrait.
Kids, don't try this at home: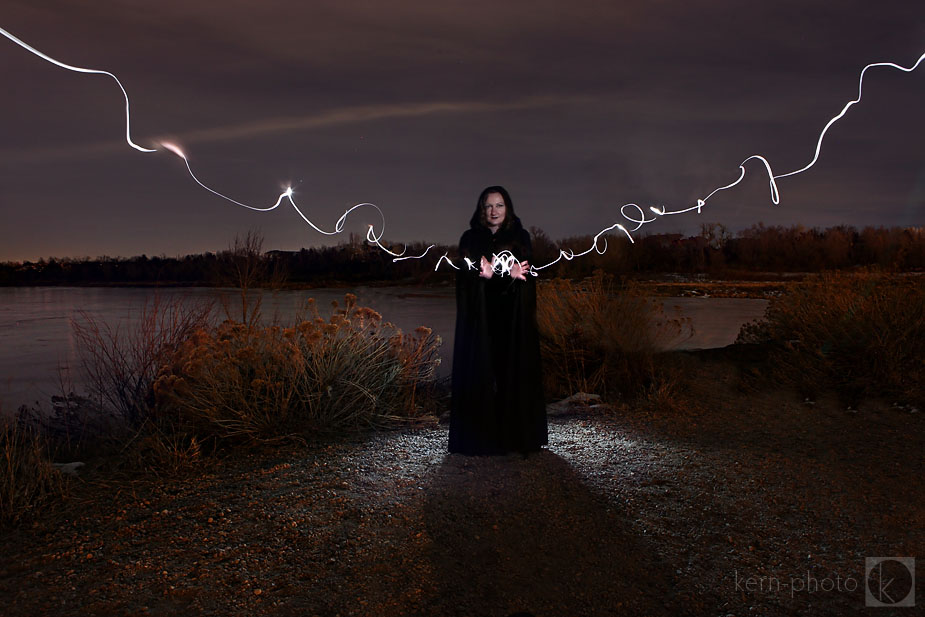 The lesson: Have fun, use your imagination, and don't be afraid to make mistakes.
I encourage you to seek to create something different with your lighting style with these tips. Then add Cholula and see what happens. Not sure how? I offer private light painting mentoring detailed here and share a ton of tips and tricks here. Drop a comment and I'm happy to help!
__________

You also might like :