Flatland: A Wedding, Deconstructed
Risky creative gambles win big, I tell myself. On the phone, Amanda Tipton of Kokoro Photography, agrees.
"Let's turn the stage, literally." I say. "Let's defy gravity and creative portraits challenging what's 2D vs 3D. Let's shoot a series from directly above, models laying on the floor. Literally."
We had this conversation in early January as I sat at a picnic table in Oahu. During these winter off-season doldrums, staying creative and pushing boundaries is the equivalent of Spring Training for wedding photographers. We just have to do it.
In an wedding industry surrounded by glitz and glamour, Amanda and I agreed a bridal shoot, deconstructed, was in full order.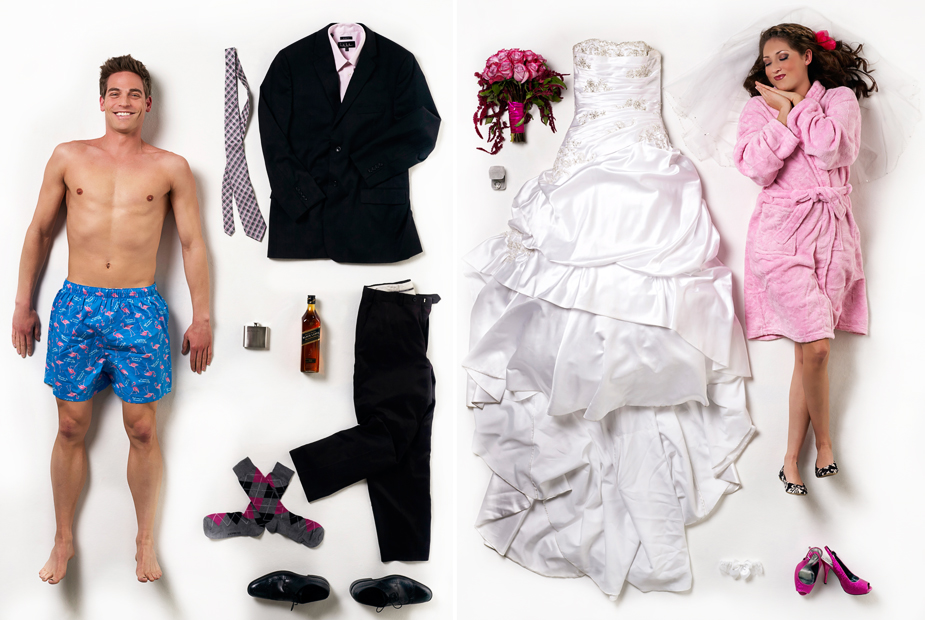 A Test Shoot: An Excuse to Explore
In commercial photography, a test shoot provides an opportunity to explore a new concepts, trying out a new lighting style, or experimenting with new equipment without money exchanging hands. You work for free, creatively-free, and you are free to show it off.
Test shoots serve as a great start to building a new portfolio, affords the opportunity to collaborating with other creatives, and push possibilities way out of the safe zone to into an arena which you can prove your mettle. Karaoke Night might be good for polishing skills for before Open Mike Night, but when it comes to the Battle of the Bands, it's game on. Test shoots help to make sure the creative talent is mic'd up, tuned to go, and recording great.
Commercial test shoots can be so, so fun. I highly recommend them if you are moving into a new field and want exposure and experience to pimp to prospective clients.
Behind the Scenes
As a visual learner, I appreciate visual concepts of theory along with a good ol'fashion behind the scenes video:
Or fast forward to watch the hilarious RJ'ism outtake at the end. Humbling, you'll see.
Creative Delegation
I'm always a fan of opportunities to collaborate with creative hands without the exchange of money between hands. It's philosophy I took away from my photography experience at Burning Man. It doesn't happen often, but when it does, the pressure comes not from paying clients, but internally. With the intention of creating something very different. Fun sits in the bullseye for these types of shoots. But serious "game on," keeps the white hot focus alive. Especially when working along peers I admire.
Delegation in test shoots is super important. And with Amanda, deciphering roles is natural. We both savor art theory and play well together. Her approach to the behind the scenes styling and attention to detail amazes me. Her role for this shoot: 100% control of the layout and design, props, and styling of the models, down to coordination of which tongue-in-cheek color schemes we were gonna pull off. Pink argyll socks match well with pink bouquets, pink bridal shoes. What guy wouldn't want to wear pink on the wedding day? And a cake, already cut in half. Love it.
Be sure to check out the entire shoot from Amanda's perspective on her blog post here. She shares interesting insight into the left-brain/right brain approach, the act of pushing the button, and implications for why to do a test shoot. A worthwhile read!
For me, solving technical challenges under pressure make me as happy as designing lighting setups. While I'm right-brained dominate, there's nothing like solid analysis and troubleshooting in a team environment. My task: figure out how the heck we were gonna trigger a remote camera mounted in the ceiling rafters (easy) but then instantly view images on an iPad, 15 feet below (not so easy).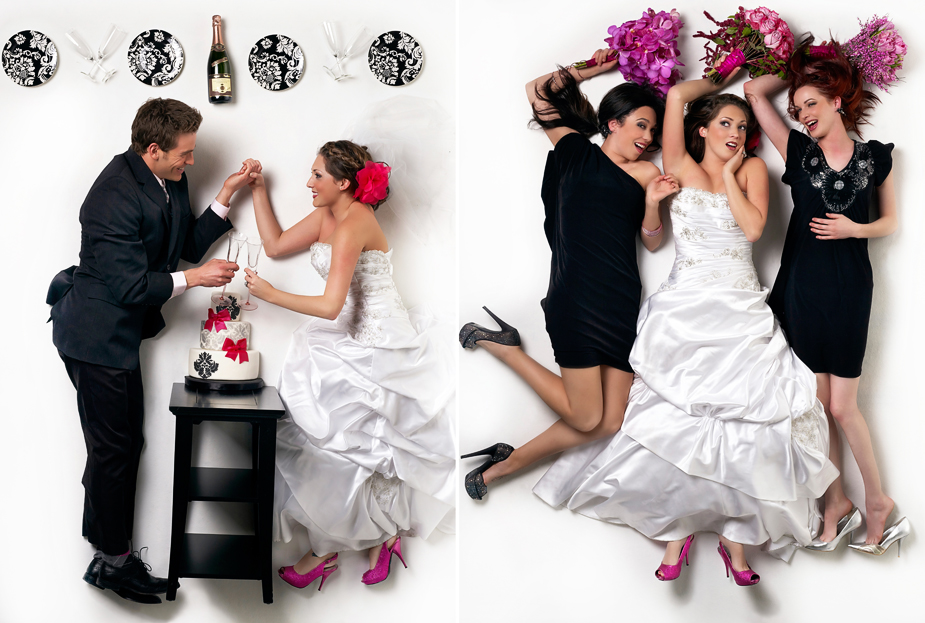 Lighting Less, is More
Two types of people live in this world: those who complicate things, and those who like to simplify. I strive to keep it simple. Especially when it comes to lighting. Prolly there's more to go wrong than the things we plan for.
One light usually does the trick. In this case, a white floor and two white walls at Citizen Pictures studio was the secret recipe. I couldn't have asked for a better setup for a one light show. Gotta love those dual fill reflector walls! Paint a floor white along two white walls for a new studio look. Easy as a gallon of white paint!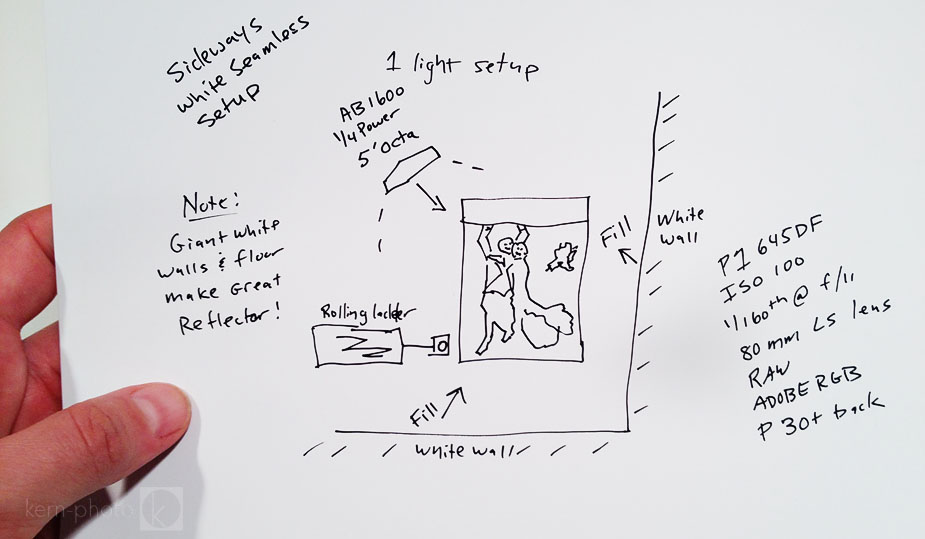 Turns out lighting was the least of my worries on this shoot, illustrated by gorgeous detail even at 400% (see above photo):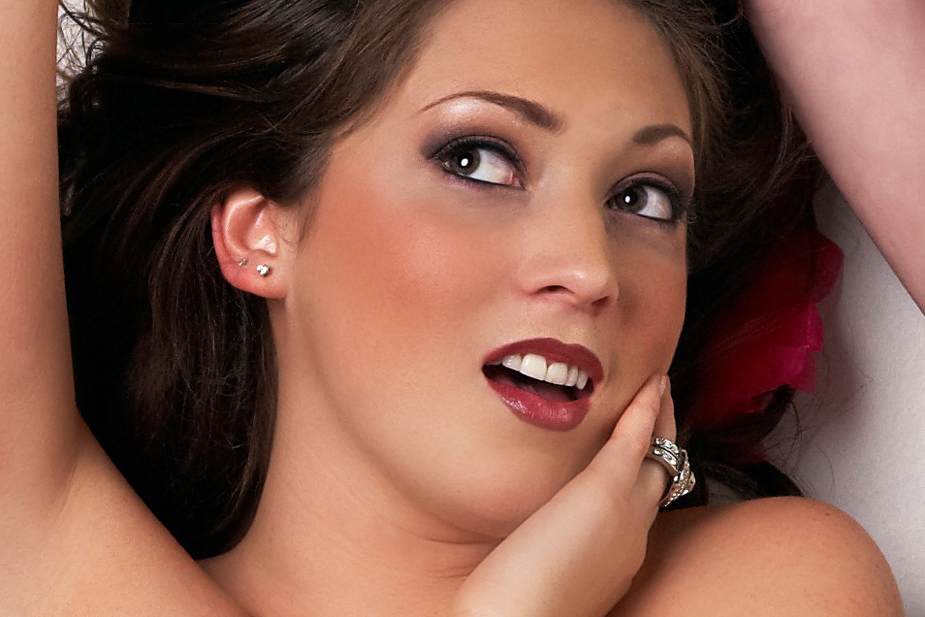 A Technical Feat
An iPhone triggered our camera mounted 16' high. Three seconds later, the 31.6 megapixel images appeared on an iPad. Steve Jobs would be proud. While you won't miss a shot due to system lag using Capture Pilot, anticipating an expression is just as important as using a normal camera. Capture Pilot (a free iPad/iPhone app), Capture Control ($6 here at iTunes store), and Capture One (10% off here at Capture Integration, served as the perfect solution to our technical challenges.
Visual theory of our wireless workflow, neat and clean: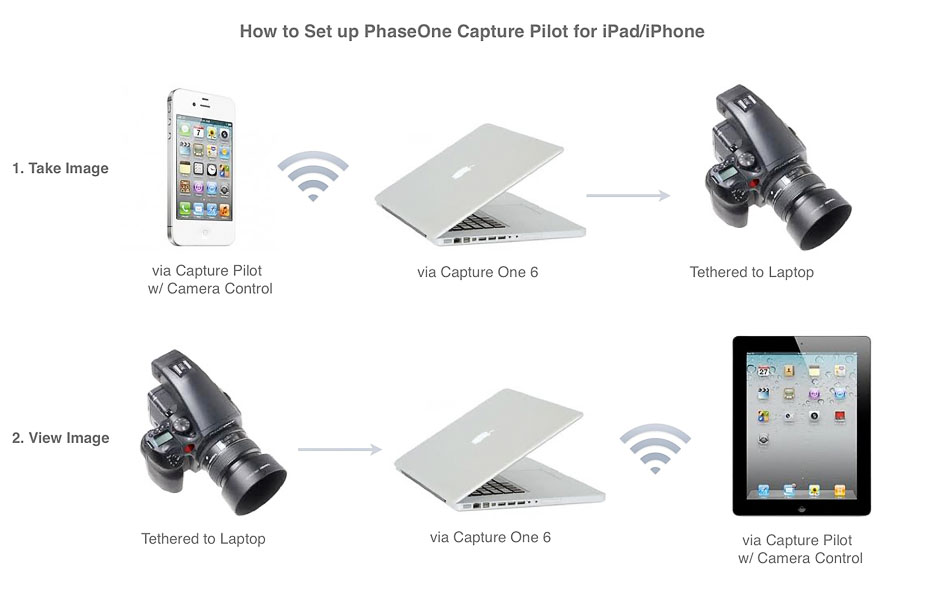 Signal Out: iPhone via Capture Pilot with Camera Control app >> 17" Apple Macbook Pro via Capture One 6 >> PhaseOne 645DF camera
Image Return: PhaseOne 645DF camera >> 17" Apple Macbook Pro via Capture One 6 >> iPad via Capture Pilot with Camera Control app
Triggering the camera with an iPhone presented interesting challenges, as the models had to look up while the photographers directed from aside. Normally we can see exactly the image from the view finder in the camera. On this shoot, we had to rely more on instinct. Having the instant gratification of viewing the images directly from the iPad engaged both the art direction and the models.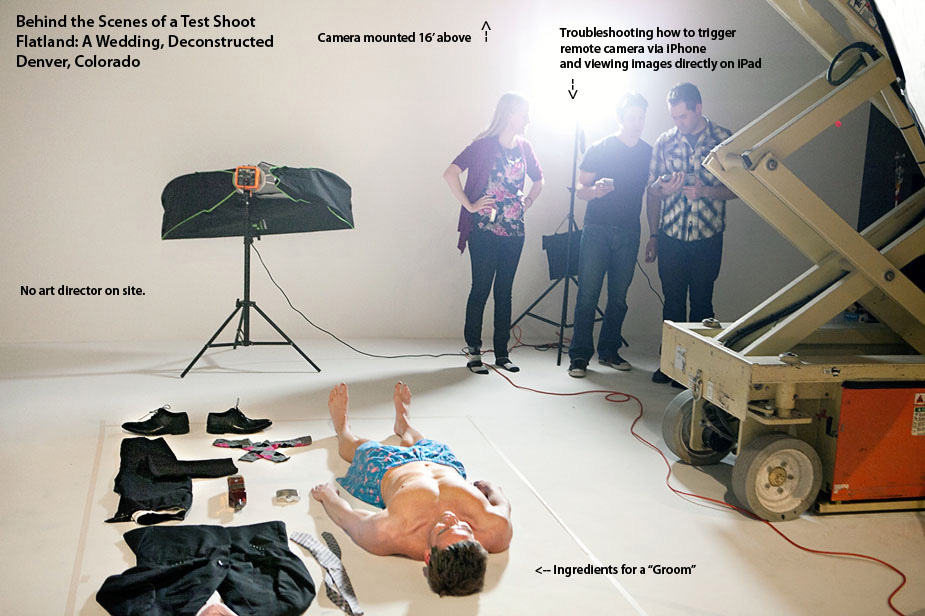 Lessons learned using Capture Pilot with Camera Control
First off, if you are new at setting up Capture Pilot for iPad/iPhone, check out these tips by Capture Integration. To save a few headaches, a few other items to consider:
Turn off Bluetooth on all participating devices to ensure optimal signal (Settings > General > Bluetooth > Off).
Setting up a Wi-Fi Network without a wireless router is easy (Create Network > Create a computer-to-computer network). However, if there are other Wi-Fi networks in the area, on your iPhone or iPad be sure to either choose "Forget this Network" or switch the sliders for "Auto-Join" and Auto-Login to Off. That way you won't accidentally switch networks.
Ensure a firm connection with the firewire cable tethering camera to laptop.
Turn off 'auto power saving' features on all devices (laptop computer, iPad, iPhone) to minimize network connection issues. If your computer goes to sleep, then it won't transmit. Same goes for the iPad or iPhone.
Ensure devices are powered up (camera, digital back, laptop, iPhone, iPad). A single point of power failure breaks the whole process.
Regardless, Capture Pilot provided our answer and I highly recommend the workflow!
Questions? Sound off below! I'd be happy to answer.
__________
Gear:
Phase One 645DF with a PhaseOne P30+ medium format digital back.
1 Vagabond Mini Lithium 120 VAC battery
1 Beauty Dish
2 Pocketwizard Plus II
1 Hildozine Caddy for Pocketwizard
Processed using Capture One 6
Technical notes:
Phase One 645DF : The adaptable open platform system offers superb flexibility and awesome image quality and handling. Seriously, it's the pinnacle of flexibility in medium format digital photography. The solid build quality with ergonomics to boot feels like a Nikon D3x with handling like my D700. Love the grip, simple interface, and fast performance. And that matte-black…. so sexy.
PhaseOne P30+ : All the resolution I need to print a 30 x 40." While it isn't full-frame, and lacks IQ functionality, the image quality far surpasses any 35mm DSLR. Refurbished is the way to go, like buying a pre-owned BMW M3. The P 30+ is a medium format digital back designed for fashion and portrait photographers suitable for harsh environments and boasts awesome moiré control. I dig the 12 f-stops dynamic range and 4:3 ratio rectangular image sensor along with the 31.6 megapixel sensor packed of hyper sharp, painterly details (a $10K+ package).
80mm f/2.8 Schneider-Kreuznach LS lens : For those more familiar with a 35mm DSLR, the P30+ back offers a 1.3 crop factor, which makes what would be a "normal 50mm" lens making for a 60mm angle of view comparable on a 35mm camera. Depth of field on a medium format camera differs than a DSLR, so f/11 using our setup yields about the same depth of field at f/5.6 on a Nikon D4 or Canon 5D MIII. While the feaf shutter wasn't fully utilized on this shoot, image quality astounded. I dig the build quality, focusing speed, and optic quality of this $2600 beast. However, if we could break the bank, a 55 mm angle of view would have been more suitable, considering we were shooting remotely tethered 16" high.
Credits :
Photography, Lighting, Styling : Amanda Tipton // Kokoro Photography and R. J. Kern // Kern-Photo
Videography : Brian Martinez // Käntrast Media and Jim Harper // JHP Films 
Video Editing : Jim Harper // JHP Films  Venue : Phil Swanson // Citizen Pictures
Hair & Make-up : Samantha Koch // LadyCharm Artistry
Cake: Kelley Prather // Kelly Kakes
Florals: Alicia Schwede // Bella Fiori
Graphic Artist : Matt Steaffens // Mathieu Ryan Photographers
Production Assistant : Scott Stebner // Stebner Photography
Models : Jordan Beston, Alisha Beston, Ryan Otto, Kirsten Sletten
__________
You might like :