Lighting Painting on a New Level
Creative minds work in small circles. As I daydream my next trip to Burning Man, I stumble upon the work of the Aurora Light Painters. Turns out, Julian Cash shares mounds of tongue-in-cheek creativity stemming in his book, People of Burning Man.
Watch Howard Stern, Sharon Osbourne, and Howie Mandel 'get' light painting:
[youtube width="560″ height="315″]http://www.youtube.com/watch?v=bGEPRfT5LSM[/youtube]
I couldn't help to comment, as I enjoy light painting in my wedding photography. If you'd like to learn a bit more, check out my blog post on light painting tips, tricks, and secrets revealed. To see something like this on a grand stage makes me smile.
Viewing notes
An art troupe painting with light. Damn, wish I thought of that. God only knows the comical relief I provide running around in fields tripping over trees, falling into water, and almost getting arrested by a mounted police on a horse while teaching a workshop in New Orleans.
 Look at the crowd roar!!!! Now that is light painting on a grand stage, entertainment beyond the final photo. Clients love the process.
Howard Stern has seen it all. To hear him say, "I've never seen anything like this before," I smile.
If Sharon Obsorne loved it, I can only imagine what Ozzy was thinking.
Lightpainting like Chuck Yeager
I take my light painting seriously. No different than Chuck Yeager did with his flying when he broke the sound barrier with his X-1 in 1947.
Many would laugh at his intent before it happen. No different than before a light painting dancing troupe was featured on America's Got Talent. But both happened and created a sensation.
Too often painting with light turns county-fair neon art project, covered in cheese. That's where I like to take my approach and play with composition and lighting. The third ingredient, documenting a memorable moment, is the tricky part.
Done well, light painting has the ability to do what a standard approach to photography with off-camera flash can't touch. You can light within the frame of the picture. Creating conflicting shadows. Use all sorts of unique, alternative light sources. If you are photographer, reverse engineering this style of black magic lighting takes practice.
Father's Day inspiration

At each wedding, I like to challenge myself and create a light painting. Doesn't happen all the time. With Father's Day right around the corner, I drew inspiration from two important men in my life: my Dad and my Father-in-law, Roger. My father who was in the Navy for many years and helped create the aerodrome of model airplanes still hanging in my old bedroom. Roger flew in the National Guard and loves to fly. And we all love the movie, "Top Gun."
My in-laws were guests at this wedding, so I felt the need… "the need for speed."
If the sound barrier could be broken in a light painting, perhaps it would look like this photograph created at a wedding at the Mill City Museum: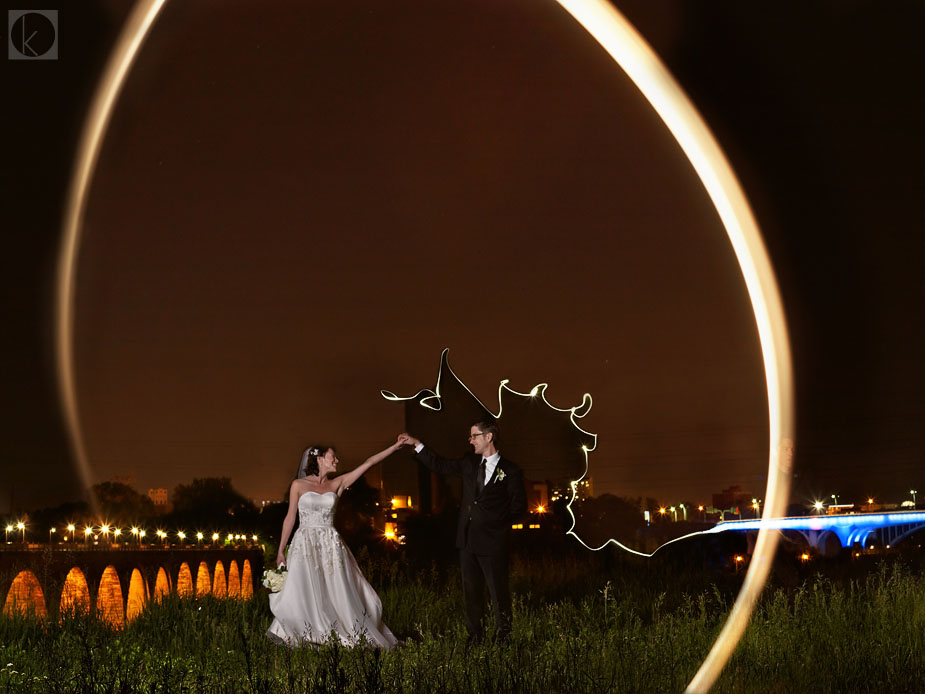 I love this moment of happiness!