Celebrating 10 Years!
Looking back at the last ten years of business has been great. I'm making money doing something I really like, I get to travel, I work with people, and when the pressure is on, I get my work done then it is over and I can go home and hug my wife and kids and let my dog lick my face.
I feel thankful and fortunate all these years to have created my own luck. Through hard work. And determination. Lots of sharing to my competition. Some self therapy, too. As I mature as a husband, a father of two, a business-owner, and artist, I honor milestones with the respect. Our time is measured.
As a business owner and the face of the person of my brand, I must face my people. My loyalists and readers. My clients who trust me. My small, but valued collectors of my work.
While I celebrate 10 years in business, I look forward to another 10 years AT LEAST!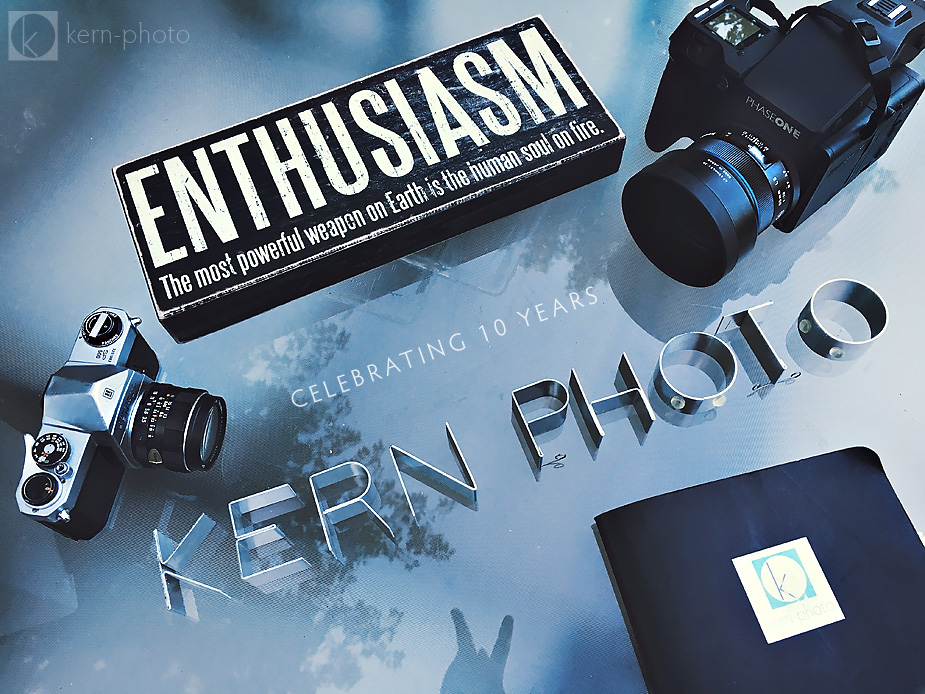 My first camera, a Honeywell Pentax 35mm DSLR, contrasts my current setup, as PhaseOne 645 XF camera system with IQ 260 medium format digital back. BOTH incredible creative tools.
Don't 96% of businesses fail in 10 years?
So they say.
After starting my photography business in 2006, I remember hearing 96% of businesses fail in 10 years. That really shook me up. How could a business person invest so much into their destiny for it to fail? Was the American Dream a lie? Would I be a success or failure?
I asked myself these questions, revisiting them year after year. Was my business actually growing? That's a no brainer: I could see that metric in my tax returns each year. Was I growing as a photographer? Without doubt, I see the quality of my work progressively improves through the years of experience, workshops, contest wins and losses, peer critiques, and lots of introspection.
Was my creativity growing? Was I growing to be self-aware and self-critical of my place in the world as a creative? Would my work be taken seriously by clients, collectors, jurors, or (gasp) museums??? There is no litmus test for this measure. Yet I see my creative grass needing a sharp blade of mowing. I've got no time to waste. A dear family member committed died recently. Everything draws sharper when priorities become ever clear. I digress.
What's the secret?
No secret.
Just this: "A change in routine is as refreshing as a break." — English proverb
Top-notch customer service, the constant learning through continuing education, and the pursuit of personal projects affords the freedom to grow as a creative.
Speaking of personal work, the next few months is a boom! Big stuff currently exhibited in juried, fine-art photography exhibitions:
The FENCE: A Public Photography Exhibition Series juried by panel of 44, United Photo Industries (Boston, Brooklyn, Atlanta, Houston, Santa Fe), 2016
PhotoMidwest 2016 Juried Exhibition, juried by Larry Fink, The Overture Center for the Arts (Madison, WI), Sept 9 – Dec 5, 2016
National Juried Photography Competition and Exhibition, juried by Susie Morrill, David Turner, and Ron Jude, Emerald Art Center (Springfield, OR), Sept 6 – 30, 2016
Fun House: Art of the Surreal, Fantastic and Bizarre, juried by Eve Biddle, Barrett Art Center (Poughkeepsie, NY), July 23 – Sept 3, 2016. Received Juror's Award.
Tripping the Light Fantastic: Excellence in Photography, juried by Rowland Scherman, Cotuit Center for the Arts (Cotuit, MA), July 23 – August 28, 2016
A Point of View: Contemporary Photography, juried by Mitra Abbaspour, Site: Brooklyn (Brooklyn, NY), July 15 – August 12, 2016
22nd Juried Show via Instagram (#22juriedshow), juried by Paula Tognarelli and Iaritza Menjivar, Griffin Museum of Photography (Winchester, MA), 2016
Lots of big names I'm honored to have my work juried by… humble, bow.
In today's mail shows up this check for a juror's award by Rowland Scherman for personal work ("Hazel") shown at the Cotuit Center for the Arts. What celebratory goodness!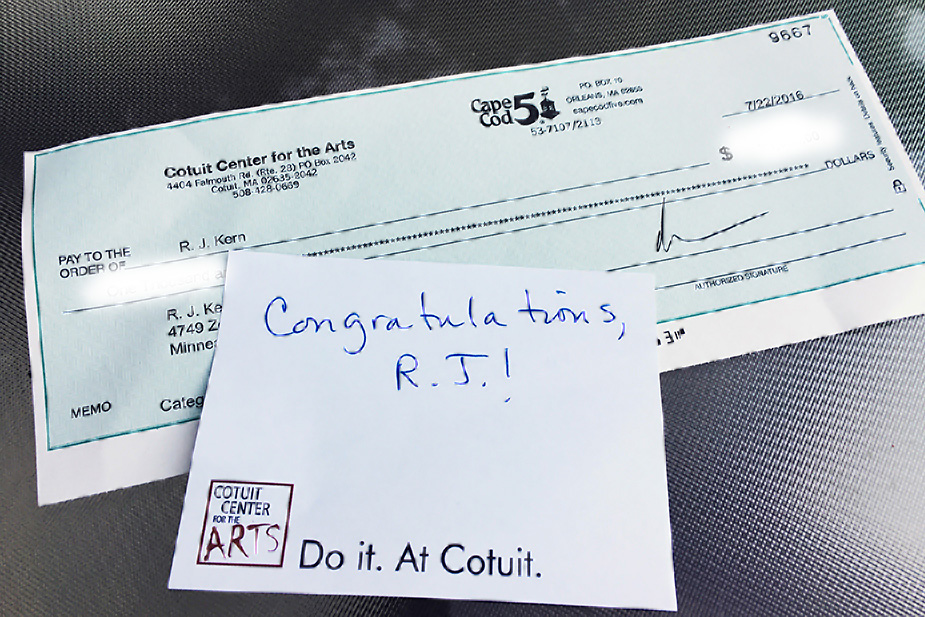 Cheers to another 10 years!