shooting family portraits at weddings
Last Wednesday, over 30 Denver wedding photographers showed up at the Spruce Mountain Ranch in Larkspur, CO to hear myself and Angie & Andy Wood talk about off-camera lighting. Lots of great questions asked. I spoke about shooting family photos at weddings.
We do not shoot many overly posed photographs on the wedding day.  However, we feel it is important to have some casually posed images with close family and friends. We usually take the formal photographs immediately following the ceremony, unless the bridal couple chooses a First Look. To streamline the process, about a month prior to the wedding, we send out an email asking the bridal couple for the selection of formal groupings and include a list of our standard formal groupings: bride and groom with bride's parents, bride and groom with bride's parents and siblings, bride and groom with groom's parents, bride and groom with groom's parents and siblings, bride and groom with all bridal party, bride and groom with each respective party (if not taken pre-ceremony). That way all the grounds get covered in less than 20 minutes.  If clients wish to add extended family into the formals, we recommend an average of 3-4 minutes per additional grouping. One thing we stress is that everyone in the formals be ready to begin at the stated time otherwise the show must go on.  To avoid wasting time searching for missing individuals, have your bridal couple to communicate to those they would like to participate and even have a list of names on a poster at the exit of the ceremony site. That way they don't miss photos and voyage off to cocktail hour.
If you are new to relatively new to wedding photography, you don't want to screw up formals. Fear not, here's our list of Do's and Don'ts to help:
DO keep it simple when choosing a location. While that sweeping mountain vista may just be over that ridge line, keep in mind Grandma may not want to walk far. Good lighting is more important than a scenery for portraits.
DO have a good attitude. While family dynamics can be tense, timelines tight, and weather iffy, the one thing you can control is your attitude. Never forget that. If you make the family portrait experience sincere, snappy, and add a dash of natural energy… you are off to a great start.
DO make sure you're using a depth of field appropriate for the size of the group. If you have 3 tiers of people (front, middle, back), you'll be safe shooting at f/8 with almost any lens. The key when shooting family portraits to do get everyone in focus. And always focus on the bride's eyes, no matter what.
DO ensure people are evenly lit, whether it be natural or artificial light. Shooting available light formals has advantages, especially if bounced light is serving as a main light source. But if you are shooting in a dark church, be smart. Use your flash to create important images.
DO think about the quality and quantity of light. Available light is easy and looks great, but only if people are evenly lit and you can carry enough depth of field… meaning ALL of your subjects are in focus and not just the middle row. When in doubt, use a single strobe. During noon portraits, a small speedlight will never keep up with a budget studio strobe in terms of overall power, and more importantly, quick recycle time. You don't want to have to wait for your small flash to recycle, which represents precious time lost. If I take a series of 4-5 shots in a row at f/8 within 3-4 seconds, I want the exposure to be identical on each and every shot. When you shoot at this level, JPEGS look awesome right out of the camera, making post-processing almost nonexistent. Otherwise, you'll be spending an extra time post-processing to fix what you could have nailed in camera. Face it: we'd all rather be shooting than sitting in front of the computer.
DO make sure your equipment is secure and not a hazard to your clients. You don't want a breeze to blow your 5' softbox on top of the flower girl. Position sandbags or heavy bags on top of the legs of light stands to avoid tipping over. We use at least one 15 lbs sandbag and that generally does the trick, unless it is super windy then I'll have someone hold the light stand.
DO ask the bridal couple in advance about family situations you should know about (deaths, divorces, etc) to make sure everyone is addressed correctly during the family portraits. Party killer: asking the bride in front of the entire family about the whereabouts of her grandmother (recently deceased). This is all covered in our email we send out a few weeks prior to the big day.
DO respect tight timelines and ensure the bridal party and family arrive on time to the reception. In fact, arrive 5 minutes early and you might find yourself as a candidate on the preferred vendor list.
DO take one large bride side / groom side shot as opposed to large numbers of smaller groupings.
And some things not to do when shooting family photos at weddings:
DON'T be afraid of shooting big groups. Consider the opportunity a great time to showcase your personality in front of captive victims future clients that would love to work with you. Introduce yourself confidently, be yourself, and showcase your professionalism. Before you know it, you'll be nibbling hors d'oeuvres during cocktail hour and have created images that will be cherished in 50 years to come.
DON'T turn down a request for a family portrait. You never know who might request it, why it is important, and how much they might pay for a print of the image. In the end, the client must be happy.
DON'T shoot duplicate groupings… meaning, don't shoot the bride's family with AND without the groom. Weddings are all about the joining of family. Shoot large family groupings with both bride AND groom first.
DON'T test out fancy new gear without practicing before the wedding. Fuddling with connections, meter readings, and light stands… uncool.
DON'T shoot without back-up gear. Have a second camera handy nearby and a backup power pack in the car ready to go, if needed. Last thing you want is 50 people watching you turning red in the face.
Jasmine Star talks about her style of shooting formals over on her blog, which as a great read.
Here's a variety of large group family portraits at weddings we've shot recently. First up, family formals shot with a single strobe.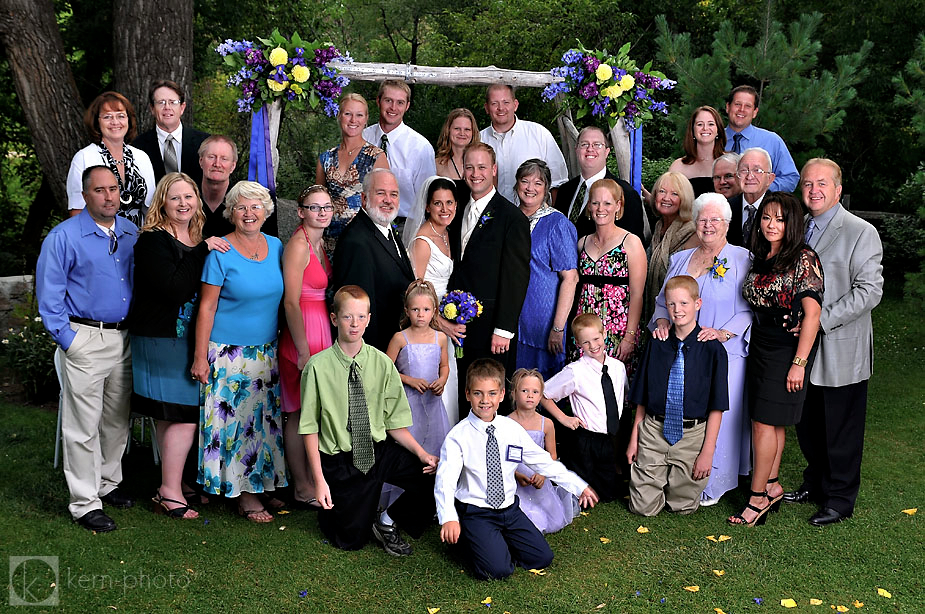 Shot with sun lower on the horizon for nice side light. Always strive for a clean backdrop which draws your eye closer towards the subject and simplifies the frame.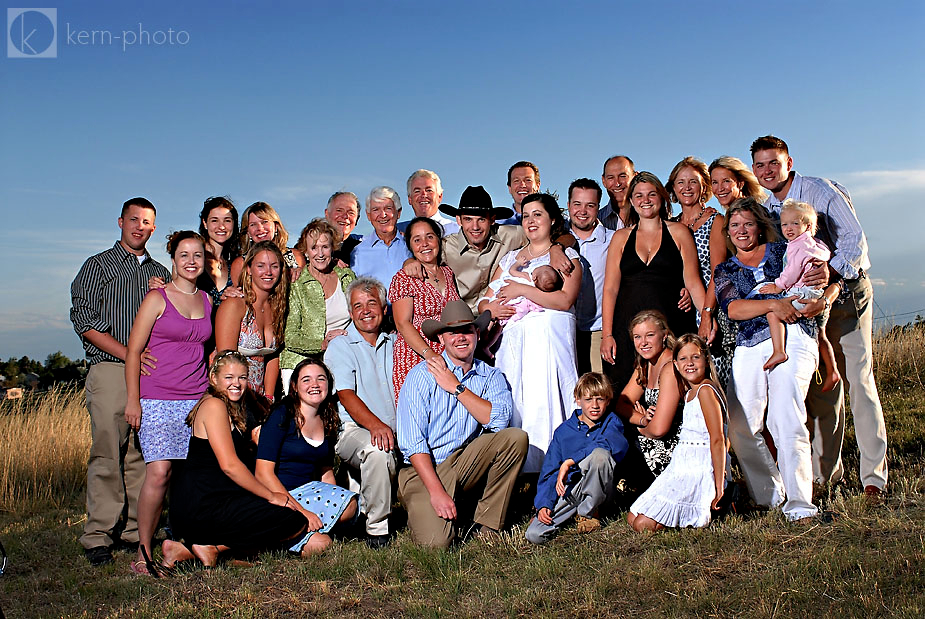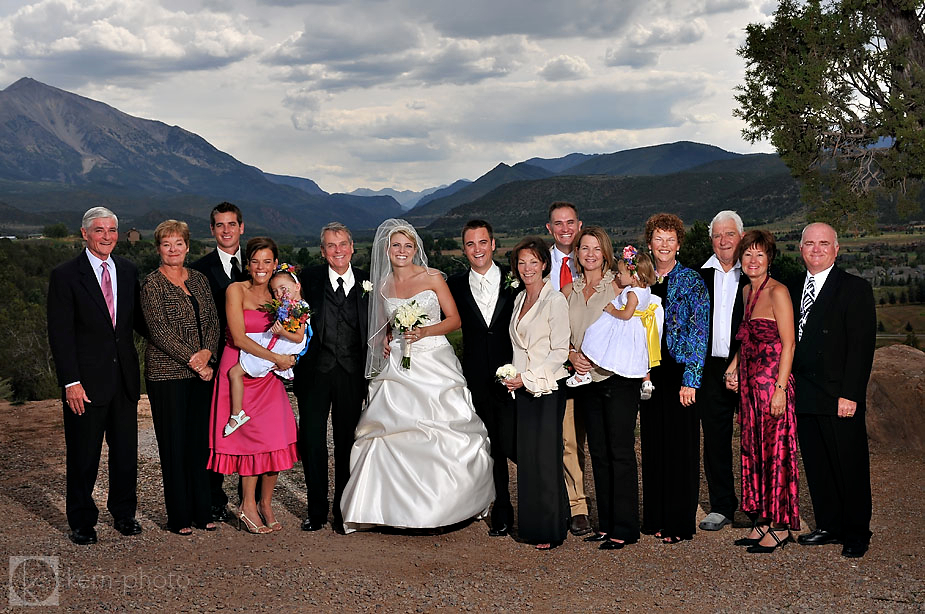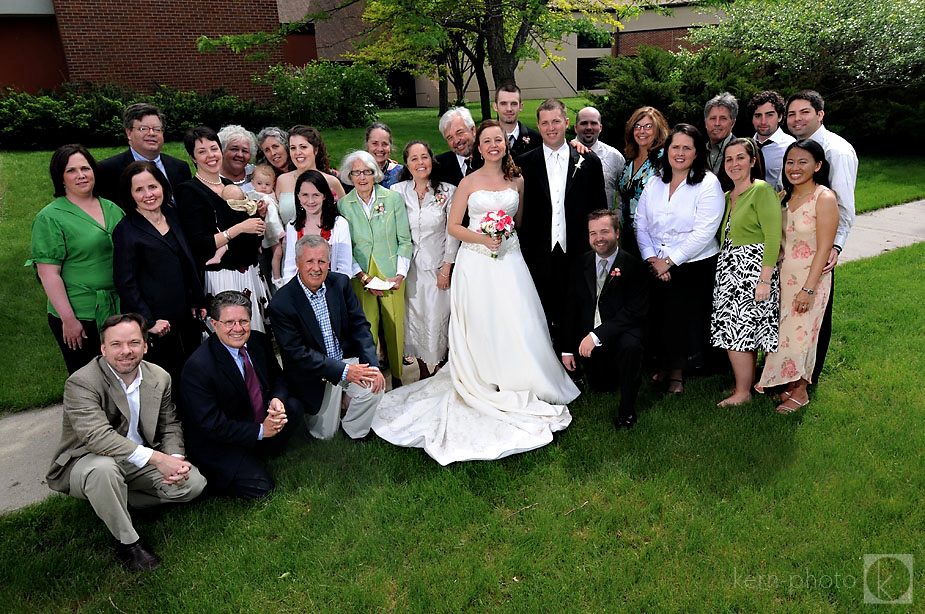 This was shot deliberately for a spread in an album with plenty of space above and below for cropping.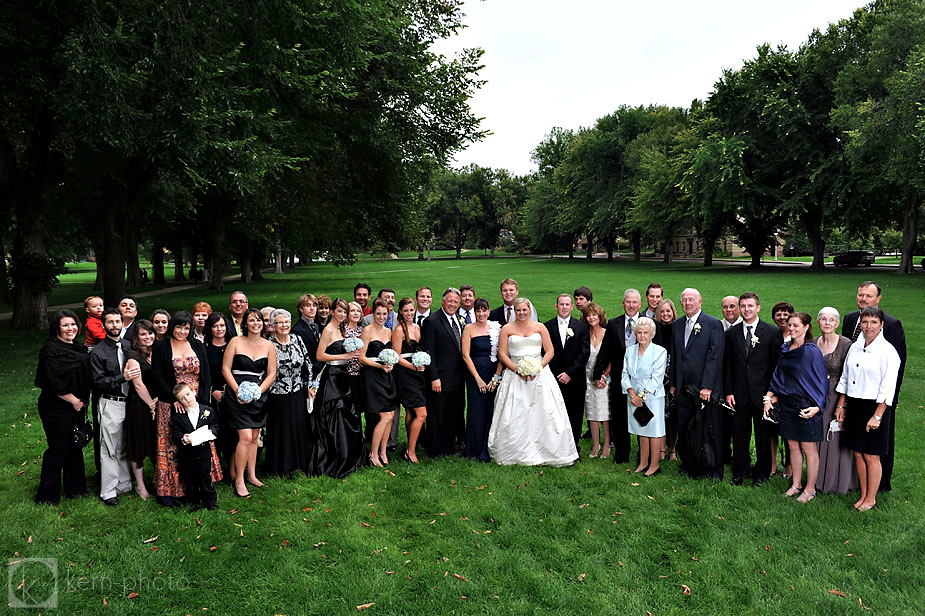 Using a single strobe with overcast skies really can add a subtle dynamic range to a photo. People are just happier when lit.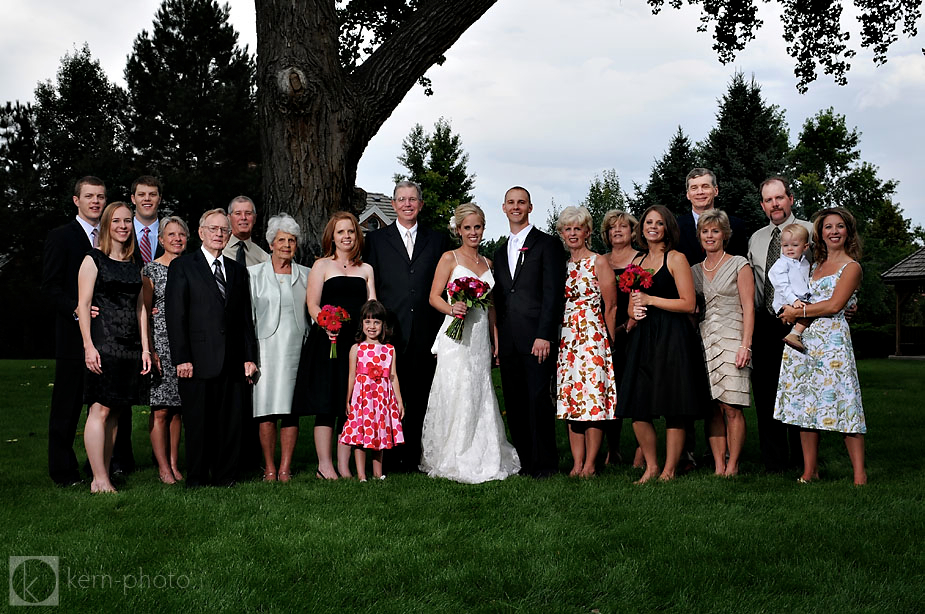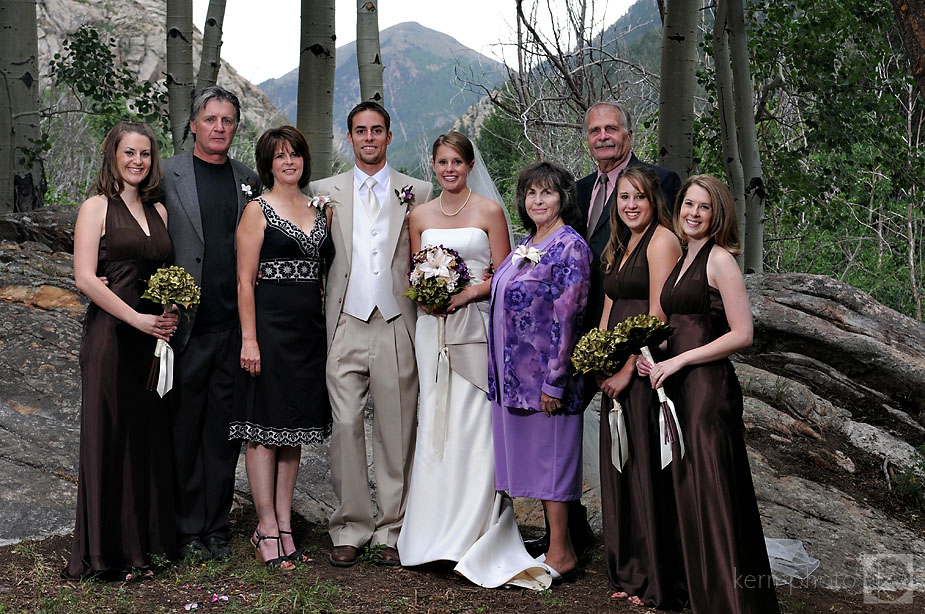 Shooting inside churches have unique challenges which can be easily alleviated using a single strobe off-camera, diffused through a large umbrella for maximum light spread.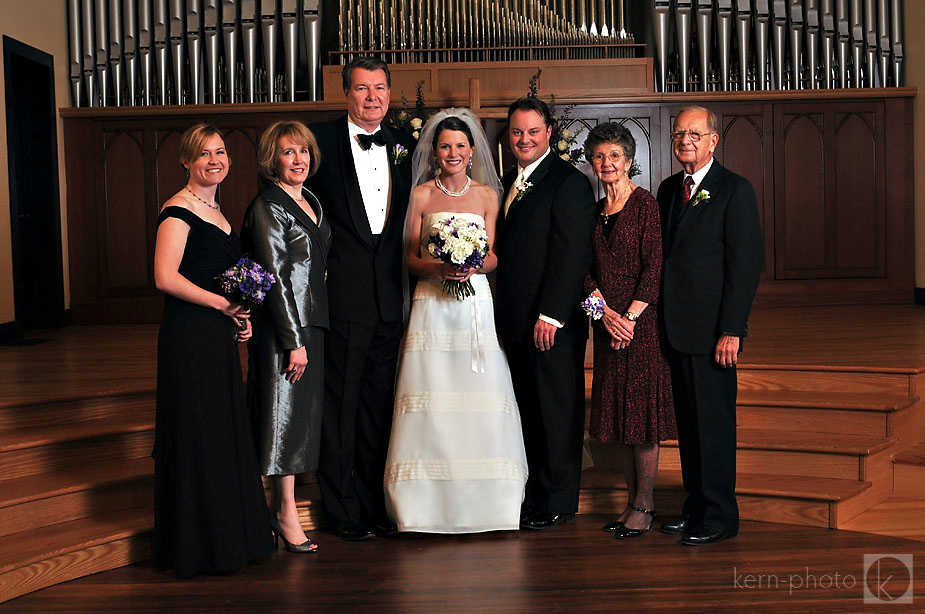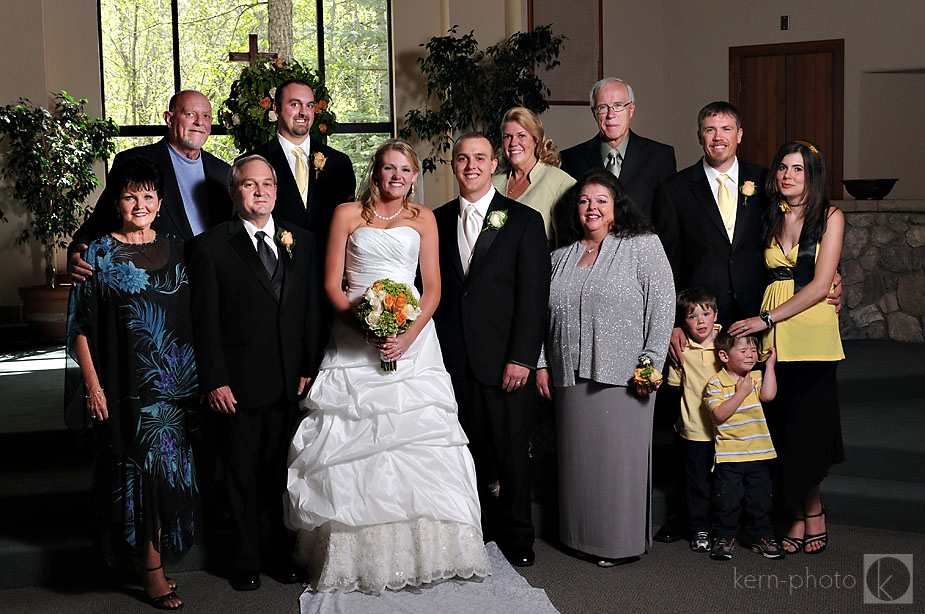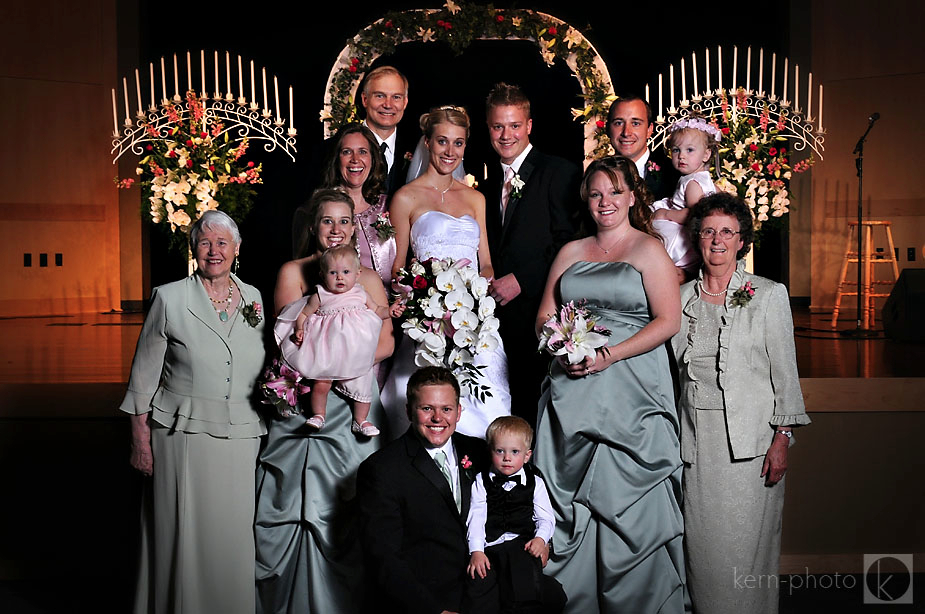 And 100% available ambient lighting works as long as people are positioned in even lighting (shadows):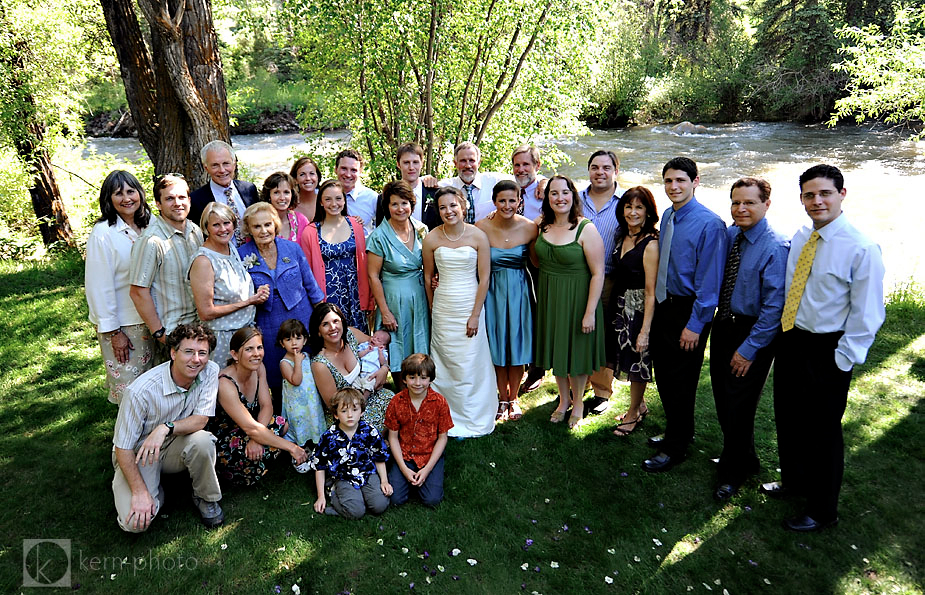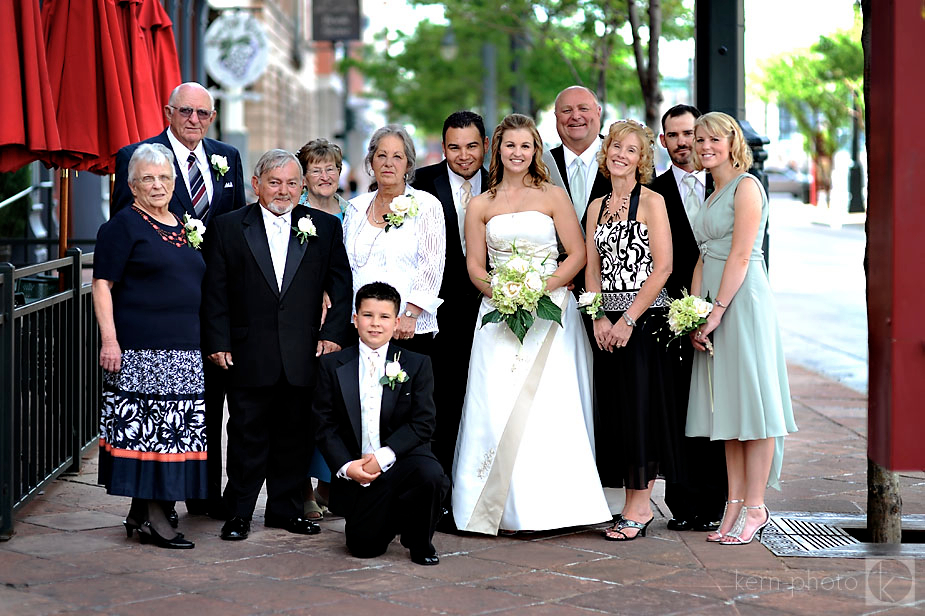 Don't forget that candids in between frames can be just as memorable as 100% camera-aware images: