Be Genuine… Especially in the Wedding Industry
The wedding industry *loves* to showcasing once-in-a-lifetime tears next to really cute shoes, florals and gowns in glossy magazines aside photos of beaming newlyweds in love.
Commodity of love, beware.
Last week I received this email from The Knot: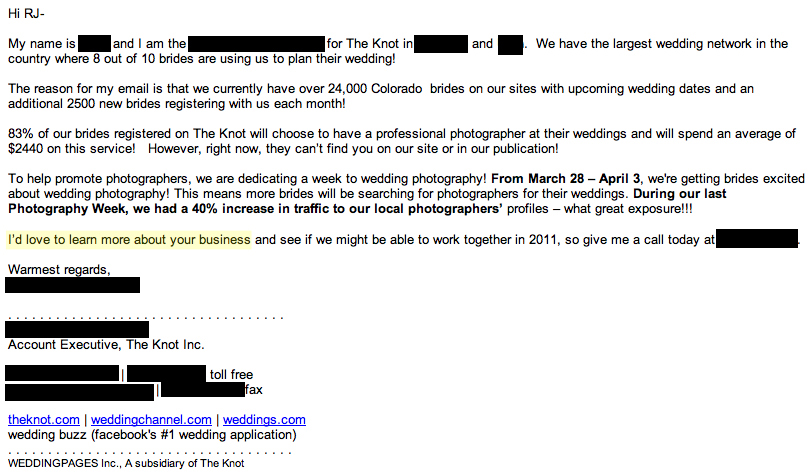 So I did. I called the Account Executive from The Knot, perhaps because of the personalized introduction and willingness to connect.
The lowdown:
The friendly voice spoke for several minutes on-and-on about why their services would help people find me … generate buzz … boost traffic to my site … zzzzzzz …
Never once did the Account Executive ask about my business, or my interests, or any question for that matter.
That's no way to make a sale. I offer this:
Genuine people want to help. Others just want the sale.
Circumstances may vary, but consider:
Asking smart, open-ended questions, not dumb questions with obvious answers. Play mind ninja. Be genuine. But be you.
Good questions build credibility. Don't provide just service, build trust.
If you had two minutes of time to with a doctor, lawyer, or business professional how would you choose to spend with them?
____
Future Clients: I might ask what you want to feel when you view your wedding album in 20 years. Be forewarned.