Meet Mr. Richard Parker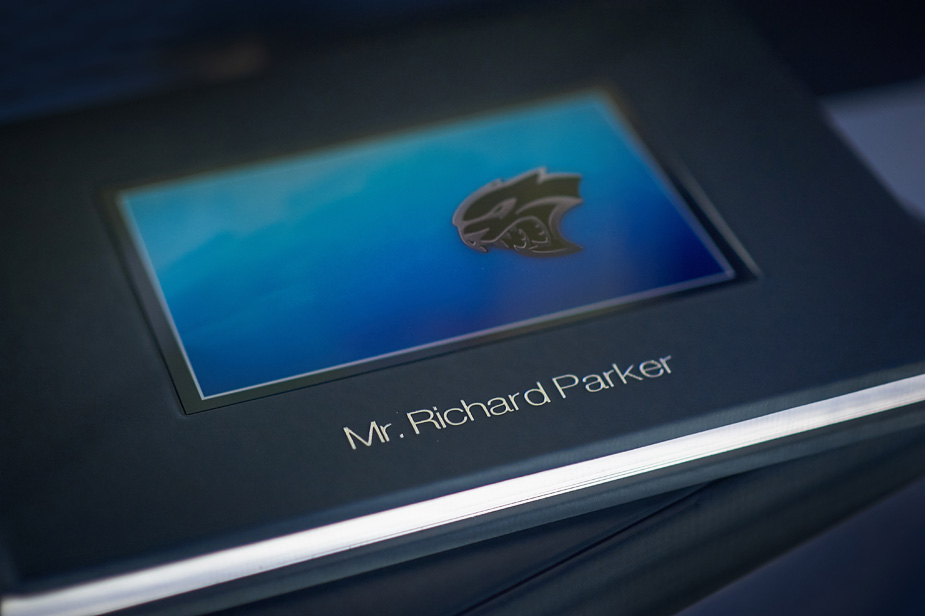 Meet Mr. Richard Parker, a 2016 Dodge Charger SRT Hellcat: the Fastest, Most Powerful Muscle Car Ever! This blog post showcases a recent personal project photographing my father's new love on wheels. My gift to him: the creation of inspired images of his new wheels before they left the dealership. We created this custom leather-bound album to commemorate this engineering feat and father-and-son project.
Keys to Balance
Ever since I went pro, I've had to give a little extra thought each time I pick up the camera. I love the process of creating a photograph: the experience of being 100% focused & present, the technical problem solving, the ability to work with light, and seeing the wonder of the image created. It all takes me to back the whaff of the fixer and learning darkroom photography in 1994. To gift a person a print, really meant something special. I wish I could just shoot for free and not have to charge, but alas I'd have no business. Yet, I've never lost that gifting sense. It's just sometimes I gift away too much at the expense of free time, sleep.
You know: keys to balance.
Controlling those keys is a delicate act, as more photos taken = more time in post-production = more time in front of the computer (I choose not to outsource the heavy lifting of my creativity, BTW).
SRT Hellcat Photographs
Long-time blog readers know my affinity of photographing cars. I don't market & advertise work, mainly because it's a strong heartstring tie back to my amateur status. I do enjoy the opportunities photographing cars has created, including personal documentary projects of Chrysler 300 meets, shooting one-of-a-kind collector cars in scenic locales on portrait session along the California US 1 highway, offering an ode to my (retired) PT Cruiser, and documenting wheels of freedom.
Yet, today is a bit of an exception.
Introducing Mr. Richard Parker, a 2016 Dodge Charger SRT Hellcat: the Fastest, Most Powerful Muscle Car Ever!
It's a 200 mph supercar dressed up like a rental car sedan. 707 HP thanks to its supercharged 6.2-liter V-8. I photographed this car for my father, who is a huge car buff and is a proud owner of his dream car.
This Hellcat's name is inspired by the movie, The Life of Pi. This isn't the first time movies have inspired my work. Nor the first time I've dreamt about a portrait of a Hellcat.
A Hunger for Speed, Quality
"Maybe Richard Parker can't be trained, but maybe he can be tamed," says the character, Pi, attempting to get the tiger, Richard Parker, to calm down, be civilized to get food, one chunk of meat at a time.
When you hunger for speed, likely you take all you can get.
Here's sneak peek of the final images in the form of a 12" 16" custom-leather album with metallic paper and matching leather slipcase. Enjoy!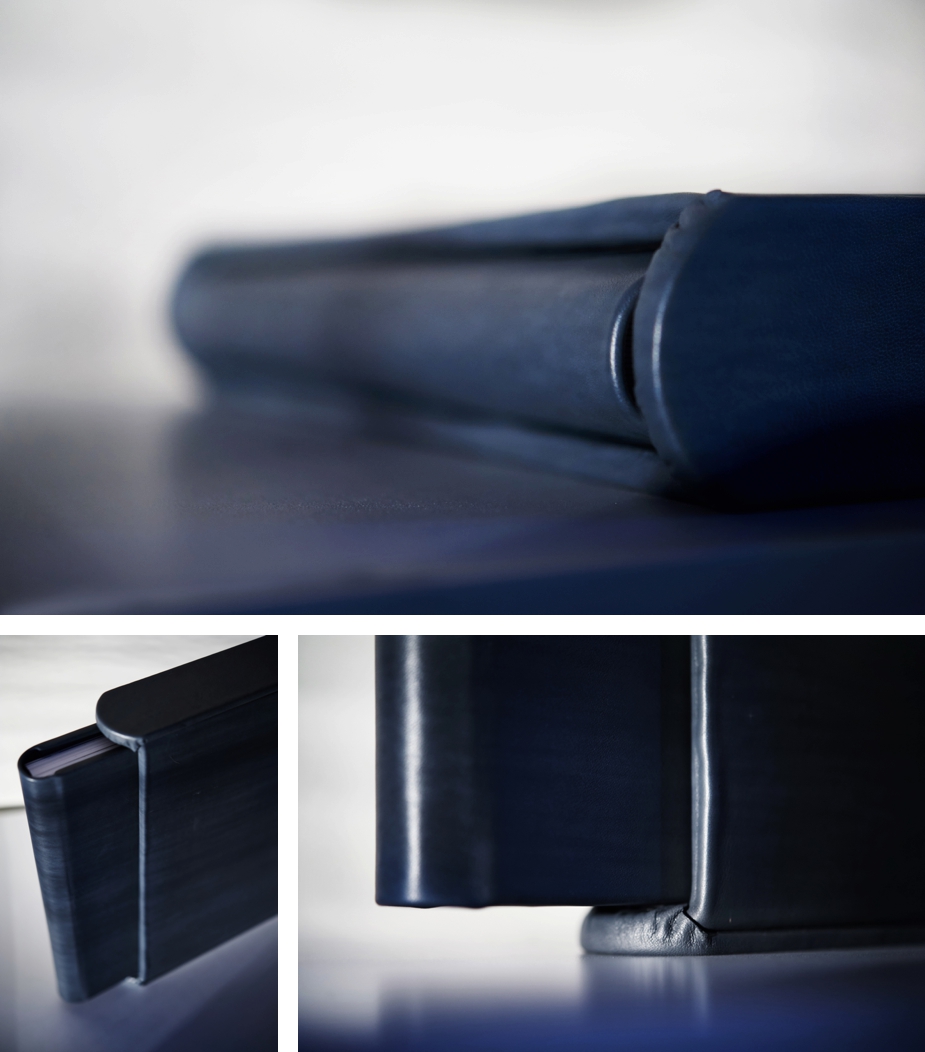 My opening concept for the first spread of the album was a "cat lurking in the dark."


Lots of details of the designedly features showcased, including the pair of keys (the red ones permit the 707HP to come alive while the black key limits to about 500HP), and the special Red Brembo Calipers: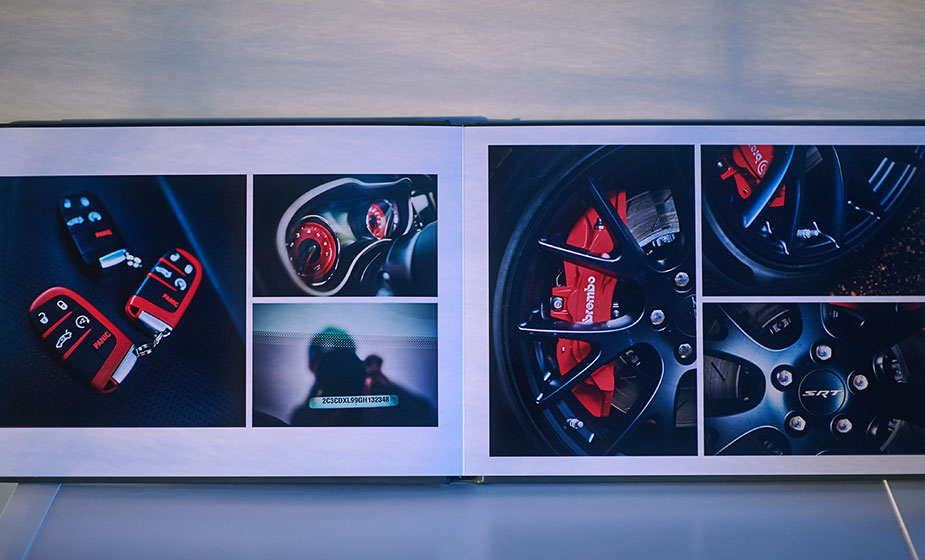 I only had about 45-minutes to shoot the entire car, inside and out. I brought along my studio equipment to help me create brochure-quality images.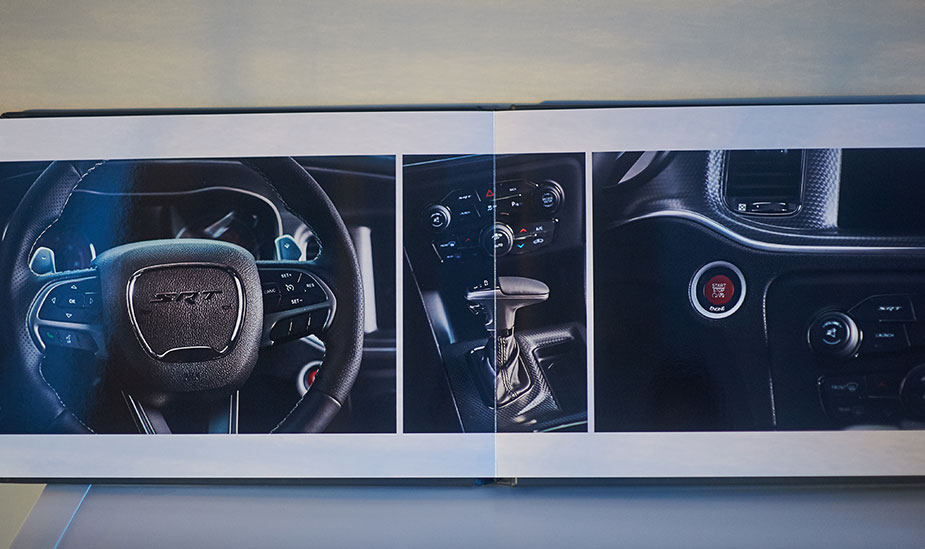 Photographing the details inside the engine compartment was an amazing experience. After all, this car will never be cleaner!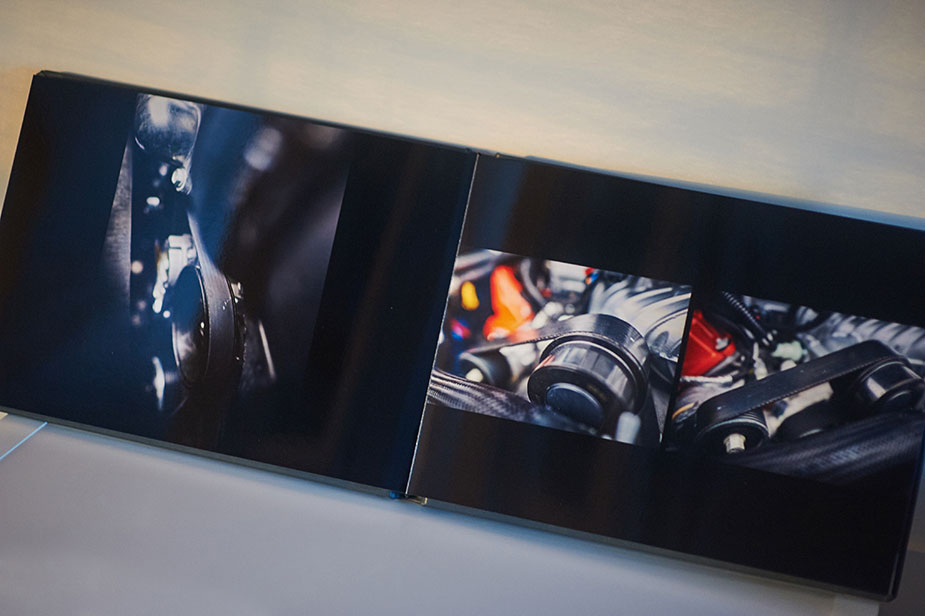 Under-the-hood photos of the Dodge SRT Hellcat: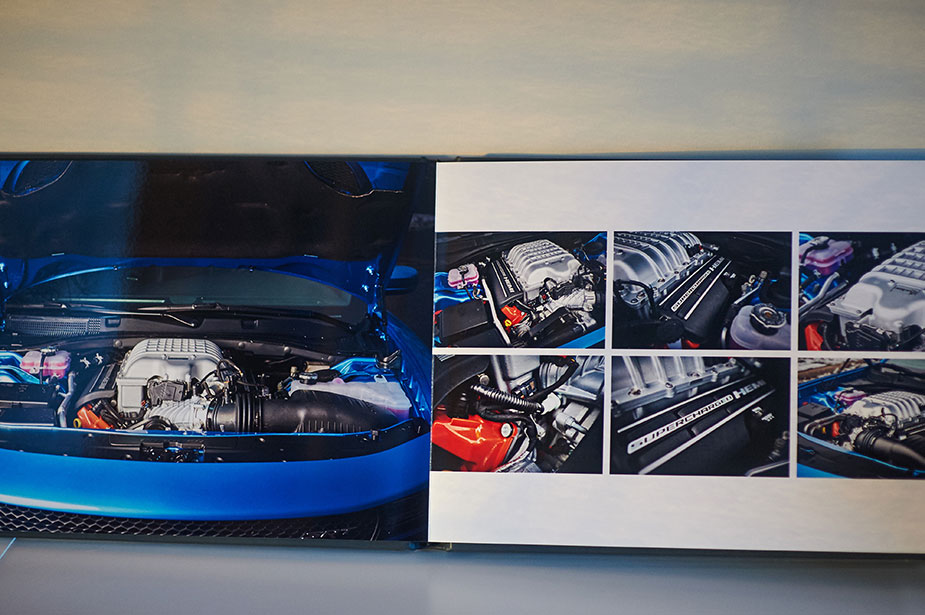 I created this series of squares, each showcasing a visual element of the car which took on an abstract sculptural element. While "the whole" is superior to the sum of the parts, those parts do inspire!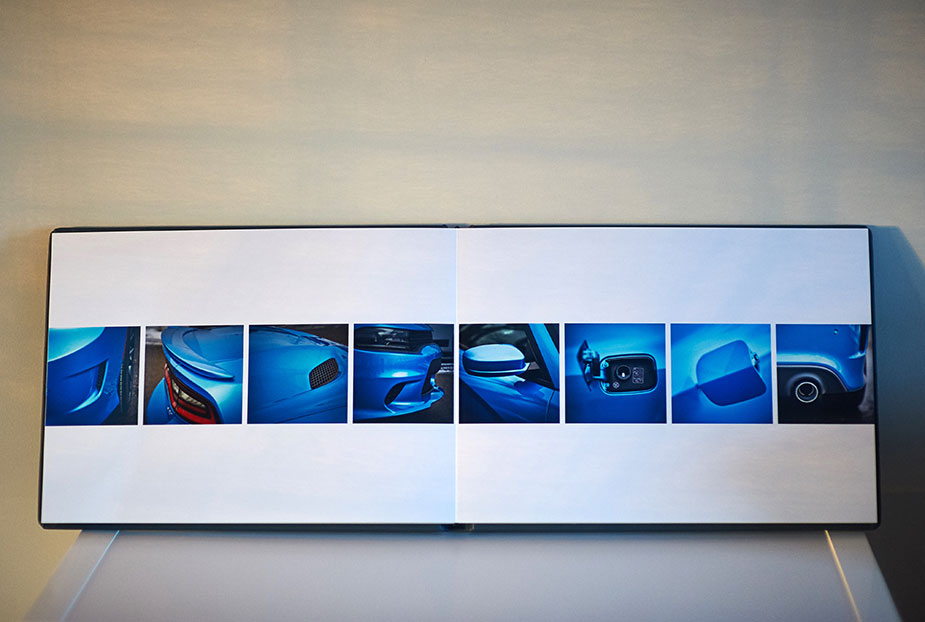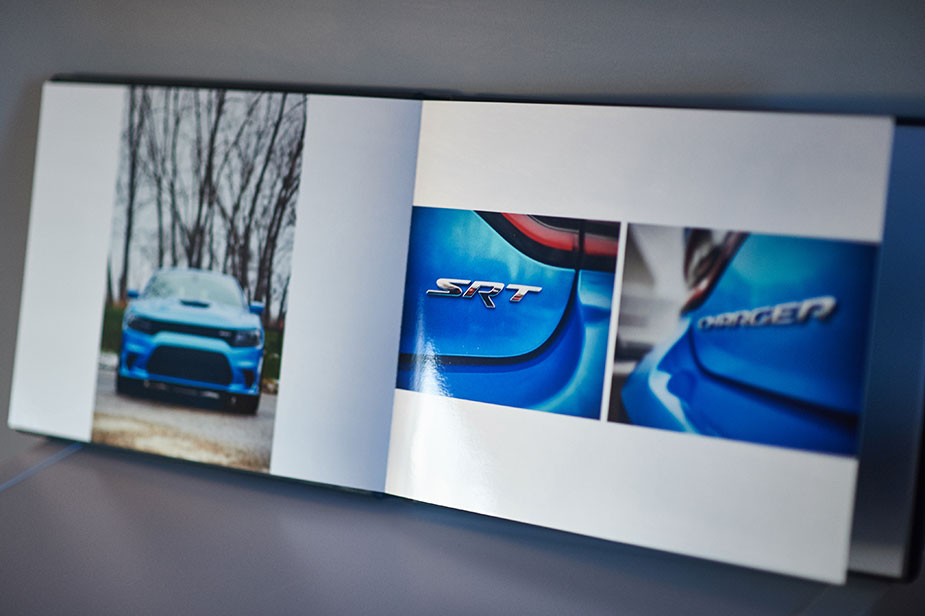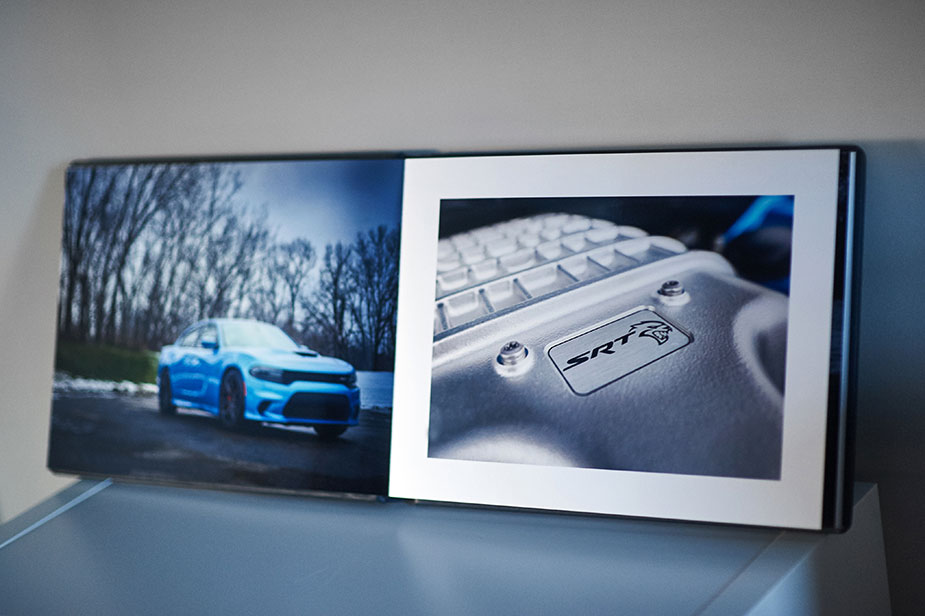 The final page: