Fearless Award, Collection 29
This bridal party fun image from Erin & Eric's Denver Science Museum wedding won a Fearless Award announced today! This is my fourth award from Fearless Photographers, a group of bold wedding photographers striving to redefine conventional wedding photography. With literally thousands of entries, to land an award makes my Friday!
In this blog post, I delve into this image and explain what I was thinking when I pressed the shutter and why I think the judges (and my clients) loved it.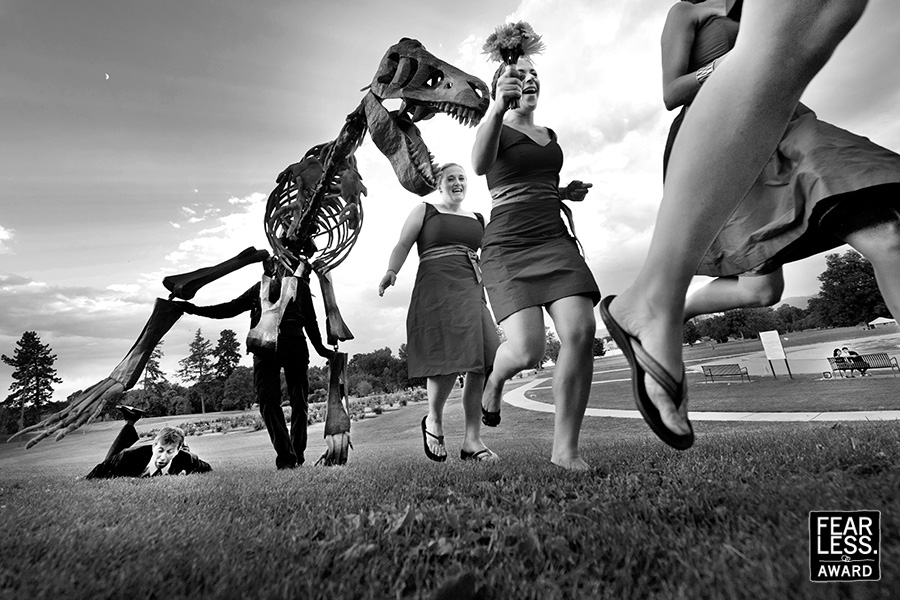 Nikon D700 / 14mm, 1/750 sec at f/4.8, 800 ISO.
A Paleo-Puppeteer?
The bride and groom, Erin & Eric, love science. And a bit of witty humor. They hired "Mr. Bones" to perform during their wedding day. He calls himself a paleo-puppeteer, 'wears' a life-sized dinosaur skeleton, moves around with wires. He's one well-dressed dinosaur, the perfect kind you would want greeting guests to the ceremony at the Denver Science Museum.
During bridal party portraits, OF COURSE I had to use our "prop" in a creative way. I love putting on my creative thinking cap.
A Dino Perspective
To create the dramatic and exaggerated perspective, I used my favorite Nikon 14-24mm lens to offer the viewer an ultra wide perspective. The advantage of the ultra wide is I gain a greater depth of field at any given aperture over, say, my trusty a 85 mm f/1/4. Using an aperture of f/4.8 with my 14mm lens afforded me the luxury of getting from 2 feet in front of me to infinity in focus. Sharp focus. Storytelling focus.
Wide angle lenses are super sexy. They offer an incredible depth of field.
Yet the are often mis-used. You see, there needs to be an interesting foreground, middle ground, and background to make it work. Often, photographers forget about the foreground in focus. What did I do?
I laid down in the grass.
This gave the bridal party something to laugh at and guests to watch as everyone took their positions (the entire event was abut 5 minutes, but guests were equally entertainment watching this unfold).
With a bit of direction, and a count 1- 2 – 3 – GO! .. we were off. On the second take, I was confident I got the shot.
Layers, Peeled
Let's break it down.
Like an onion, a good photograph should have multiple layers. As you peel back one layer, another visual story reveals itself. I like to think there should be at least 3 interesting things going on in a really good photograph. With this layered approach, the level of difficulty to document the image becomes exponentially challenging. There is no magic to make this happen. Only 100% being focused and present (ample experience and the right tools help, foo).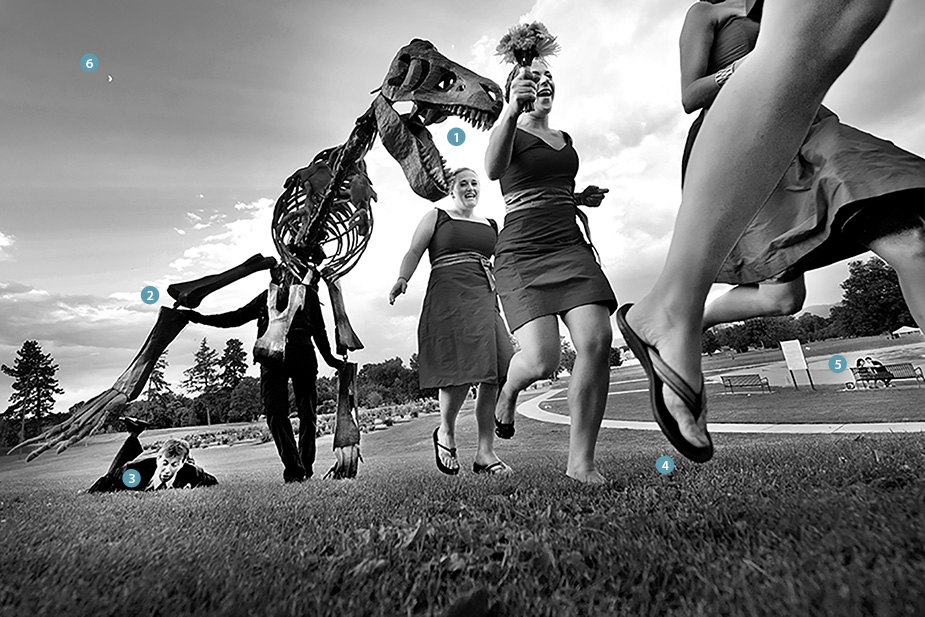 T-Rex?
A leg? An arm? A human?
Almost stomped groomsmen… that actually fell (the real moment)
A jumping homage to Henri Cartier Bresson
On-looking couple wondering what the heck is going on??
Crescent moon in the daytime, a detail you might expect around the golden hour.
Choosing the best photo in a sequence isn't easy, but this is something I think about while making my editing selections.
For tips on choosing your best photos, read this post. Or, tap inside my brain and see my ten things I consider when judging photos (and also when entering photo contests) here.
These six layers make this image shine apart from the others in the sequence that didn't make the contest (but still made it into the final selections):

An a personal favorite photo showing Mr. Bones in his puppeteer costume working his T-Rex humor!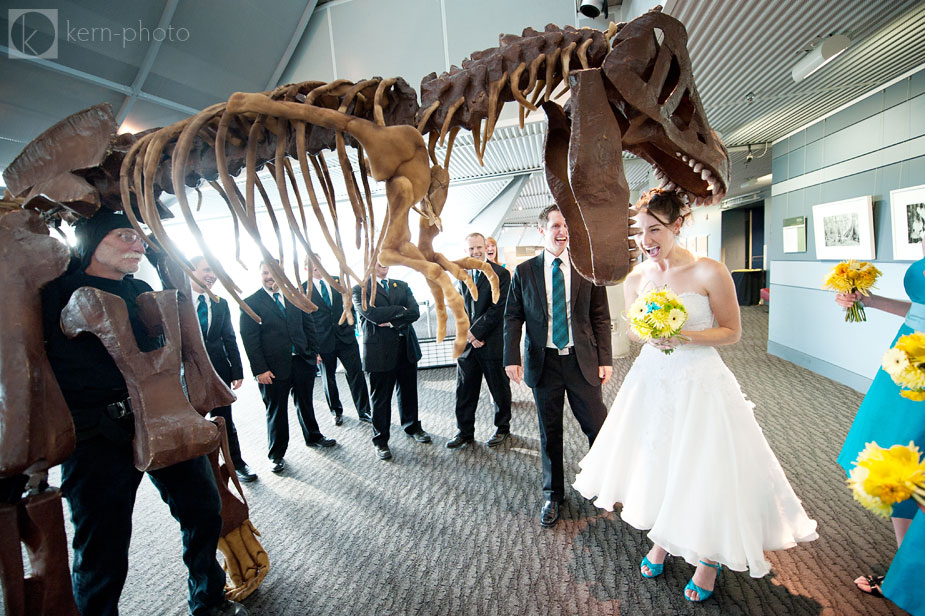 I hope you enjoyed this blog post. I enjoy reading & responding to comments below!
__________

You might also like: