Lightpainting Mentoring for Weddings and Portraits
I'm super stoked to announce a new series of personal mentoring session focused on the use of lightpainting techniques geared towards wedding and portrait photography.
Why learn lightpainting by mentoring?
Learning to lightpaint is much like learning how to ride a bike: you can't master techniques by following blogs, listening to podcasts, reading a tutorial PDF, or watching a DVD. You learn by doing, getting on the bike, falling down, then repeating. Trial by fire while pulling your hair out ain't fun. However, a patient instructor to give you tips, remind you not to get frustrated, then share in your success is what learning should be about.
Why should I teach?
I faced many challenges learning how to lightpaint: fun faded into a frustrating and extremely painstaking process. Like most things I try and learn by myself, I struggled. I spent toooo many hours experimenting with nothing to show for my efforts. I wasn't experimenting in the garage with stuffed teddy bears, rather on actual wedding and portrait sessions after the sun went down. Many of my early wedding portraits I screwed up. I couldn't find many books, videos, DVDs, tutorials out there to help me. Five years ago, the topic was borderline taboo, weird. The stuff the hippies did at Burning Man. There weren't many peers that were doing this stuff that I could pick up the phone and call or meet in person. I was at the point where I started to not show clients my final images because I didn't feel they were consistent nor represented work I was proud to share. I almost gave up. I say "almost" because there is one thing I know for a fact: steady persistent pays off.
Then a light bulb hit me. Literally. That's another story.
Currently, I am offering the following three flavors of mentoring sessions, each detailing a specific part about lightpainting and how it relates to wedding, portrait, and commercial industries:
Introduction to Alternative Lighting (Lightpainting 101) – $150
This 60-minute mentoring session teaches the fundamental concepts and basic functions of lightpainting, the properties of how light works, and the structure of how to create lightpainted images. In the session, you will develop basic skills needed to effectively work with video & LED lights, learn how to visualize light, position & sculpt light effectively, and analyze common problems using common lighting tools.
Who Should Attend?
Individuals who do not have any prior experience with lightpainting. No pre-requisite required.
Goals
After completing this mentoring session, you will be able to:
Understand what lightpainting is, what it can do, and how others are using it
See how you can benefit from using lightpainting
Create a basic image using lightpainting techniques
Work with different types of lightingpainting tools
Apply a systematic approach to creating unique images using different patterns of thinking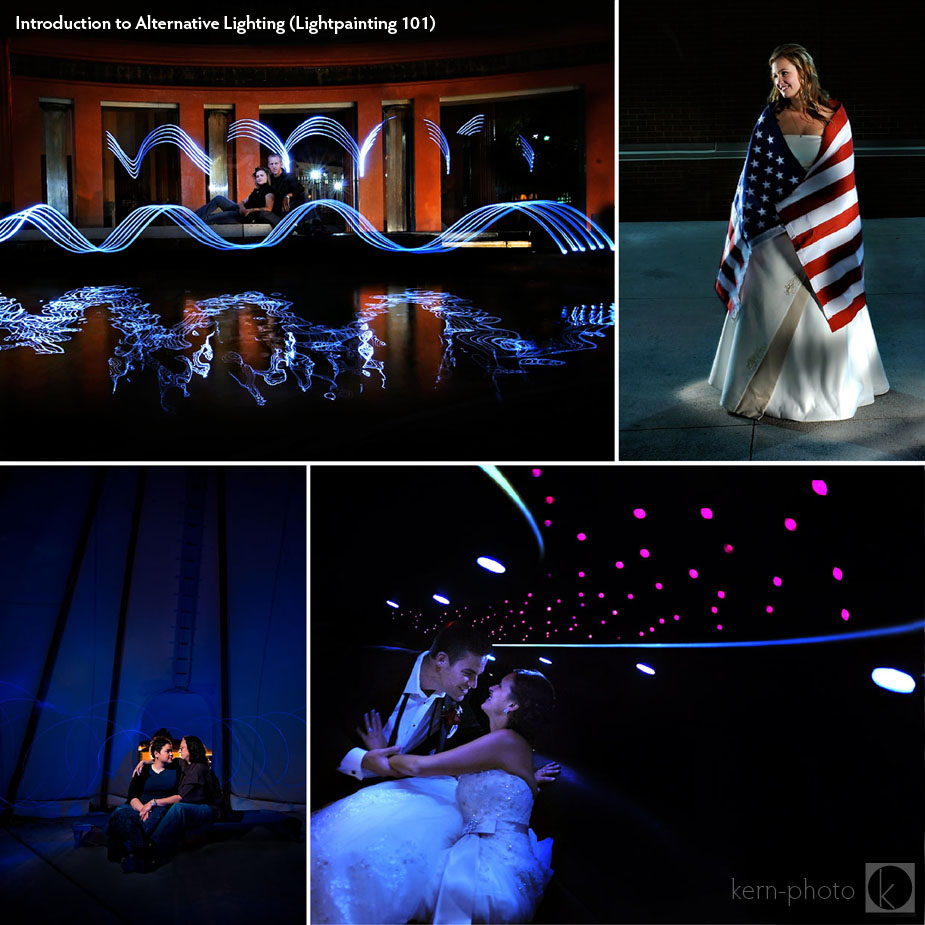 Top 10 Creative Tools for Creating a Unique Style (Lightpainting 102) – $250
This two-hour mentoring session introduces the fundamental concepts and tools used in lightpainting. In this mentoring session, you will use common tools to create lightpainted images using a simple workflow. By the end of the session, you will understand the range of tools you can use in lightpainting and be prepared to create your own art. This session counts as the pre-requisite for Lightpainting 102.
Who Should Attend?
Amateur or working professionals who have basic knowledge of lightpainting. No pre-requisite required.
Goals
After completing this mentoring session, you will be able to:
Understand theories behind compositing in Photoshop
Create portraits in pitch black
Understand how different light sources create ribbon & line effects
Understand how natural elements such as fire and water can elevate creativity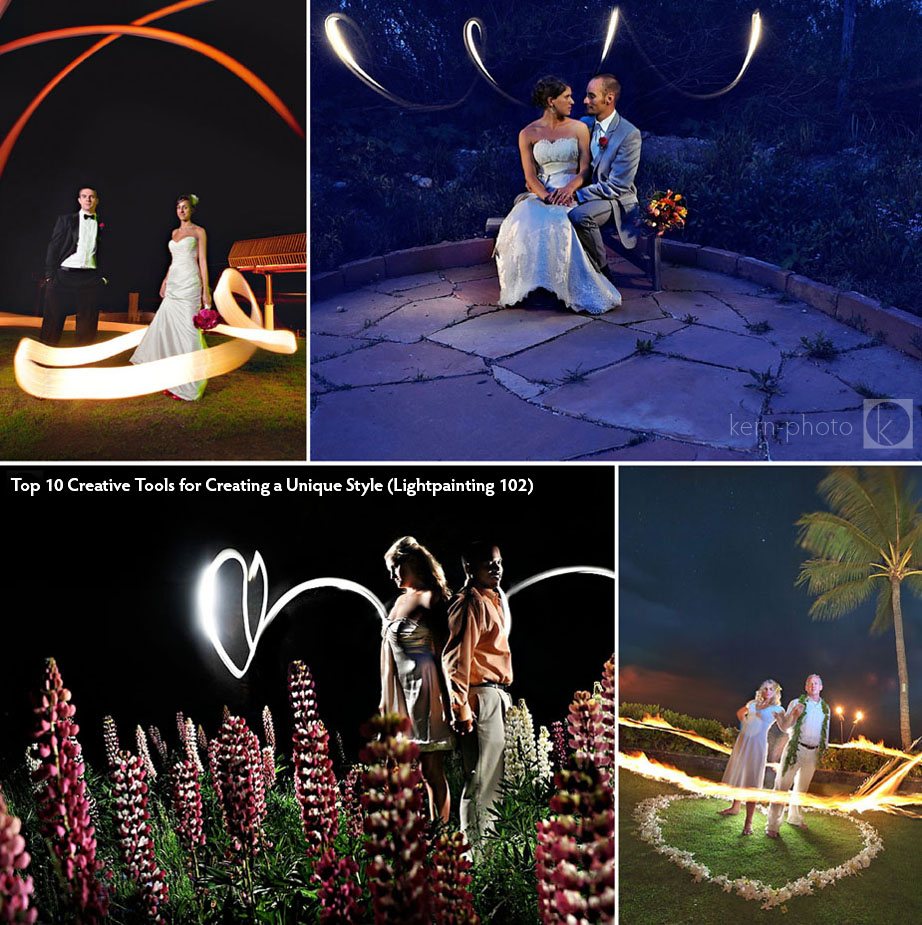 —
Making Art with YOUR clients in 30 Seconds or Less (Lightpainting 103) – $350
Advance your lightpainting skills in this three-hour mentoring session that teaches how and when to apply certain tools to create portraits in 30 seconds or less to create images than support your style and extending your shooting conditions. Working in a safe environment, you'll push the limits of what you can do with light including the use of fire. By the end of this mentoring session, you will be able to determine which tools and techniques can be used in any given situation and apply them in your own work. The skills taught in this mentoring session are applicable to wedding, portraits, and commercial photography.
Who Should Attend?
Amateur or working professionals who have advanced knowledge of lightpainting and want to extend basic skills in the areas of compositing and lighting in layers. Students must complete Lightpainting 102 before enrolling in this session.
Goals
After completing this mentoring session, you will be able to:
Create lightpaintings with your eyes closed in your own style (or close to it)
Combine multiple lighting sources into one exposure
Create layered lighting effects with fire
Solve common motion blur, white balance, and dynamic range issues
Practice Photoshop compositing techniques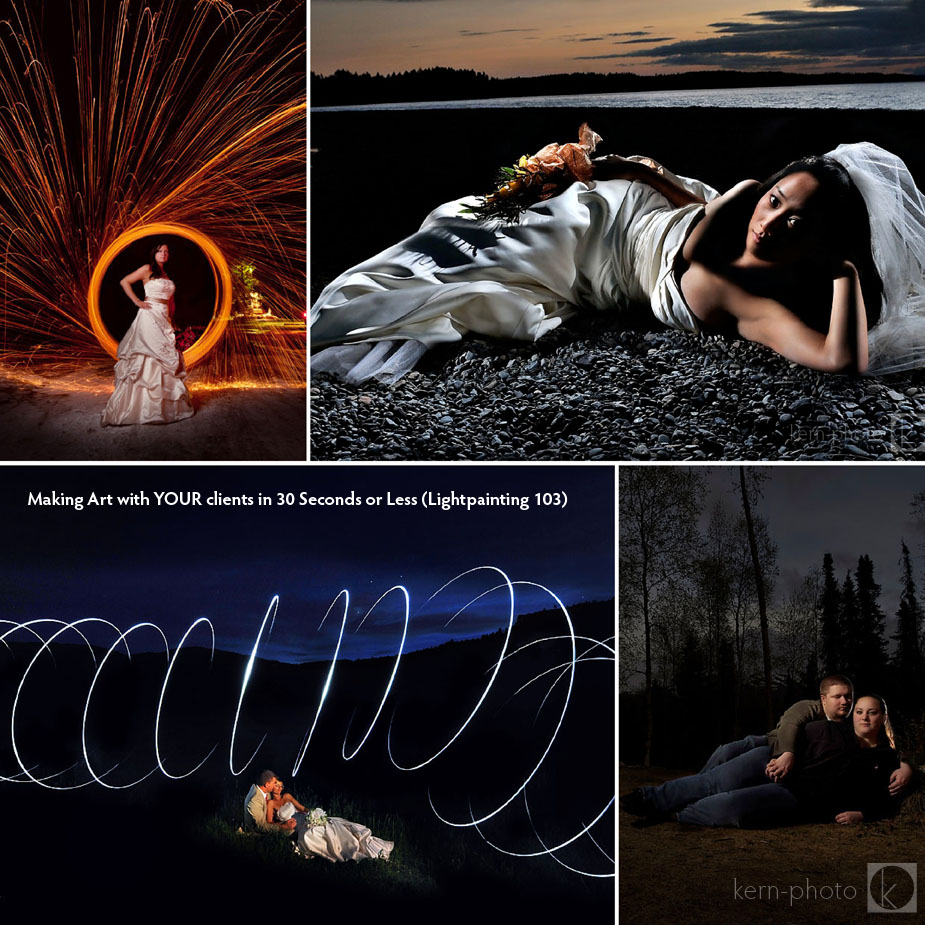 What will you get out of this? I promise to:
Create a positive, patient learning environment
Focus on helping you succeed
Offer a rewarding, fun experience
Give you your money back if you are not 100% satisfied
Each course is currently available only as a mentoring session (either in person or via Skype) and comes with a PDF detailing my techniques for a dozen images, list of tools used (where you can buy them), along with detailed lighting descriptions, camera settings, and post-processing approach. And there's plenty of additional outtakes I'm willing to share as well.
The Fine Print
There is a larger goal for these efforts with details yet to be announced. I will be offering a limited number of mentoring sessions this spring. Get them while the going is good!
Where do I sign up?
Contact me to schedule your session. Group rates available.
Related posts: