My album design process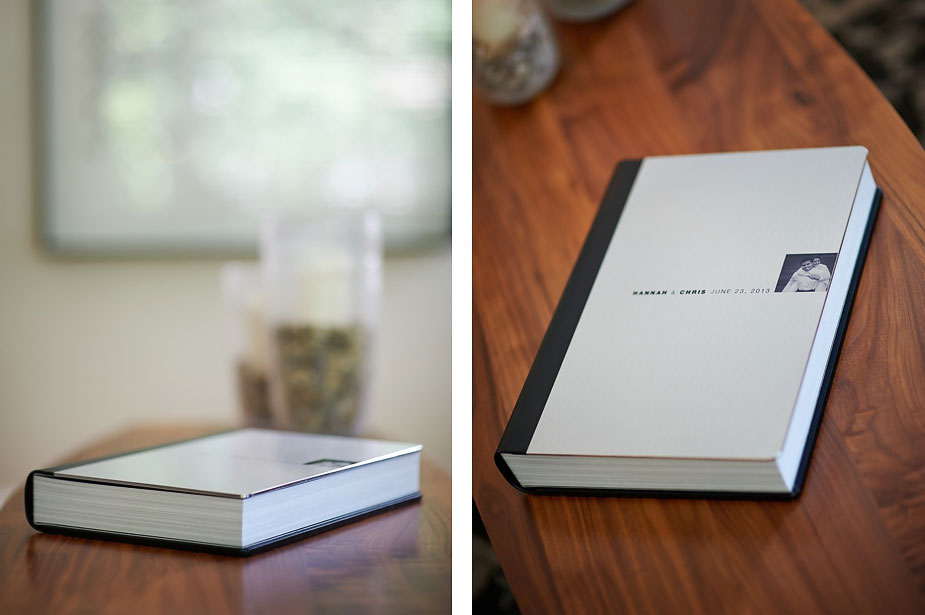 Pixels just don't compare to ink. There's something about being able to TOUCH a photo in an album, batteries not needed.
After the big day, images on Facebook won't be the only way you'll want to remember your wedding day. While it's amazing to see your images on a plethora of devices, there's something TIMELESS about holding a book, turning page by page, telling a story in pictures, the way any important story should be told. The album is the final presentation of the art and story of your wedding passed down from generation to generation. Some call it a storybook.
It's important to think about what you want in your wedding photos. Sure you want to have great photos to begin with. In the future, however, you may not want an entire wall filled with 20 images just from one day. And the cost to frame and time to hang can be a burden. If kids come around, chances are many of your hanging wedding images will be replaced by family portraits. Which is why I highly recommend a wedding album as they best way to view and share your wedding images. Not just for now, but for decades to come.
I give my brag-worthy albums the serious attention clients deserve. Why?
The final album, matters. After the flowers have dried, the music drifted off, the food enjoyed, and the dress preserved in its box; the album remains. Representing years of dreaming for parents and couples, months of planning, and weeks of work for vendors involved, the album represents a culmination of the effort involved on a day that truly matters.
It leaves a lasting impression. This is what the client remembers. No different than a difficult surgery, actually. Even IF everything in the surgery went perfect, it is the cosmetic closure of the incision they remember. As a wedding photographer we have the power to make the final impression of their wedding experience dreamy, and can deliver it in a  perfect package tied with a bow. THAT'S what clients want to remember! I want the entire wedding experience to be fun, enjoyable, and memorable including picking out  favorite images and getting the email shipping notification on it's arrival (hint: there's always a special surprise inside).
Extra polish. All album images receive extra artistic polish. There's no batch-processing here. Like mom's homemade lasagna, it takes a ton of extra time, but the results are worth it. This includes traditional darkroom techniques like adjusting for contrast, dodging and burning, and appropriate cropping. In addition, removing annoyances like stray hairs, minor blemishes (the ones that fade after 3 weeks). Digital negatives are shipped when the albums ship, that way all the edited images that make it into the album are the couples to keep  on their thumb drive drive for archiving and sharing.
Add the secret recipe. What's the secret sauce? I call it "sharpening for output." This wraps up years of technical expertise, understanding of printing, and seeing final images, critiquing, and refining. The reason this is important is when you take a 40,000,000 pixels from the PhaseOne and condense them 10% to a smaller printing size like on a detail spread, certain algorithms need to be run to ensure the images looks as good as it would in print. This means the recipe for sharpening for the blog would be different than printing a large 40×60 print at 200dpi. Most photographers skip this, but I feel the extra effort is appreciated in the final print.
Each album features custom designed layouts. With two rounds of free edits, I want you to be 100% happy with you final album. Most clients have no problem making their final edits in 2 revisions. After that there's a $150 charge for design time.
I keep consistency with my albums, regardless of the weather on the wedding day, the cost of a wedding dress or flowers, or prestige of venue. All my albums come from Italy at a place called Graphistudio. I've worked with them since 2007 and believe they offer an amazing product balance with value. Their US headquarters is 20 min drive from my home in Minneapolis. Here are a few of the friendly faces behind the scenes at Graphistudios (Garrett Nudd stopped by for an amazing presentation):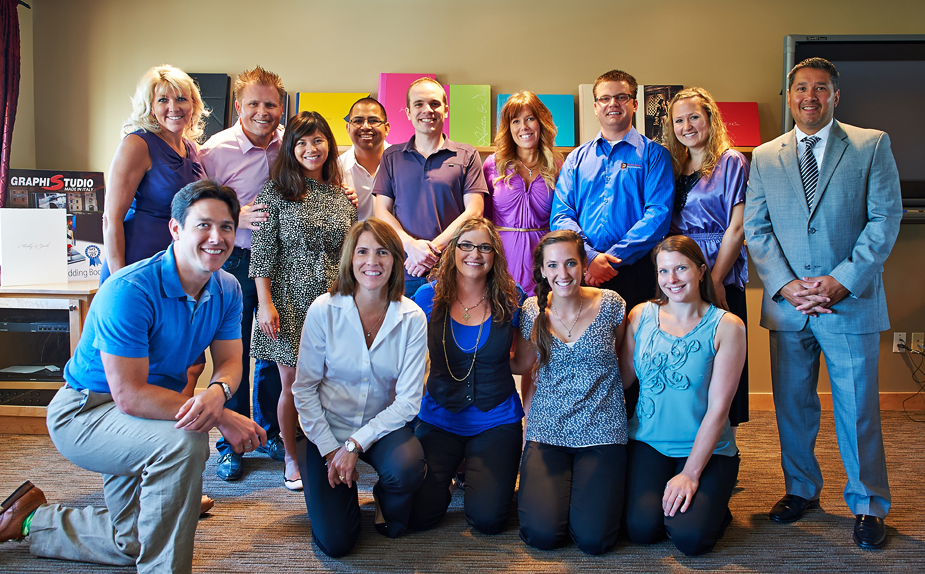 I've learned hard lessons when it comes to the album design process. And I've learned from my ways. Couples love having their images completed on a timely process and albums ready to share with family, friends and neighbors sooner than later. Completed albums shared in a timely, consistent basis is a true sign of a professional wedding photographer. Within the last 12 months, all my albums have been delivered with an on average time of 9 weeks. For example:
Chris & Hannah's album (finalized 3 weeks after wedding)
Keri & Brendan's album (album finalized 18 days after wedding)
Cat & Tim's album (album finalized 5 weeks after wedding)
What's the secret? First, managing client expectations is soooo important. No one likes surprises about hidden "fine print" costs and stipulations. During the booking meeting, prior to signing a contract, I tell all my clients that MY CHALLENGE is to create lots of amazing images on their wedding day. THEIR CHALLENGE is to choose which they want to keep in the album. Many clients tell me this isn't an easy process because, "there are so many awesome images." That's a good problem to have, I say. Most clients use gift money from the wedding to purchase a larger album or parents gift albums.
Second, I keep my options simple for albums, avoiding the plethora of options which can lead to "analysis paralysis" for clients. I offer two shapes (vertical rectangle and square) and three sizes (small 8" x 12", medium 9.5" x 13", or large 16" x 20"). I average about 2-4 images per spread with several panoramic spreads for epic shots. I also have options for upgrading to an embossed leather cover with slipcase. That's it.
To help clients understand the wedding album design process, I've outlined the workflow below.
Typical Wedding Album Workflow
Week 1-2. Blog & full slideshow completed, images are uploaded into a private online gallery for viewing by friends and family.
Week 2-3. Album pre-design completed. Client receives email PDF containing images designed on a page suitable for printing. This gives them an immediate first impression of how their images might look in a book, which is important since they are emotionally excited about the images and wedding day. I design the first draft to include the best possible design including creative portraits, real moments, and important details. If clients want initial input, I am happy to offer that. Others choose their favorites, and I design around that. Usually, they find this to be a bit difficult and would rather us make the final design considerations.
Week 3-5. After the couple returns from their honeymoon, we Skype and make all the changes together. It's important that all key decision makers are present, all revisions made "in person." Describing changes like "swap the middle image on the right side of spread 15 with image #256" can be extremely tedious. I realize clients aren't all trained as designers, which is why I make recommendations to first whittle down the number of spreads they want to keep, swap images, then add more images if need be. This usually takes care of 90% of changes. I make all the changes in real-time during our Skype session (or in person) and then the couple receives the fully edited changes via PDF. They love the instant gratification of seeing it come together with their final input, which I think is very important and minimizes that nagging feeling of having "one more wedding thing to check off our list."
Month 1. Their final design hits studio production where all images are polished, exported, and uploaded to Italy. Production takes 6-8 weeks depending on the time of year (typically only  about 3-4 weeks) but shipping & QA/QC times can vary. My holiday deadline is Nov 1 to guarantee receipt by Dec 20.
Month 3. All assets are in clients' hands. This includes albums and digital negatives. Done and done.
The key to this timeline is managing expectation and sticking to deadlines. After all, couples love sharing with their friends and family their completed wedding album. Most of their friends are SHOCKED at the quick turn-around. This keeps everyone excited and happy!
To give you an idea of what my completed wedding albums look like, on the left is my most popular album sized 9.5" x 13" with a standard metal cover along with two smaller parent albums (which were a surprise for the couple!). This album with 30 spreads (60 pages) and two 8"x12" parent albums comes standard with my platinum collection from Chris and Hannah's wedding in June: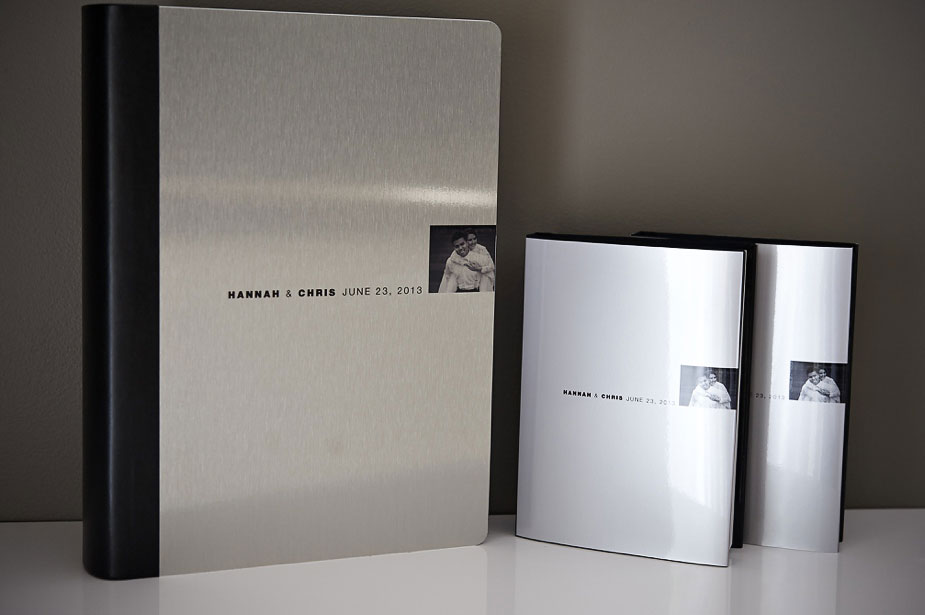 Clean, crisp, refined, sharp. This isn't your grandmother's wedding album.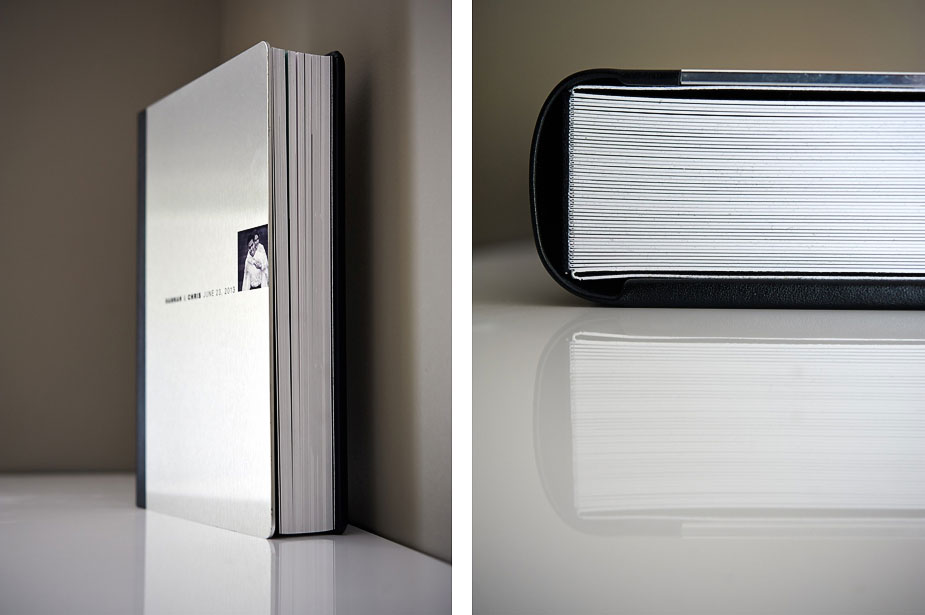 Ridged pages feature an additional lamination that minimizes finger prints and spills. That way you don't have to handle your album with white linen gloves. This couple loved their images so much, they decided to upgrade additional album spreads. The album above features 47 spreads (94 pages), which represents a typical upgrade. One of the reason I choose Graphistudio albums is that I can print and bind up to 100 pages (50 spreads) without having to split the album into two volumes, which adds considerable expense. Most album companies are limited to print to 40 spreads (80 pages).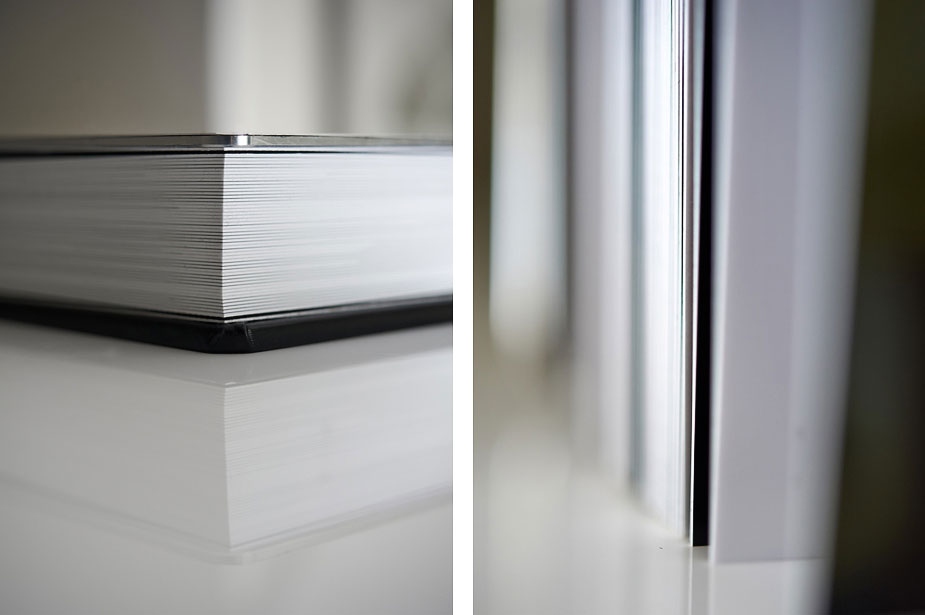 Opening spread showcases the sense of humor of the couple and detail spreads are even better than a magazine spread, especially with metallic paper!

Primary album opened to showcase a sequence of images from a First Look, with the matching parent albums features the same images, on a smaller scale.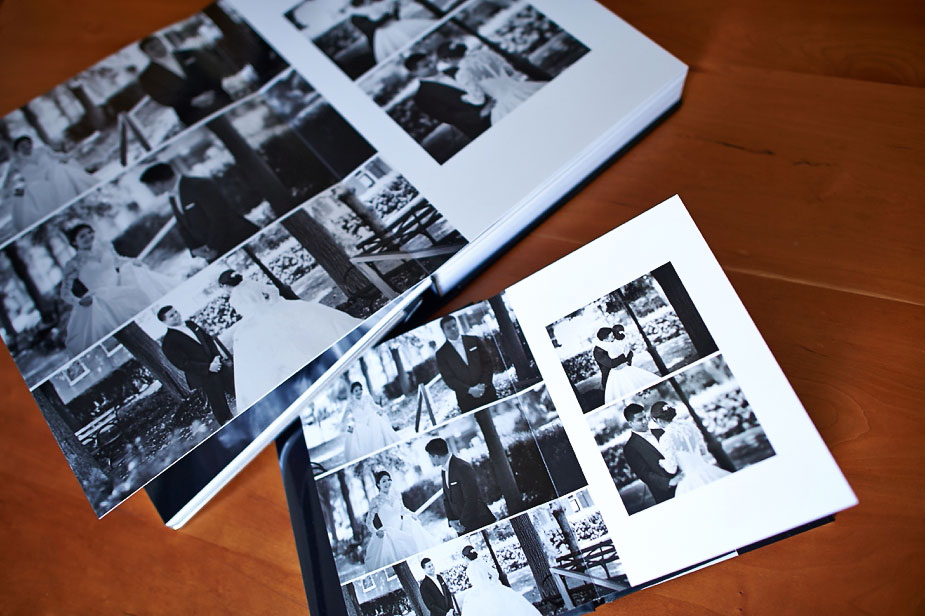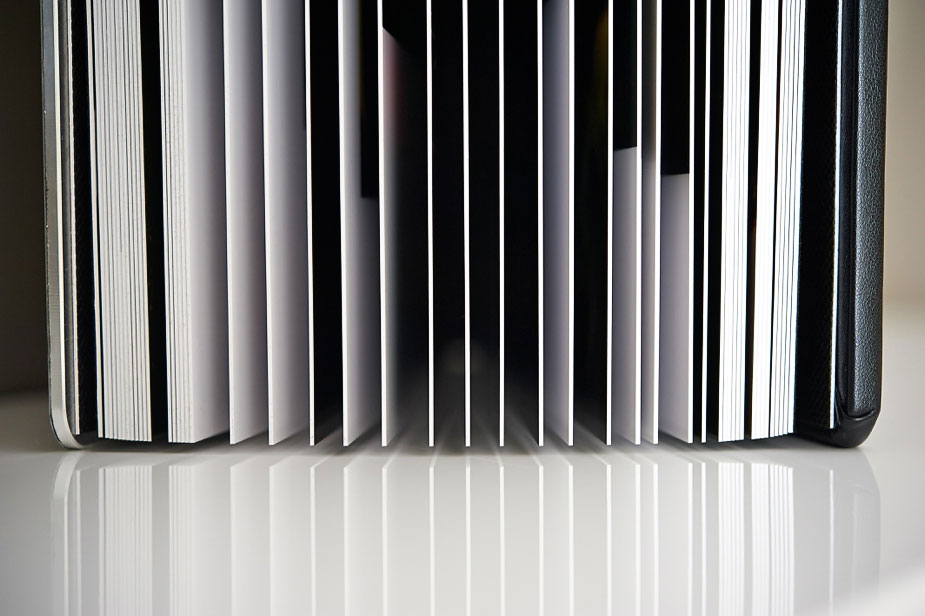 While this isn't science like the stuff in high school textbooks, at least the binding won't crack thanks to seamless binding which still allows the pages to lay flat. Magic.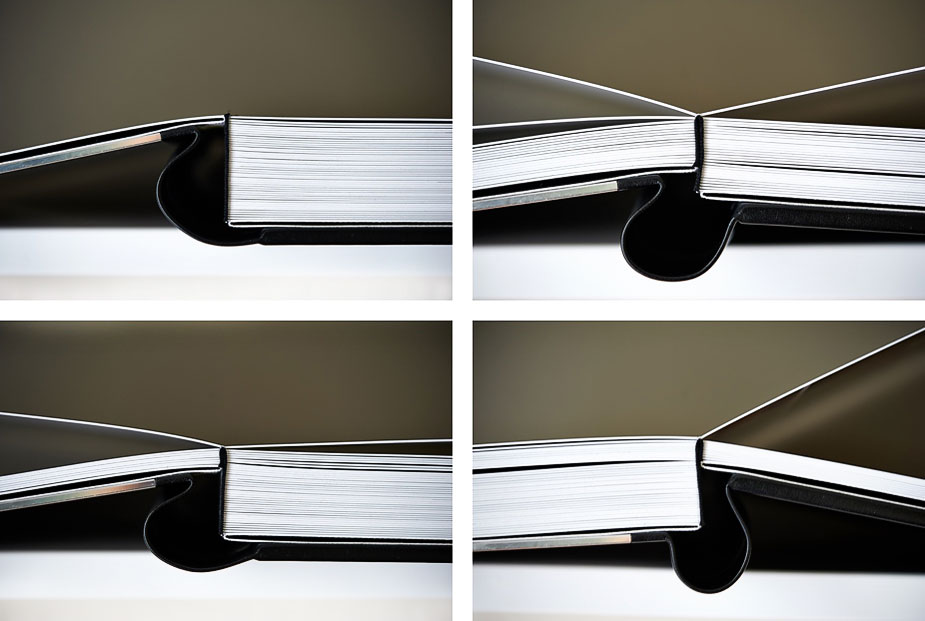 Light can be magical on a wedding day. Those gems can also be reflected in the wedding album, too. Pre-visualizing imagery when shooting for album design opens creative doors to include artistic flair: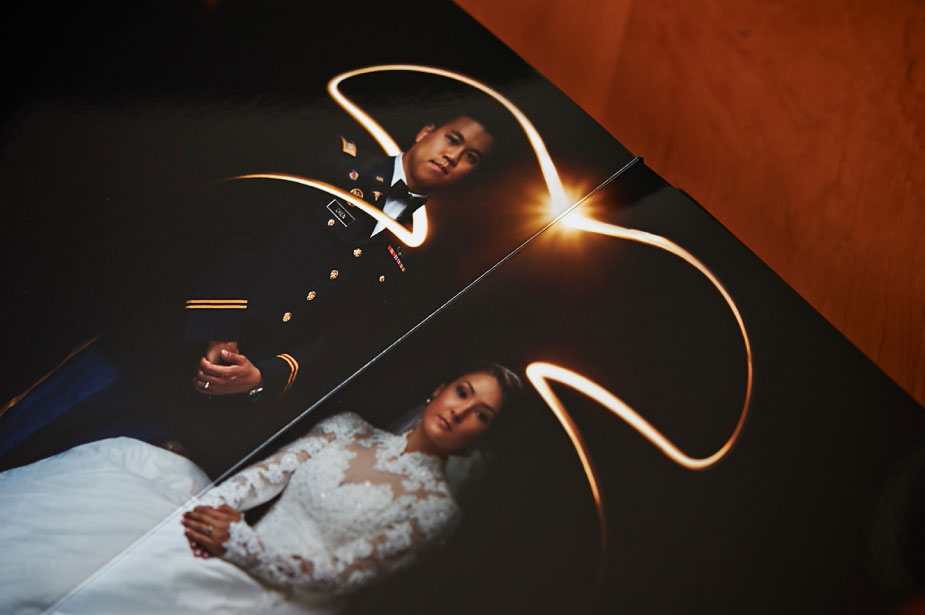 Another layer of meaning visualized in wedding album design, a reflected layer.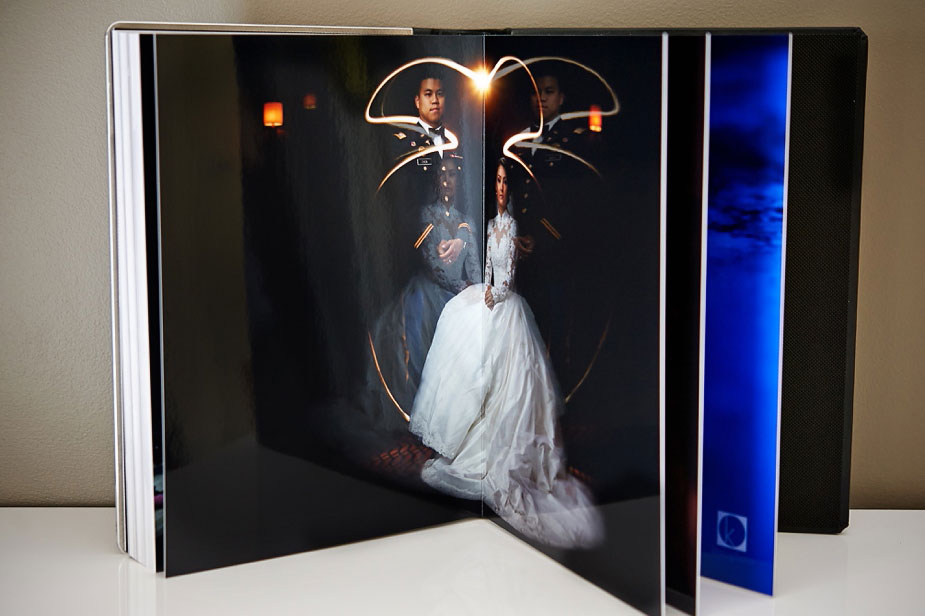 Every artist should sign their work.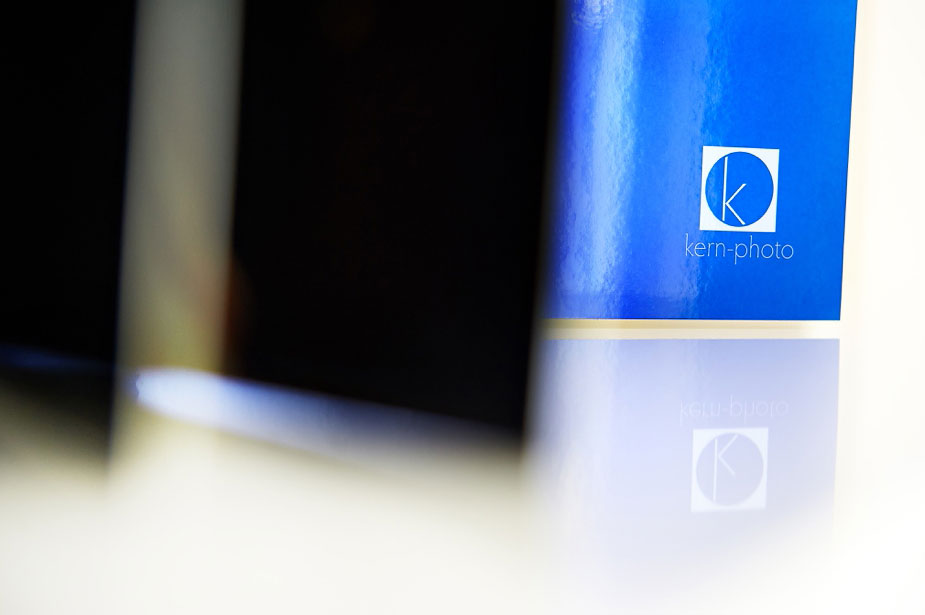 Leather is always an option for a cover or slipcover :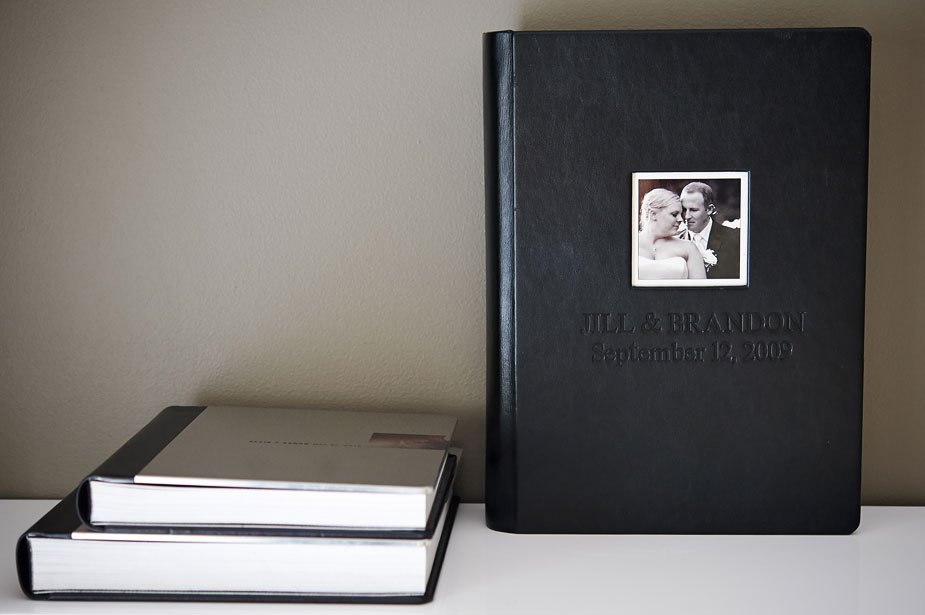 Once the primary album is complete, clone designed albums on a smaller scale make a great gift ideas, especially for parents and grandparents. The smaller albums feature the same patent-flush binding system to minimize spine cracking, but with the option of a hardback or paper cover.
Pocket book albums are super cute ($400). Your choice of a set of 30 copies sized 2×2.5 (eek! cute!!), or a set of 15 copies sized 2.5×4, or a set of 8 copies of 4×5 size (good for pocketbook). The smaller pocket albums are only available at time of primary album design.


The mini-albums (smaller than 2"x2") are cute, even cuter than a button (quarter for scale):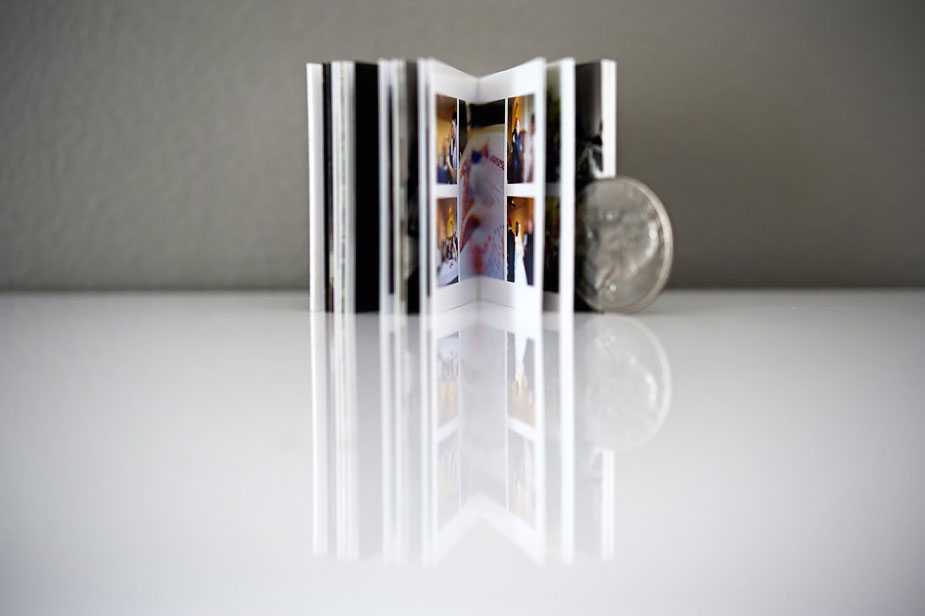 Left to Right: 4"x 5" mini-album, 2" x 2" mini-album, 3.5" x 2.5" mini-album, and 6" x 8" parent album.


Clients receive both their engagement and wedding images on these spiffy USB thumb shipping in a customized aluminum case. This is a way better solution than mailing CDs or DVDs, which can easily break in the mail or scratch. If you are annoyed when your favorite mix CD from college gets scratched, you won't want the same to happen with your wedding images. Bonus: PCs, TVs, and even Mac minis can read them no problem.


As an option, clients can choose a custom-sized briefcase which makes it easy to carry and store. And they can be locked safe just in case a toddler wants to see what is inside.


As an added bonus to my clients, if something happens to your album, I am happy to re-print a new album at my wholesale cost. If there is a fire in the house, please don't run back in to save your wedding album. Grab that favorite mix CD instead.